The Ultimate Virtual Event Planning Checklist for 2022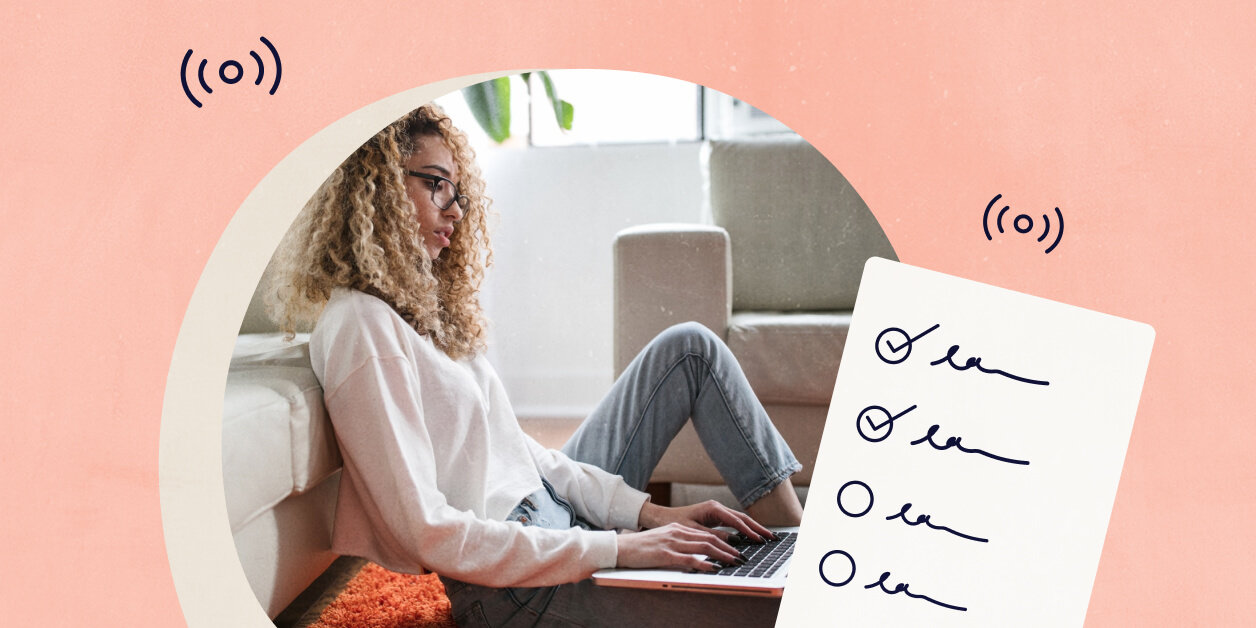 What makes a successful Virtual Event? Our Virtual Event Planning Checklist will help you determine your online event strategy and get amazing feedback!
It takes a lot to organize an event, and virtual events are no exception. Sure, you don't need to book a venue or worry about catering, but your virtual event still needs a Virtual Event Planning Checklist, thoughtful strategy, tools to run smoothly online, and a promotion plan.
With so many moving parts to executing awesome virtual events, we've put together this comprehensive checklist to help you stay on track before, during, and after your next online event.
Define your event strategy
Mapping out a virtual event is similar to planning an in-person event: It's all about answering who, what, when, where, and why?
Why are you hosting this event? What's your goal?
Sometimes, events are simply about creating connections, but most of the time, we also have organizational goals tied to them: Are we hoping to build up a community? To advance a particular agenda? Drive more ticket sales? Understanding the "why" behind your event will help you build a great event strategy.
Who is the event for?
Before you get too deep in the planning and prep, define your audience. What are their interests? How will they share this experience with their peers? Thinking through these questions will help you stay focused as you map out the entire attendee/customer journey.
What will people be doing when they attend?
What does the event programming or "run of show" look like? Are you hoping to teach folks something new, offer classes or workshops, or simply allow space for connection and socialization? Create a focused event program for a meaningful experience.
Why will they choose this event over others?
What makes your event stand out in a crowded calendar? Have you created a compelling event listing that includes all the important details *and* makes your event irresistible to prospective attendees?
Decide on a virtual venue.
Will you host a webinar? A livestream? An interactive Zoom call? Think about the type of event you're hosting, whether it's a class, a conference, or a live performance, and let your needs guide your decisions on tools. Consider whether your event would also benefit from a forum like Slack or a private Facebook group where attendees can connect with each other.
---
Start promoting your event
You've laid the groundwork for your virtual event. Now, it's time to promote it to your prospective attendees.
Optimize your website's calendar
If you host a mix of in-person, hybrid, and virtual events, spend a little time sprucing up your website calendar to help people distinguish between online and physical events. Adding a category for virtual events and embedding livestreams into your event listings are two easy steps. If you're already using our Virtual Events plugin, you can use the labels included for virtual and hybrid events to direct potenial attendees to the event type that they're interested in.
Organic promotion
This includes things like social media posts, event listings on your website events calendar and on third-party calendar sites, reaching out to past attendees, and using search engine optimization (SEO) to help prospective attendees to find your events while searching the web. (Still looking for the perfect calendar for your website? Hey, we can help with that!)
Paid promotion
If it's in your budget, you can include promoted social media posts, sponsorships at similar events, or ads in websites or media outlets.
Send a "thanks for registering" email
Do this as soon as attendees register or RSVP, and be sure to include important details like the event date and time and instructions on how to access the virtual event.
You should also let attendees know if they need to prepare or bring anything: Will they be asked to participate with their computer video and audio on, or should they stay on mute? Will attendees need any supplies to participate in a class?
Plan a series of "get ready" touchpoints with attendees via email and social media
You can easily automate these emails with a tool like Promoter, which comes with pre-written email templates so you don't need to reinvent the wheel. Don't forget to include a link to your event and/or instructions on how to connect.
Related: Email Communication Tips for Online Events
Send event reminders as your event approaches
Emails and social media posts can give attendees a friendly nudge when the event is one week away, one day away, or happening today.
Be sure to send instructions on how to access your virtual event, whether you link directly to the livestream or conference or to a companion page on your website with an embedded livestream.
Consider creating an event companion page
An event companion page is a useful tool for sharing key info in one place, whether you create an event listing on your website's calendar or you create a standalone webpage. You can use this page to consolidate info like speaker bios, embed your livestream, and outline the tools or supplies attendees need during the event.
---
Sales and Ticketing
If you're selling tickets for your event, follow these pointers for a seamless sales experience for you and your attendees.
Decide on ticket tiers, if you have them
Are you selling just one ticket type, all at the same price? Or will you be selling tickets that offer special access or VIP perks? Decide which perks each ticket level will offer and how much each level will cost.
Use a ticket distribution system
A tool like Event Tickets makes it easy for event planners to manage ticket sales and distribution. If you need extra bells and whistles, like custom registration fields on your ticket sales page, opt for a premium tool like Event Tickets Plus.
---
Day-of Logistics
Ensure everything runs smoothly on the day of your event by hammering out these details ahead of time.
Make sure all your tools are working in advance
A bad internet connection or an app that needs updating could quickly send your virtual event off the rails. Avoid technical difficulties by rehearsing in advance with all your tools. Make sure your microphone and camera are working and that you have all the software you need, whether it's Zoom on your computer or Instagram for livestreaming from your phone. Double check to make sure you're running the latest version of all your apps and software.
Follow good virtual event etiquette
Right before your event, send one final communication with the info so that attendees can connect to the call or livestream.
Once you get going, give attendees a few minutes to show up; don't start until people have had a chance to log on and settle in.
Finally, be a good moderator. If your event has a live chat, keep an eye on questions and comments—this is especially important if you run into technical difficulties and need to adjust a faulty mic or camera.
---
Post-event audience engagement
Your event went off without a hitch, and your attendees had a blast—nicely done! But your work isn't over quite yet. Follow-up communication is critical for gathering feedback and attracting attendees to future events.
Send a "thank-you" message to attendees.
Everyone likes to feel appreciated, plus, a thank-you email provides an excellent opportunity to solicit feedback from your guests.
Send a message to people who couldn't make it.
Forward over a few highlights from your event to generate a little bit of healthy FOMO among people who couldn't make it to your event and start building interest and excitement now for your next event.
It's crucial to reach out to attendees in the days immediately following an event. At this point, your event and your brand are fresh in their memory. If you want to get an honest opinion and gauge how you're doing, you need to strike while the iron is hot.
Take stock of what you learned and what you'll do differently next time.
Every event is a learning experience. Reflect on what went well and what you'd like to improve, and make a few internal notes for your next event.
---
No matter which stage you're at in the event lifecycle, The Events Calendar family of WordPress tools is here to help. Questions about our products? Not sure which ones are right for you? Give us a shout and we'll be happy to help!