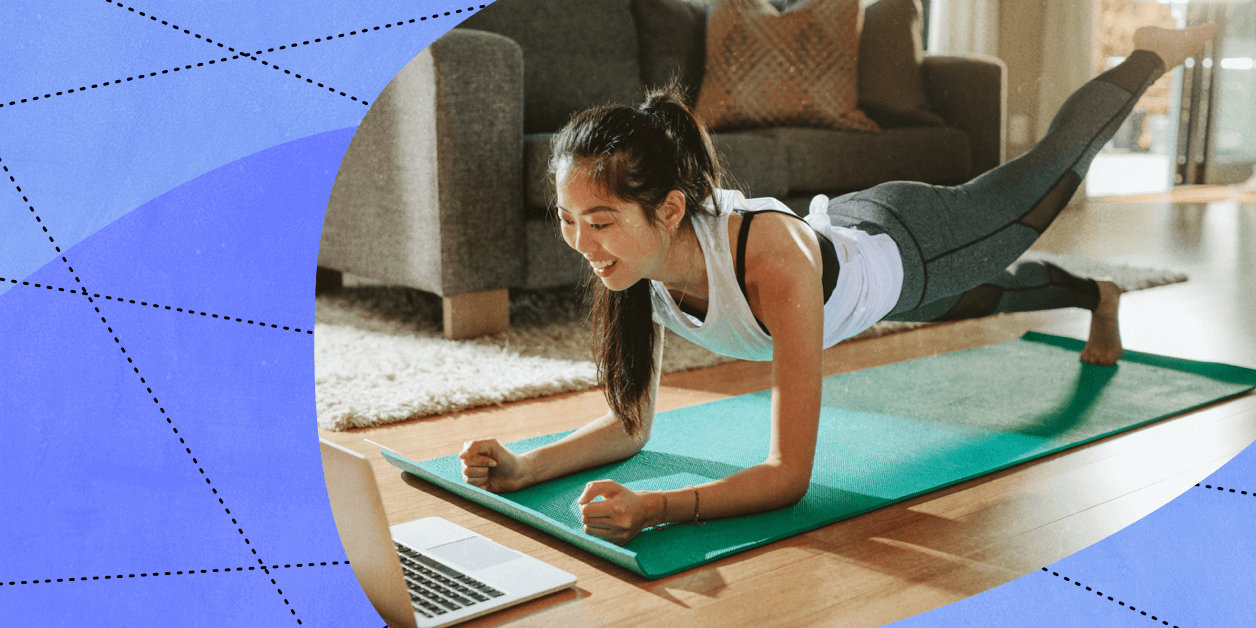 How to Move Your Classes Online
If your business is centered around offering classes, it might be hard to imagine what they would look like online. After all, how do you recreate the experience of a cooking class on a webinar or bring the energy of a studio workout to someone's phone screen? 
Virtual events may not have the same je ne sais quoi as in-person events, but they do have a lot to offer: They're convenient, they're cost-effective, and they make it easy for people to join in regardless of location or other physical limitations.
Today, we'll walk through ways you can take your educational experiences from the classroom to the screen. Even if you aren't already offering educational experiences to your audience, you might come away with new ideas for how to begin offering virtual classes of your own.
Find the right tools for your class format
No two classes are exactly the same. Some harken back to our schooldays, with an instructor Llecturing to the class on a topic. Others are interactive, encouraging participants to chime in with their own insight and questions. 
When you're transitioning to an online class, ask yourself: How much interactivity do you need to accomplish your class objectives? Let that answer drive your decisions about video conferencing vs. webinars vs. livestreaming. 

Opt for video conferencing for interactive sessions
Do your participants need to be able to talk with each other in real-time? In that case, a video conferencing tool like Zoom or Google Hangouts makes it easy for everyone to hop on and join in. 
This way, your class will still benefit from face-to-face interaction (well, face-to-screen-to-face interaction). Video conferencing brings the crackle of a live conversation to your class no matter where participants log on. This format works especially well for an instructor teaching a small group, like an art class or yoga session. By keeping the audience to 12 participants or less, you can interact as a group without getting overwhelmed.
Choose webinars for straightforward instruction
In some cases, real-time conversations can derail the class or make it hard to stick to a time limit. If you want to deliver a lecture-style lesson, use a webinar tool like Go2Webinar or WebinarJam. 
It's up to you whether you deliver your class live or record it ahead of time to ensure smooth sailing. You can also decide whether to open up your webinar to questions from participants throughout the lesson, or save questions for a Q&A at the end.
Go live to build a sense of community
Wondering how to transition your fitness studio's daily yoga class to an online format? Livestreaming is a great way to keep up the camaraderie in a virtual setting. 
If you already have a following on social media, you can use the free livestreaming tools on Facebook, Instagram, or YouTube to run your class. You can receive and respond to feedback from participants by interacting with live comments. Many livestreaming services also offer playback, which means people can watch a replay of your class if they can't make it to the live session.
Supplement your class with groups, forums, and messaging
If your community is used to conversing in-person, move your conversations to a virtual platform like a private Facebook group, Slack, Google Hangouts, or even an old-fashioned email chain. 
For ongoing collaboration, try a cloud-based file-sharing system like Google Drive or Dropbox to pass along documents and other information.
Real-life inspiration for your virtual classes
Splash Studio,

a sip-and-paint studio in Milwaukee, sells "take & make" kits that replicate the experience of a wine and painting night from the comfort of home. Each kit includes two canvases, painting supplies, and a link to a YouTube video of an instructor walking through the steps for participants to create their own masterpieces. (The kits also come with a bottle of wine and some snacks—nice touch!)

Lots of fitness studios are turning to Facebook Live and Instagram to stream workouts in real-time, letting participants from around the globe work up a sweat or find their zen together.

Rumble

, a boxing-inspired fitness studio with locations around the United States, has adapted their classes to a

live format on Instagram

that lets anybody join in live or watch previous classes on IGTV. Other studios, like dance-cardio gym

305 Fitness

, are using

YouTube

to stream live classes.

Even food and drink events are going virtual.

Premier Cocktail Catering

out of Washington DC has had success hosting

virtual mixology parties

, where attendees have ingredients ready and follow along as a bartender makes drinks. You can even "tip" the instructors during the session via Venmo.
Make the most of your virtual classes
We know it can be tricky to make the transition to virtual events, but The Events Calendar team is here to help. For more tips and tools, head to our virtual event resources page (and don't forget to check out our Virtual Events add-on that makes it even easier to manage virtual events with The Events Calendar).