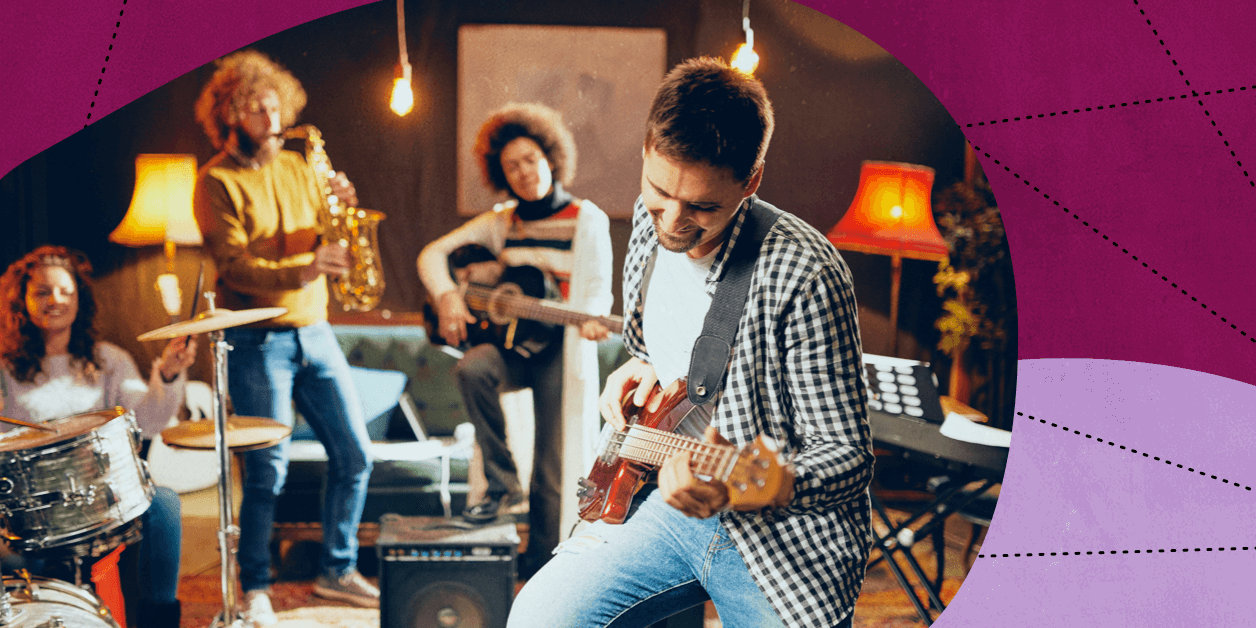 How to Move Your Live Performances Online
Canceling or postponing a performance is a bummer for everyone involved, from the artists to the venue to the fans who were eagerly awaiting a show. But if you need to scrap or reschedule a concert or any other kind of live performance, all is not lost. You can still bring the show to your audience through online livestreaming.
Why switch to livestreaming?
We know, it's not the same as a live show—nothing can recreate the magic of performing onstage in front of a crowd. But livestreaming is a worthy alternative when you don't have other options available.
Unlike a pre-recorded video, a livestream creates a feeling of closeness between you and your audience. Livestreaming also has a few perks you don't get with an in-person live show, like making it possible for viewers from around the world to join in. 
You can also encourage audience participation by enabling comments from viewers when you go live on Instagram, YouTube, Facebook Live, or other platforms. Your audience can request songs, ask questions, or chat amongst themselves, all from the comfort of their own homes. Data shows that livestreaming your concerts can even boost ticket sales in the long run, which makes it a great way to build lasting relationships with fans.
Revenue options for virtual performances
The reality is, it'll be hard to generate as much revenue for online events as you would for an in-person concert or gig. However, you still have options.
Sell tickets
Using a solution like Event Tickets Plus, you could hide the livestream link to the performance until someone buys tickets, and then they'll receive the link. You could also use some WooCommerce functionality to make your ticket price a name-your-own-price donation style, which may encourage more sales and engagement.
Patreon
If, like many artists, you're already using Patreon, you can stream a performance online to certain levels of subscribers as a way to earn revenue on your virtual events.
Twitch
While Twitch is historically a streaming platform for gamers, the interactive functionality of their service would be perfect for a live performance. Viewers are able to chat, subscribe, and send virtual gifts (essentially just cash) to the performer.
Offer "tipping"
If you're not too keen on charging upfront, offer a way for your audience to be generous during the event. While performing, be sure to mention your payment options, even if it's just Venmo.
How to start livestreaming
Ready to broadcast your first live performance? As long as you have a smartphone or a webcam, you can get started today. Livestreaming doesn't require any special skills or expensive tools. 
Livestreaming is also budget-friendly, with free streaming tools on Facebook, Instagram, YouTube, and Vimeo. If you're not sure which platform to use, go with the network where you have the biggest following.
Livestreaming instructions by platform:
For a detailed breakdown of all the different livestreaming tools and apps available, check out this round-up from the Event Manager Blog. If you want to make your performance available only for a select audience, you may want to use a video conferencing tool like Zoom or Google Hangouts.
Check out these tips from Vimeo Livestream for more tips on promoting your livestream and encouraging audience participation.
Beyond performances: Other ways to stream
Live performances are just one way you can use livestreaming to bring your talent to an online audience. 
Livestreaming also opens up other opportunities and revenue streams, like teaching a class online. This is a great option for teaching music, art, or dance classes when you can't meet in person. Use video conferencing to work one-on-one with students, or go live on a streaming app to reach a larger audience
You can also use streaming to create a unique and intimate experience for fans. In addition to hosting free virtual concerts on Instagram, the Charlottesville, Virginia-based band David Wax Museum sells virtual house concerts where fans choose a custom set list and coordinate a private show for their friends on Zoom. For fans, this is a totally one-of-a-kind, personalized experience; for the band, it's a financially sustainable way to continue sharing their art without relying solely on ticket sales for concerts.
Take performances virtual with livestreaming
We know it can be tricky to make the transition to virtual events, but The Events Calendar team is here to help. For more tips and tools, head to our virtual event resources page (and don't forget to check out the Virtual Events add-on that makes it even easier to manage virtual events with The Events Calendar).