How a Children's Theater Brings Productions to Life on Their Events Calendar
Make the most of your performance calendar by embedding different calendar views across your site and using playful featured images and media.
Theaters and performing arts centers can think of a website events calendar as the modern marquee. It should capture the color and the excitement of your productions. After all, your calendar is one of the best tools for attracting new audience members to your shows.
But we know that might sound easier said than done, especially if you don't have a dedicated web developer on staff. The idea of creating a calendar that seamlessly weaves together images, videos, and important event details might feel out of reach.
But Full House, a UK-based children's theater, provides a shining example of all that's possible for your performance calendar. And we promise you don't need a dedicated web developer to perform the same magic. All it takes is just a few tools and refreshers on events calendar best practices. Soon enough, your performance calendar will pop as much as your stage makeup!
Add flair to event listings with photos, videos, and other media
Multimedia is one of perhaps the greatest assets for a performing arts center website. Things like photos, videos, and audio clips from a production can make a powerful visual statement. Images, in particular, can help bring WordPress calendar events to life and make it easy for users to find the shows they're looking for. Full House relies on featured images to help users easily differentiate between shows on both the current and future shows pages:
Also, users are greeted by a smorgasbord of helpful info within each event listing. That includes a detailed event description and a video clip that provides a preview of the performance.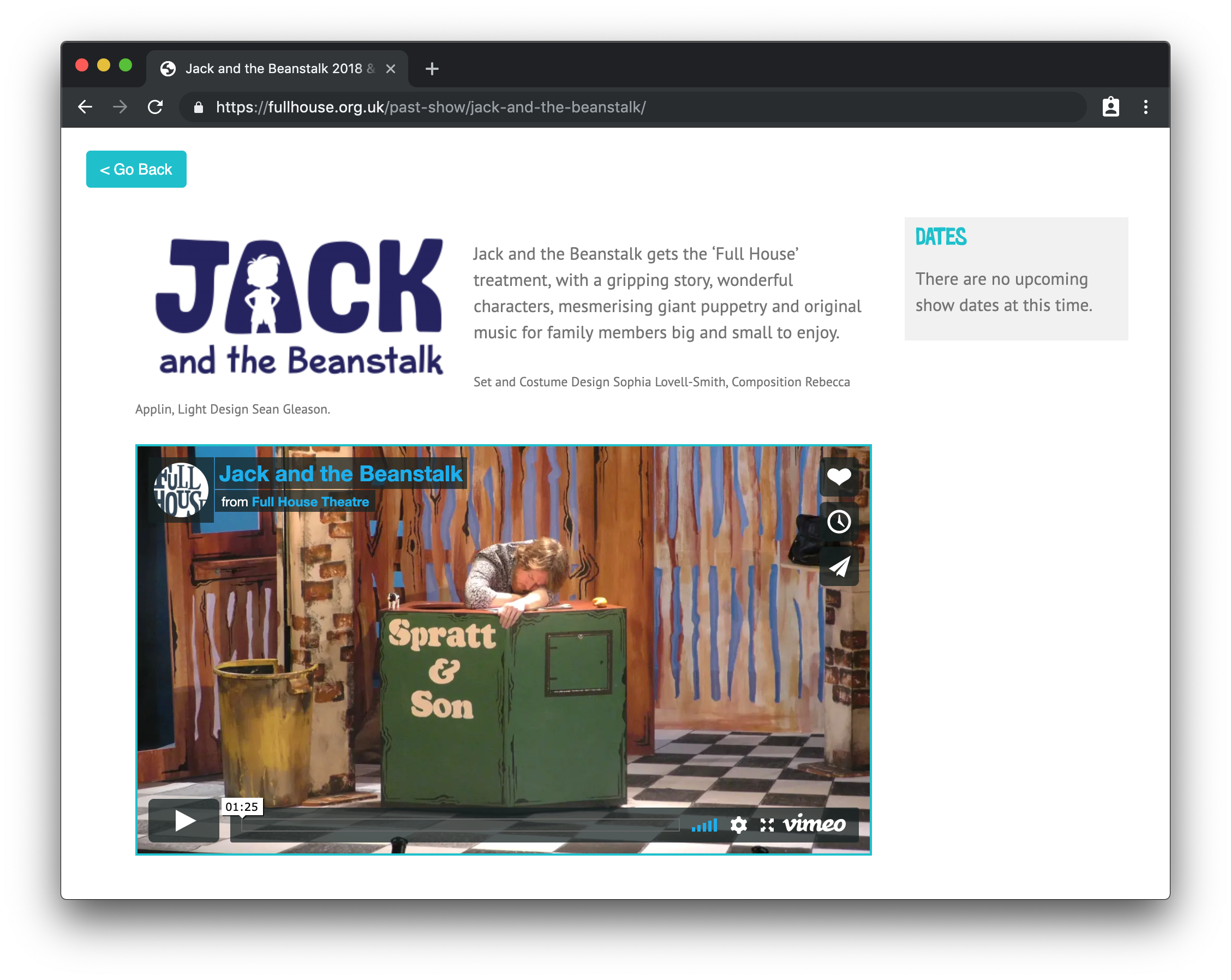 There's even a photo gallery full of highlights at the bottom of the listing to give visitors a peek at the set and get a better feel for the show. Our Image Widget Plus plugin makes these sorts of embedded images a breeze in WordPress.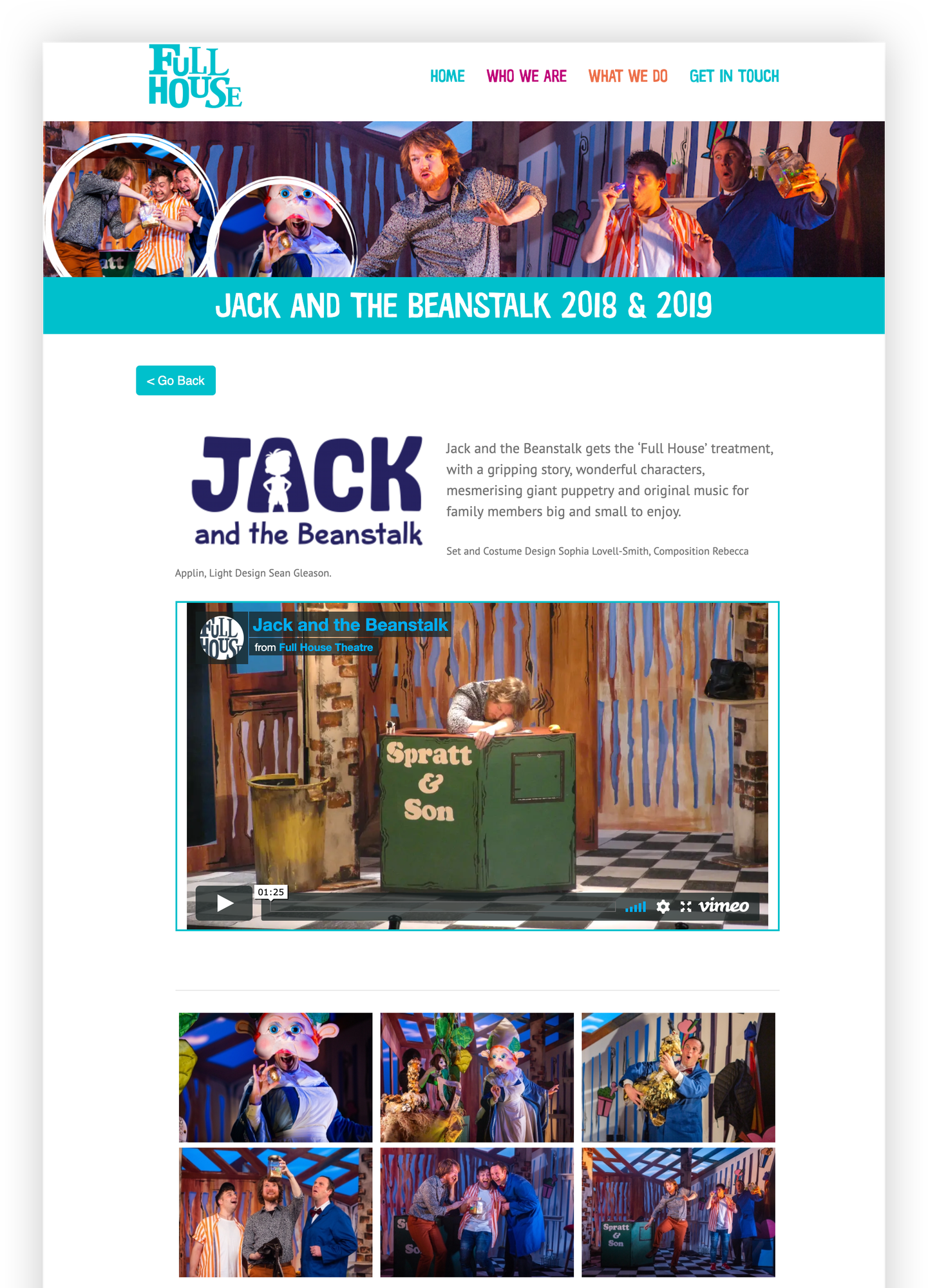 By featuring a plethora of relevant media right in their event listings, Full House makes it easy for visitors to get a feel for each show and ultimately purchase tickets for the show that's right for them (and for their theater-loving kiddos).
Pro tip: Your event listings are a perfect place to feature your critical acclaim and audience reviews, both of which can give prospective audience members an even better idea of just how awesome you are!
Embed different calendar views to promote events everywhere
Online events are everything for performing arts websites. From rehearsals to competitions to tours, your work revolves around IRL meetings that require plenty of promotion. So why limit events to a single page on your site? Why not give your events love throughout your website, above and beyond the calendar page?
Full House, for example, uses a slider to highlight featured events front and center on the homepage:
But they don't stop there. When you click on any one of their event listings for more details, you're greeted with a sidebar widget that lists upcoming dates for that particular production. This bonus sidebar view is a serious convenience for your visitors, who may be looking to purchase tickets for a particular date: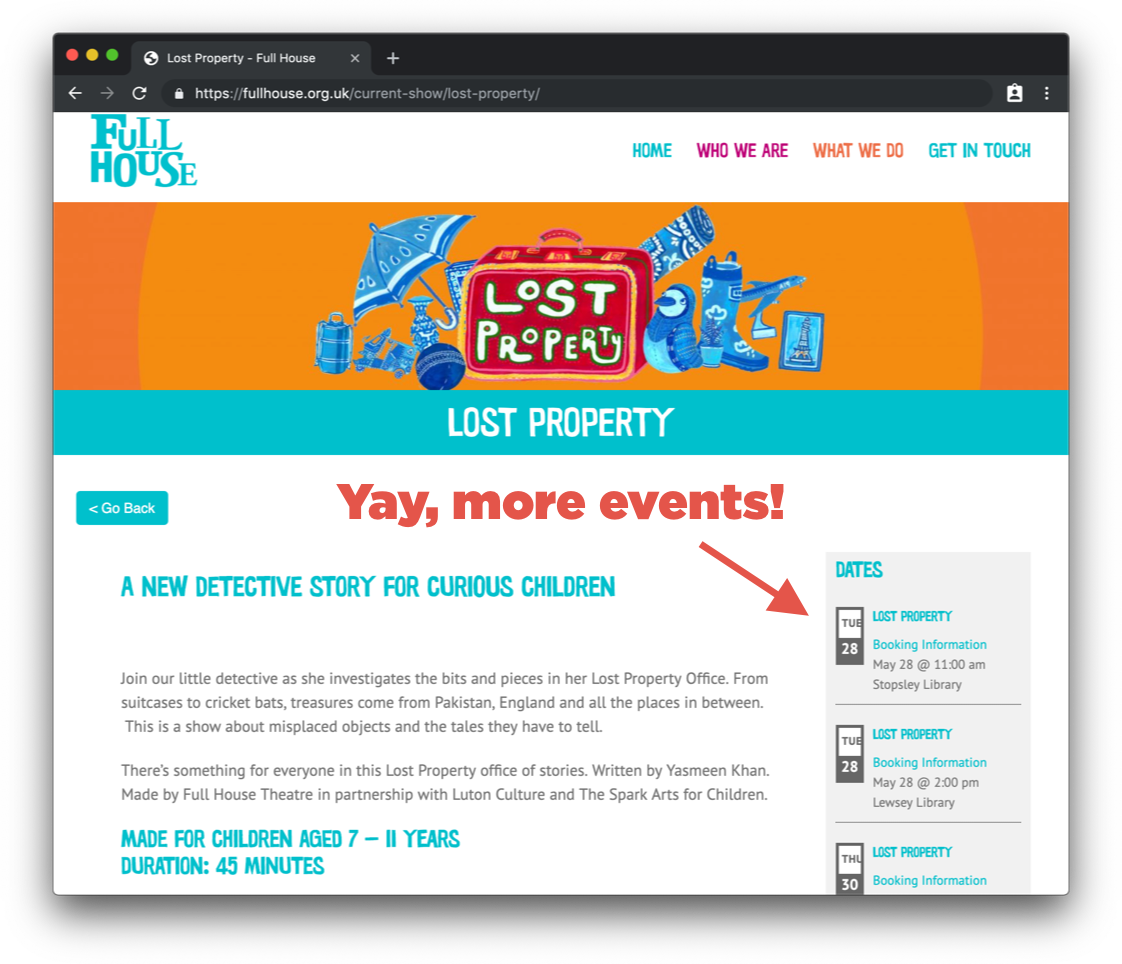 The calendar list view is a useful tool for your site, but it only scratches the surface of what your calendar is capable of doing. Events Calendar Pro includes six calendar views, making it flexible to any website. There are tons of other ways you can embed different calendar views (and individual events!) across your site and give your events the space to shine beyond your main events calendar.
Dress up your events and let them take center stage
See, that's not too much work, right? These best practices can jazz up your events (and the entire site) to spark interest and excitement. Powerful visuals, embedded media, functional widgets, and alternate calendar views can go a long way for a performing arts website.
You can make your performance events calendar truly sing! Or dance… or act. Maybe juggle? Perhaps swallow fire? Whatever you want, really.
Break a leg!