5 Venue Marketing Tips to Promote Events and Sell More Tickets
Being a venue owner is a tough but rewarding job. Working in the event industry requires patience, time management skills, and serious business savvy—and on top of that, you need a thoughtful approach to venue marketing to help your business succeed.
5 Killer Venue Marketing Tips
If you're ready to take your venue marketing to the next level, a slick, user-friendly website can help you book more gigs and increase ticket sales—a win for your guests, your clients, and your business! We've put together a five-step guide to help you get started.
1. Optimize Your Website for User-Friendliness
If the looks and layout of your site don't make it easy for users to find events, it's time for an update. There are countless WordPress themes tailored to certain industries and businesses. To find the right theme for your site, you can start by browsing the free theme directory on WordPress.org. If you need more powerful features, head over to Google to search for premium themes instead.
Pro tip: You can filter your WordPress.org search to meet your needs, like themes that are specifically built for e-commerce sites or themes that are compatible with your favorite plugins, like The Events Calendar and Event Tickets Plus. 😉
Once you're happy with your theme, do a quick check-up to make sure your site is as user-friendly as possible:
Speed up web page load times by upgrading your hosting or switching to an optimized file format for media files.
Tweak your navigation menu and make it easy for visitors to find exactly what they need.
Make your content scannable by using bulleted lists, short paragraphs, bolded headlines, and pull quotes.
Avoid obnoxious features like music that auto-plays or massive ads that cover half the screen.
Make sure your site includes all the important pages a venue needs, like directions, transportation and parking info, contact information, and an FAQ page.
2. Put Your Events Calendar to Work
As a venue, your events calendar is the lifeblood of your website. After all the time you spend loading event information to your calendar, no doubt you want to get those events in front of as many eyeballs as possible.
Take advantage of options offered by your calendar plugin, such as using Featured Events to highlight your headliners or use Photo View (shown below) to grab people's attention as soon as they land on your site.
And don't limit your events to the calendar page: Showcase them on different parts of your site, using shortcodes to display events on the homepage or create dedicated landing pages for certain event categories. You can also use widgets to create an event countdown or a mini calendar in your site's sidebar.
Pro tip: You can change the name of "organizer" to a custom name like "performer" or "band" with this free extension.
3. Get Inspired
Need some inspiration to get the ideas rolling? We got you—check out these cool calendars in action.
Dakota Jazz Club
Dakota Jazz Club is a music venue that uses Events Calendar PRO to showcase events. Highlights include a custom scrolling list widget on the homepage and custom pages for each musical guest with links to reviews, bios, and YouTube channels.
Glen Arbor Arts
Glen Arbor Arts demonstrates how a creative approach to event taxonomies can help visitors find the exact events they're looking for. A tabbed system arranges events by category so attendees can easily navigate between adult classes, children's classes, and custom classes.
Hotel Congress
Hotel Congress combines the power of WordPress and The Events Calendar by customizing their website with a unique style that's completely their own. The result is a stunning calendar that promotes events and engages attendees with exciting images, artist videos, and easy-to-navigate event categories.
4. Simplify Your Event Ticket Sales
For many venues, the tools you use to manage ticket sales are just as important as a slick events calendar. By combining a strong e-commerce platform like WooCommerce or Easy Digital Downloads with a ticketing plugin tailored to venue owners, you'll be able to quickly streamline ticket sales, attendee management, and reports.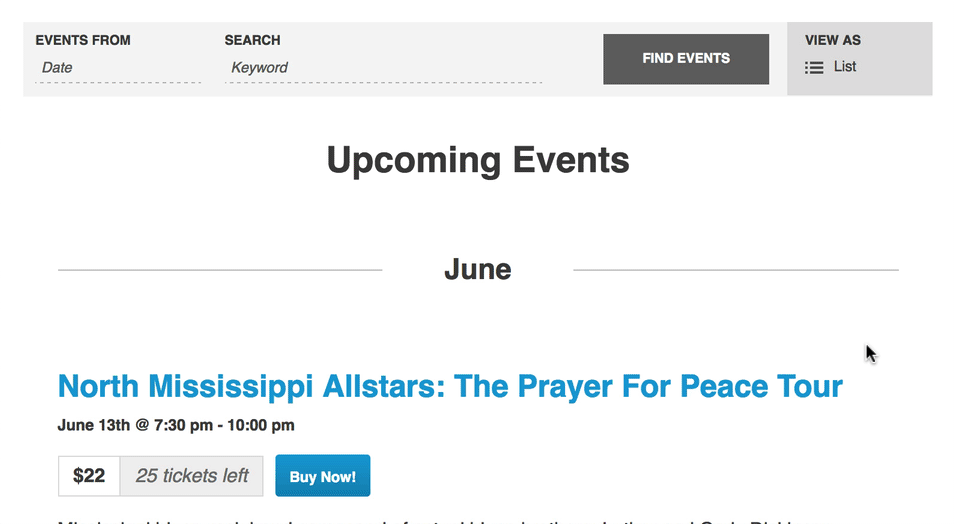 An easy win is collecting the right attendee information up front. Using custom registration forms, you can get info on T-shirt sizes, accessibility requests, and food preferences during the checkout process.
You can also use plugin features to clearly show which types of tickets are available, along with how many are still available for the event. FOMO is real—creating a sense of urgency that tickets will run out soon increases the likelihood that someone will buy now before the event is sold out.
5. Start Promoting Your Upcoming Events
With your website, calendar, and ticket sales ready to go, all that's left to do is start spreading the word!
Here are a few ways you can start promoting events beyond your website:
Share your events on Facebook to drive people to your event page, purchase tickets, and connect with you about booking opportunities
Include details for upcoming events in your monthly newsletter
Send email reminders to attendees with all the info they need to enjoy the show (and of course, encourage them to bring a friend!)
Better yet, automate your event promotion and communications—regular touchpoints keep folks engaged and informed. (Check out our newest product, Promoter, which does exactly that!)
Take advantage of your LinkedIn network for a super-targeted, personalized approach to event promotion.
Take Your Venue Marketing to the Next Level Today
Now that you've got the tools and knowledge to create an effective venue marketing strategy, it's time to put it in place. Remember, if you're using The Events Calendar, Event Tickets, or any of our add-ons, we've got your back with an extensive knowledgebase, awesome support team, articles to educate and inspire, and a full suite of WordPress event management tools to make your business successful.
For more event marketing tips and the latest news from The Events Calendar, sign up for our monthly newsletter.