How a Small Business Pivoted to Virtual Events Using The Events Calendar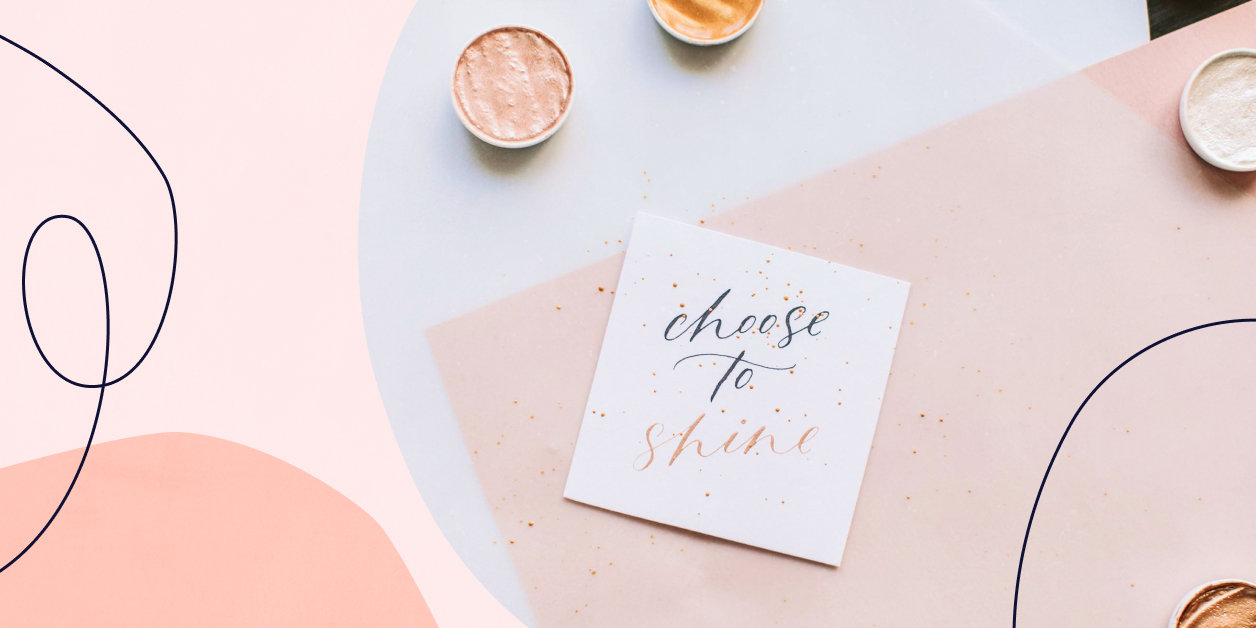 Meg Chaloner is the founder and co-CEO of Sip & Script, a business that started in Boston and expanded two years ago when Cahon and her team brought their signature calligraphy workshops to cities around the United States.
By partnering with artists across the country, Sip & Script delivers hands-on calligraphy workshops at local businesses like restaurants, wineries, boutiques, and coffee shops. But when the world went into lockdown in March 2020 because of the coronavirus pandemic, those events—which are Sip & Script's bread and butter—came to a screeching halt.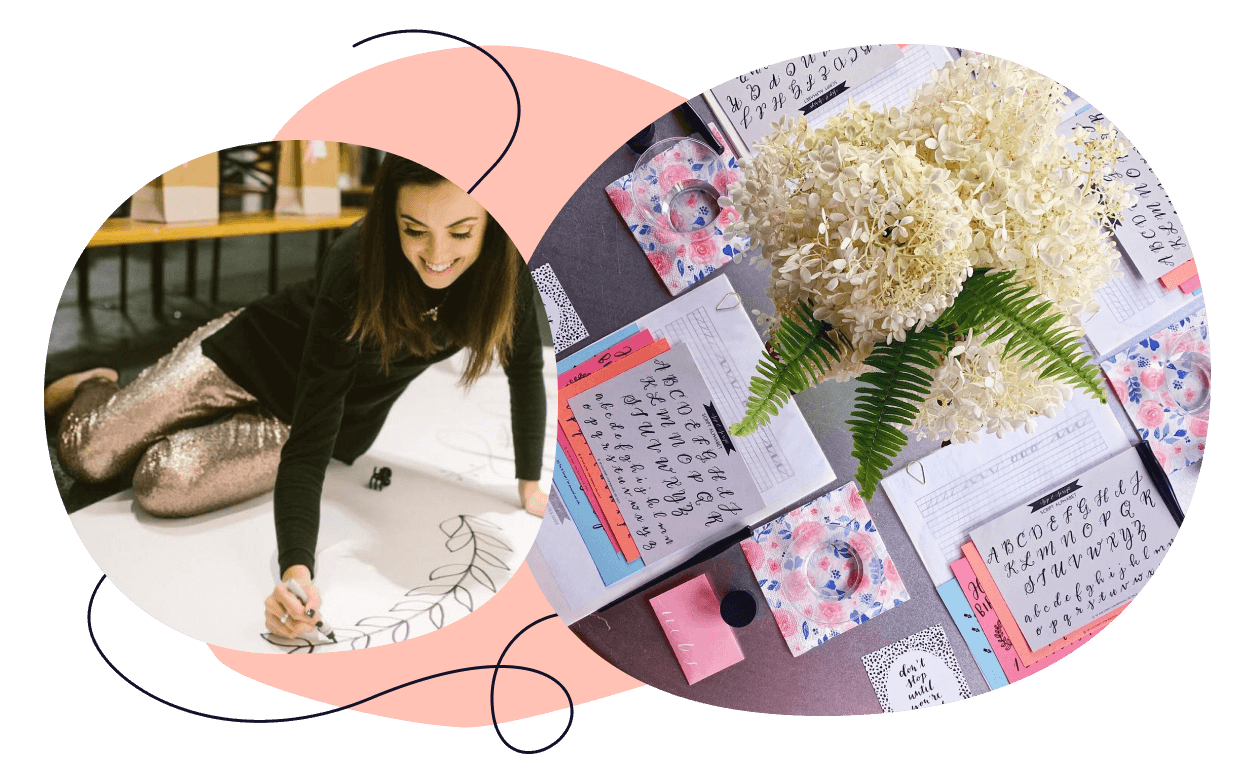 "Immediately we hit an absolute standstill," Meg says. "We pulled all the events across the board. It was close to 300 events that we had to take down through July."
The team quickly pivoted to virtual events, adapting calligraphy workshops so that their national team of artists could host Zoom sessions and give attendees the full experience from home. Even as they confronted a few challenges, Sip & Script was able to take advantage of The Events Calendar plugins to help ease the transition to virtual events.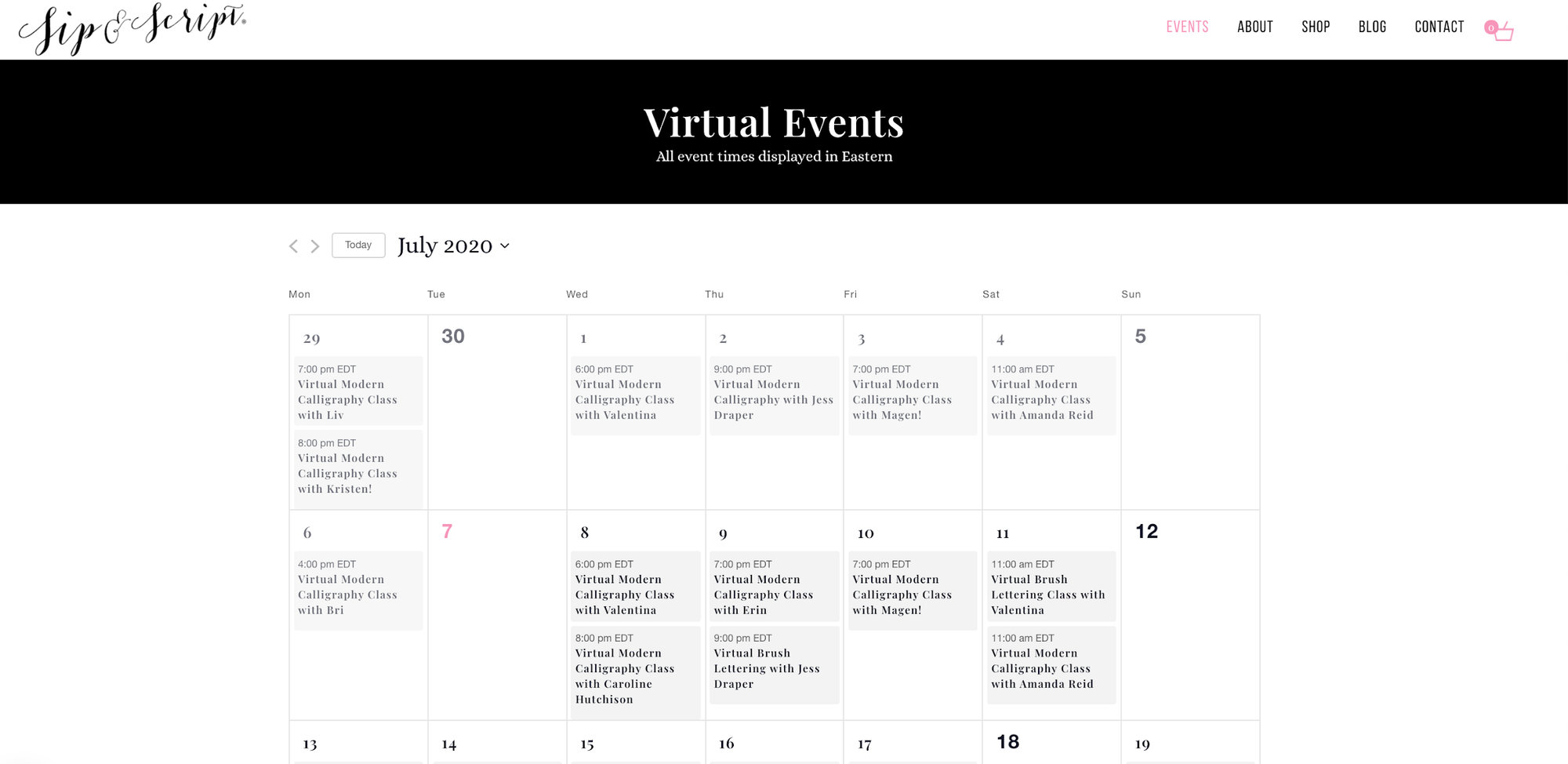 Now, Sip & Script's virtual events business is running smoothly, and Meg says online events will remain a core offering even after the country opens back up. 
We'll walk through some of the ways Sip & Script used The Events Calendar plugins to promote virtual events and generate revenue on their WordPress site.
Psst: Sip & Script uses plugins in our Virtual Event Marketing Bundle. Save serious money when you buy products in a bundle.

Crowdsourcing and collaboration made simple
Each member of Sip & Script's artist network around the country can submit their own events to the main Sip & Script calendar. By crowdsourcing, the owners save time on administrative work, and independent artists are empowered to manage their own events.
After an artist submits an event through a form created with Community Events, Meg and her team simply approve the event to publish it to the calendar. This combination of The Events Calendar and Community Tickets makes the collaboration process painless.
"It's such second nature to me at this point," Meg says. "I can just do it in two seconds."
Community Events also comes with customizable publishing settings. You can choose to keep submitted events in draft mode until events get admin approval, or you can set submitted events to publish right away—no moderation required.
Combining the calendar with ecommerce
Switching to online events required some extra coordination for Sip & Script at first. Meg and the team needed to find a way to combine event ticket sales with sales of calligraphy kits that attendees purchase before the event. 
Sip & Script addressed this by adding a pop-up on the ticket checkout page with a reminder to purchase supplies.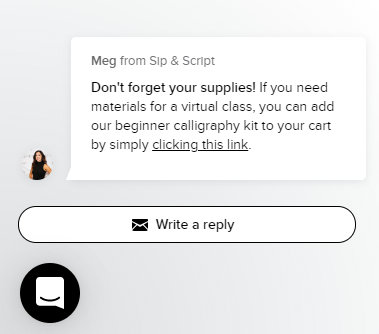 Another solution that could work for your business: Use the WooCommerce Product Add-Ons plugin to offer physical goods as part of the purchase, without requiring it. 
Automated emails for seamless virtual events
After an attendee signs up for a Sip & Script virtual workshop, they automatically receive an email confirmation. Then, 24 hours before the event, they receive an email with the Zoom link. After the class, they receive a thank-you email with a link to resources and information.

Meg's team uses Promoter to take the busywork out of these emails. Instead of keeping track of multiple touchpoints for dozens of events, the work is totally automated in Promoter, which integrates with The Events Calendar and Event Tickets. That means you don't need to import or export your email list to a third-party app. You can manage your event email marketing right from WordPress.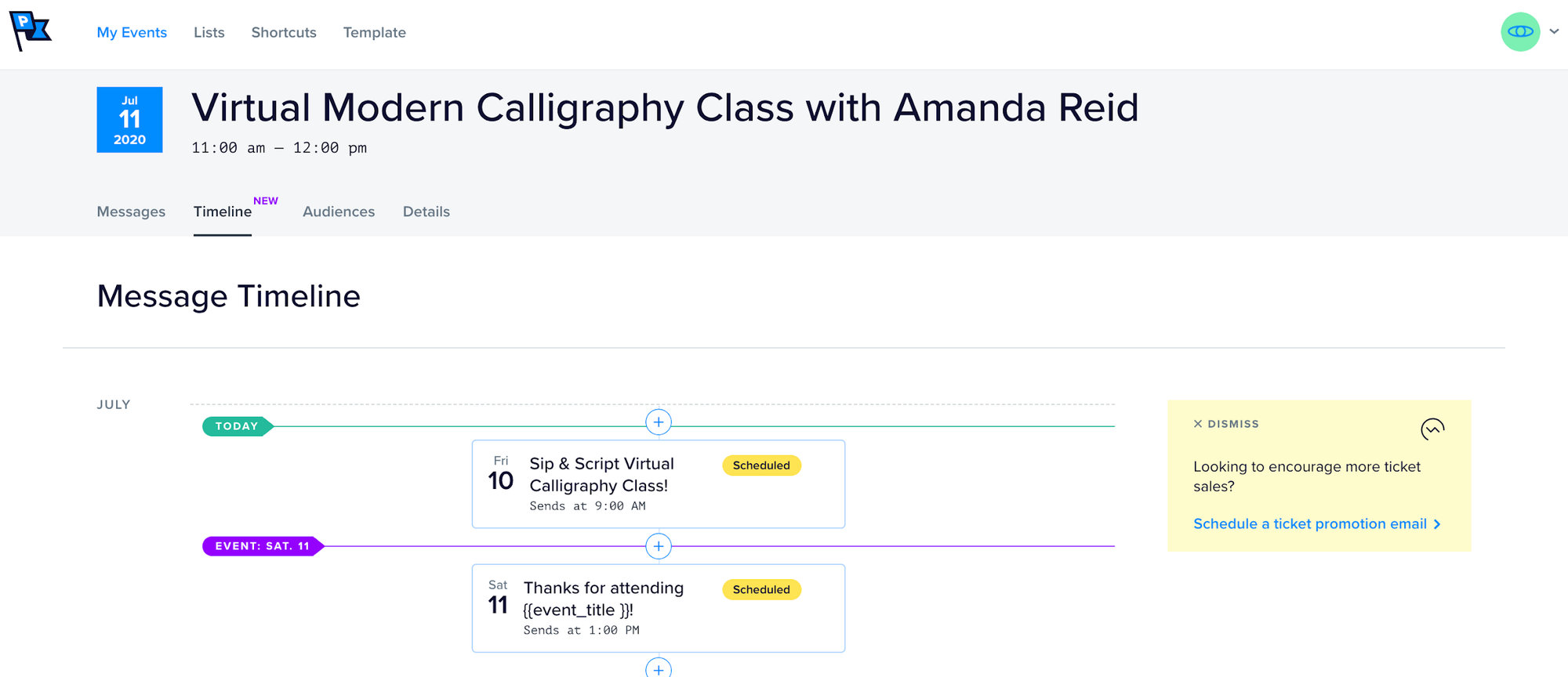 The Virtual Events add-on also gives you the option to set privacy settings on Zoom links (or any webinar/video meeting link), whether you want the link hidden until the event starts, sent only to attendees, or displayed publicly.
Easily split payments with calendar contributors
After an event, the Sip & Script team splits revenue between the company and the artist. If you don't want to do this manually, you can use automatic split payments with Community Events and Community Tickets. Together, these tools allow you to split ticket revenue between the calendar owner and the event organizer. So, if you run a calendar with submissions from contributors around the country, like Sip & Script, you could automate the payout process with Community Tickets. 
Here's how it works: After a customer purchases a ticket, your website calculates how much commission to pay each organizer, and they get paid automatically through PayPal. This removes all the busywork (and the math equations) out of the payout process. As the calendar owner, you also set your own fees and determine the amount of your cut from each sale.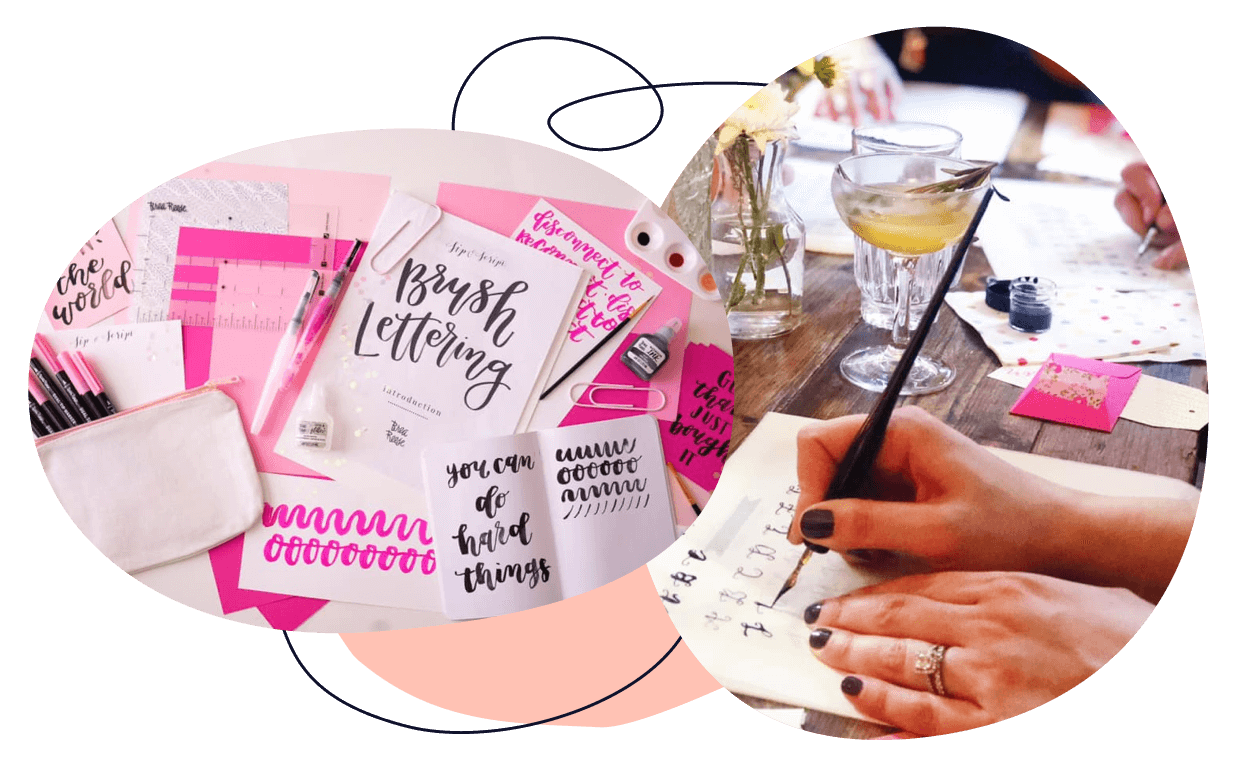 Forging ahead with virtual events
Even though in-person events are slowly making a comeback, virtual events aren't just a temporary solution for Sip & Script—they're also the way of the future. With the help of The Events Calendar plugins, Sip & Script has been able to harness the power of their WordPress site to generate sales and recover revenue.
"We're thankful that we have this option to make a pivot like this," Meg says. "It definitely helps."