Featured Calendar: CyclingSavvy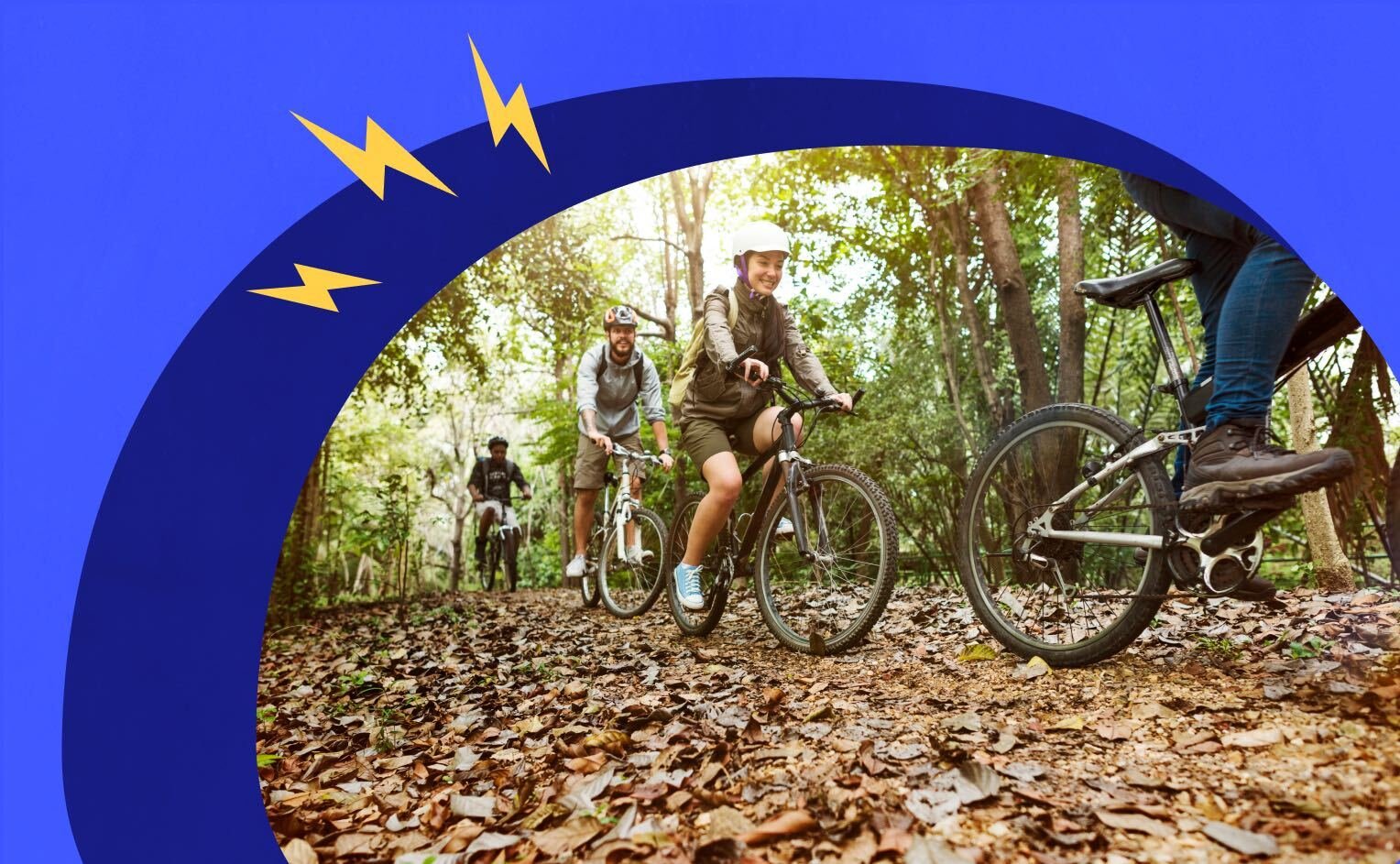 It's not every day that you find a website that provides such a breadth of resources for its given craft. Well, in this WordPress calendar example, CyclingSavvy has done just that. They've created a one-stop-shop for anyone visiting their WordPress site, looking for cycling classes, online courses, membership options, and so much more!
As part of the American Bicycling Education Association, CyclingSavvy's mission is to provide programs and resources for the education of bicyclists as drivers of vehicles, and bicycling-related education for traffic engineers, transportation planners, law enforcement professionals, educators, and the general public.
They utilize The Events Calendar, Events Calendar Pro, Filter Bar, Virtual Events, Promoter, Event Tickets, Event Tickets Plus, and even our sister plugins, GiveWP, LearnDash, and Restrict Content Pro, to create their powerfully functional website.
Let's take a ride through their website to see all that CyclingSavvy has to offer.
The homepage
Right on the homepage, you'll find lots of helpful links and content. To the left, there's a video detailing what their organization does. Then to the right of the video, there are links to Find a Class and Become a Member. The former takes you directly to the main events page.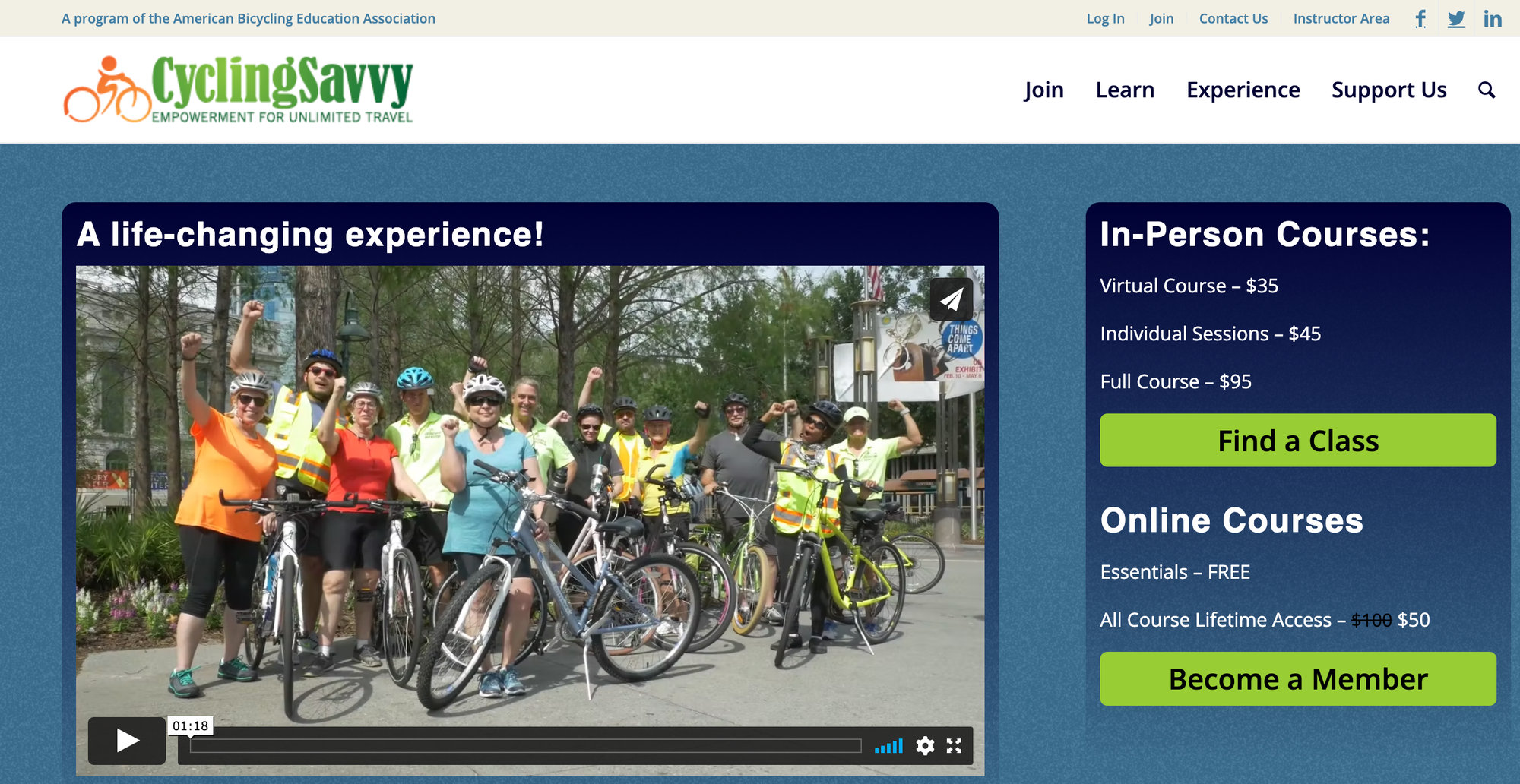 The latter brings you to the membership sign-up section of the homepage, located immediately below. Using a membership plugin like Restrict Content Pro is a great way to add this feature to your WordPress site quickly.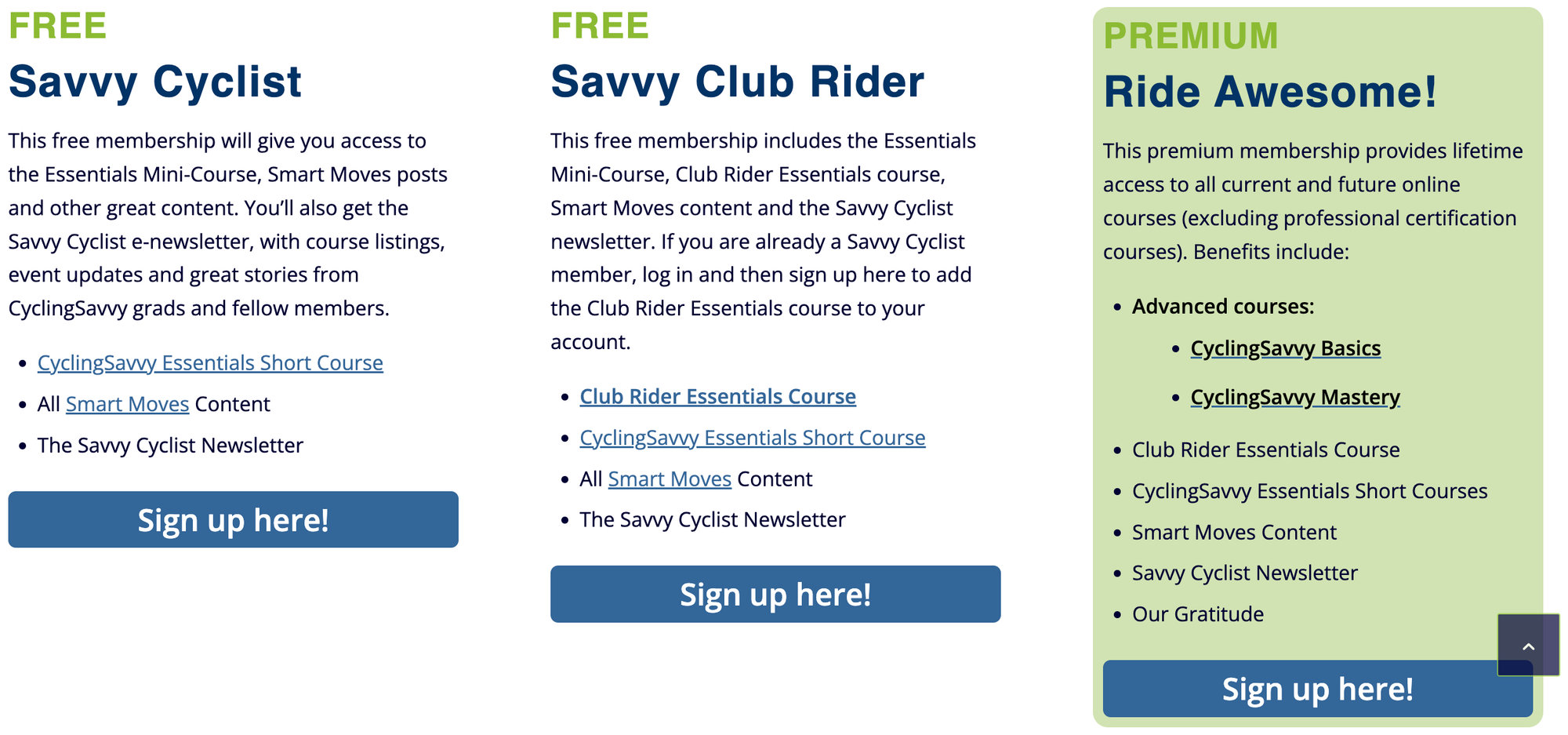 The main calendar page
The first thing you'll see on the main calendar page is the Filter Bar. CyclingSavvy has this set up so that you can search through their events by Event Category, City, and State/Province. And there are even more ways that you can configure Filter Bar. You can even add custom filters if you'd like.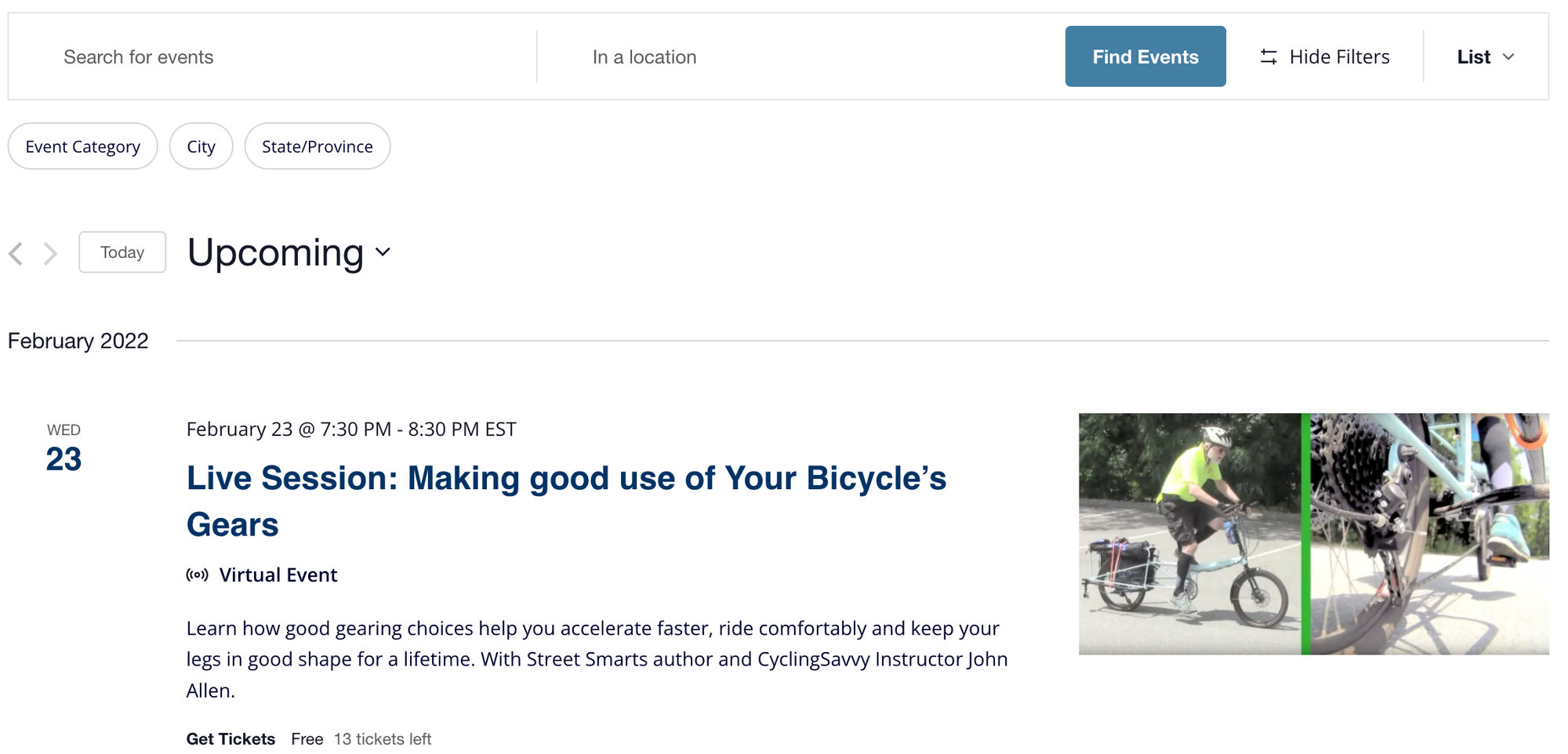 They've chosen to use List View as their default calendar view, though you can also view their calendar in Month, Day, and Map views by using the dropdown menu in the Events Bar.
With our Virtual Events plugin, virtual and hybrid events are denoted with an icon to make locating these types of events easy on the eyes, which is available in all views, including the single event view. Below is a description of the event, along with a link to Get Tickets and view how many tickets are left for each event. Event Tickets and Event Tickets Plus come standard with these display options.

The single event page
Each single event page prompts you to log in to your account to purchase tickets. Once you log in, you'll gain access to the tickets, available only to members.
You'll also find links to export the events to your personal Google Calendar or iCalendar and a description of the event.
Online courses page
In addition to a well-populated events calendar, CyclingSavvy also offers free and premium courses. They use the LearnDash plugin to implement this attribute onto their website easily.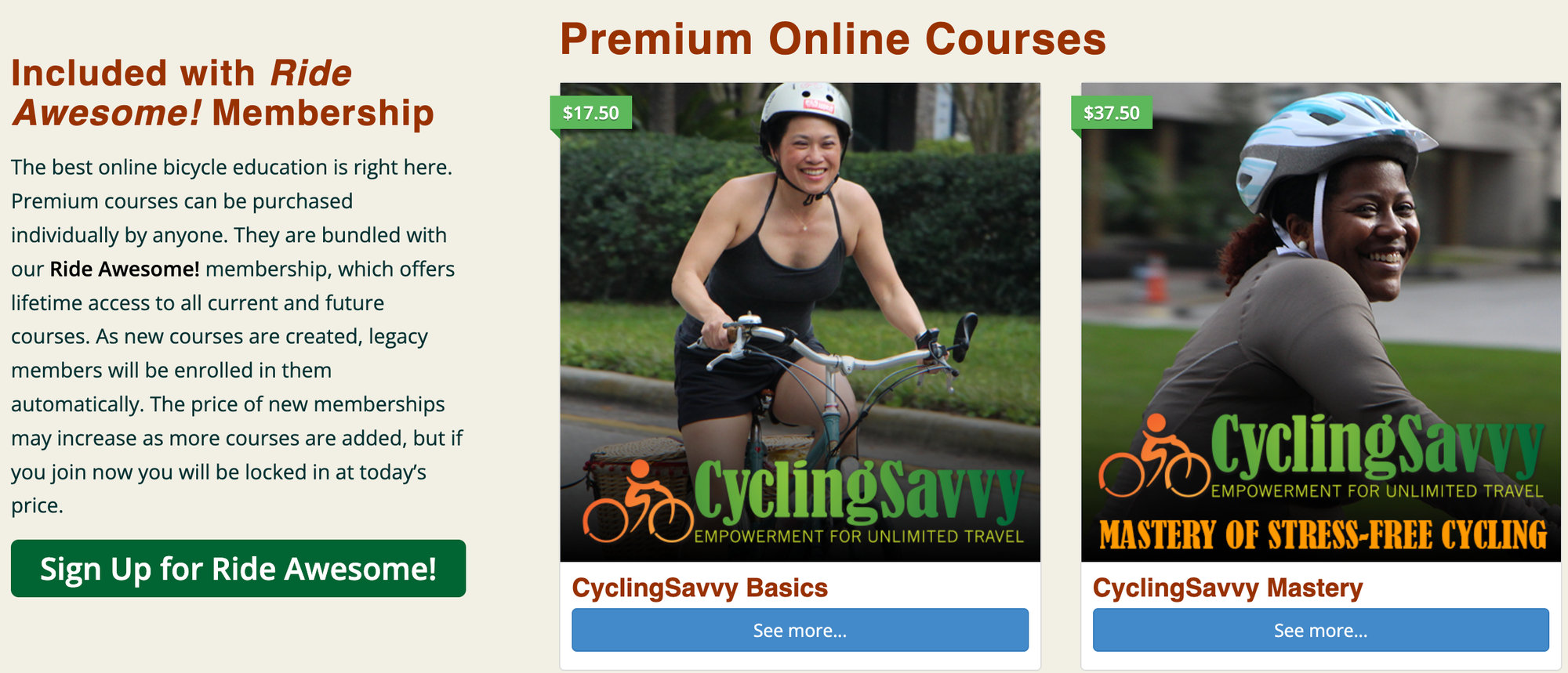 Visit the individual course pages and get all of the information you need. Once you enroll in one of their courses, that page will be where you go to take the course and check your progress.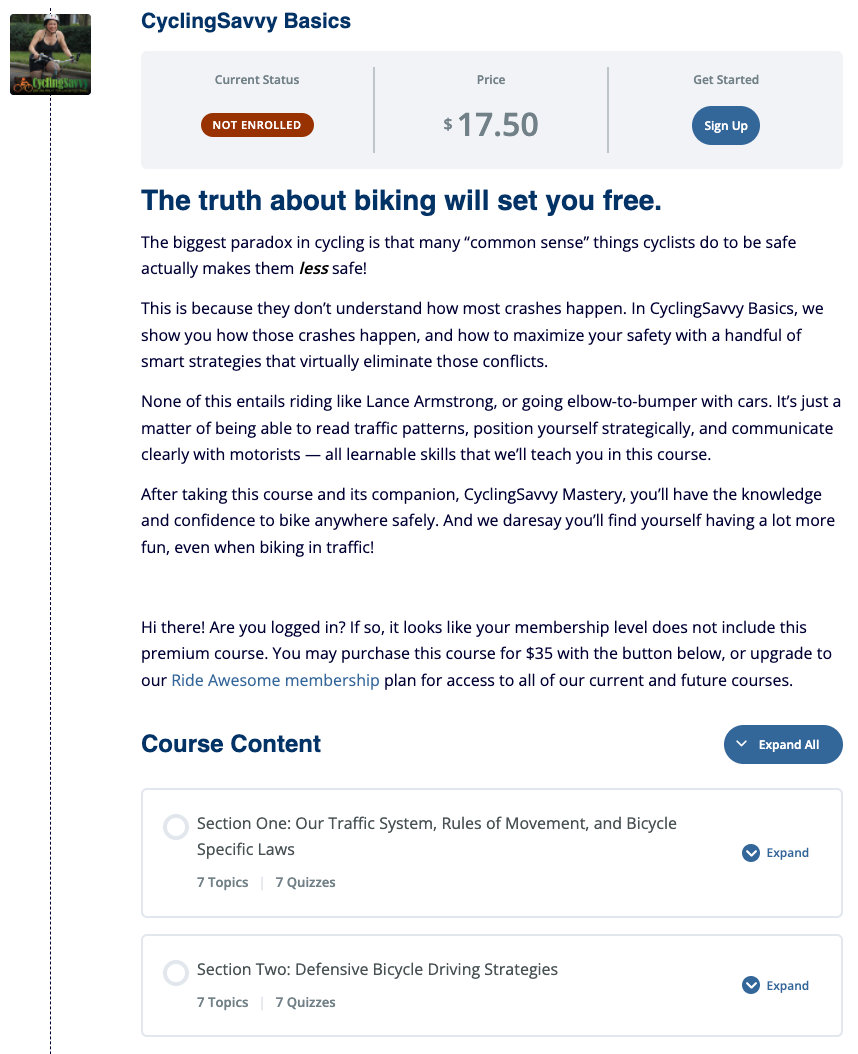 Donation page
CyclingSavvy includes a donation page on their website so that users can support their program and keep it running. They've used the GiveWP plugin on this page to make adding this functionality a breeze.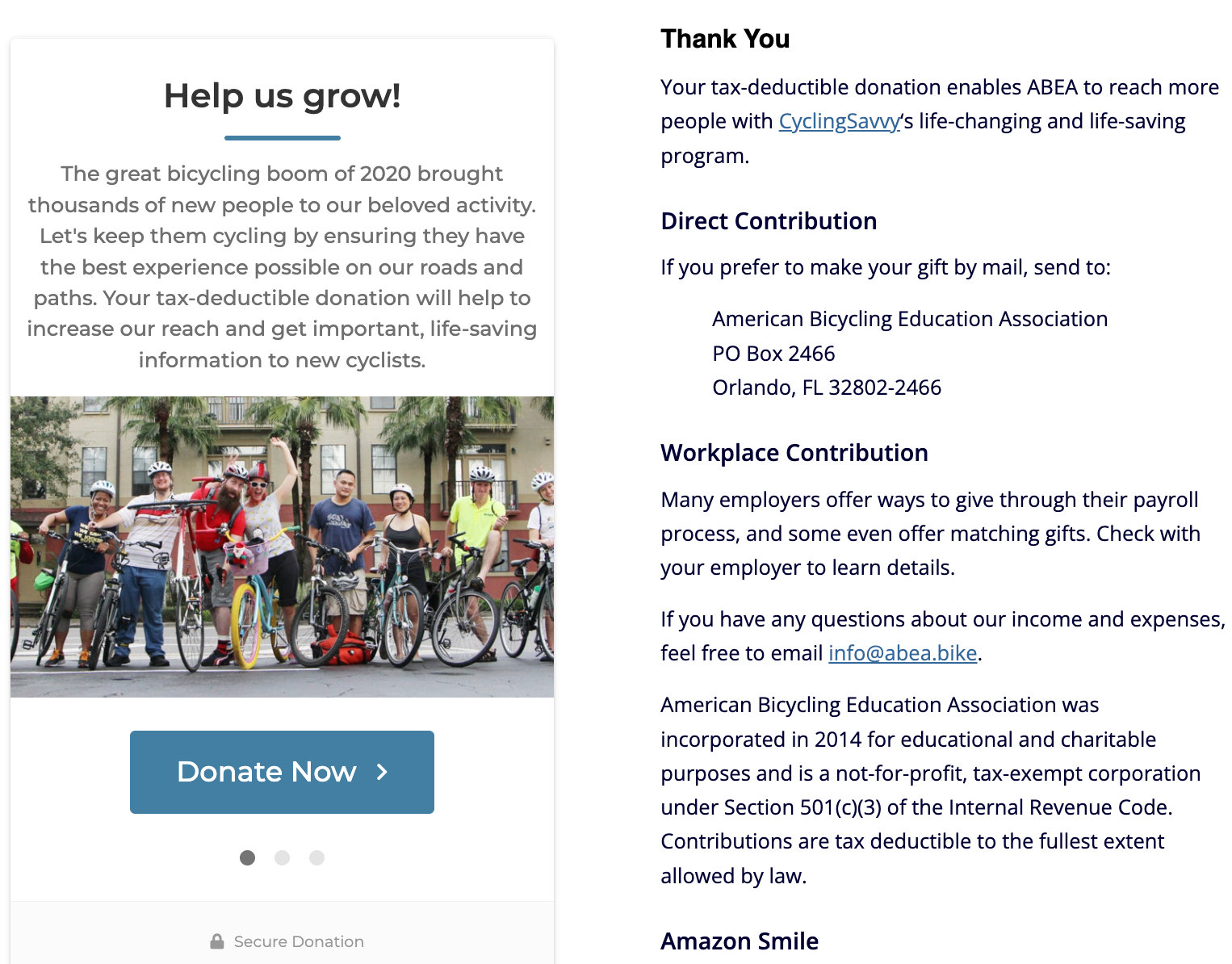 A WordPress calendar example that suits all of your needs
Wow! This stacked WordPress site includes everything you could want out of a website. With its function, style, and ease of use, Cycling Savvy knows how to make the most out of its plugins. Of course, you don't need to implement every one of these plugins on your website, but it's great to know that you've got options. Want to see who else uses our products? Well, we've got plenty of Featured Calendars to explore. So pedal on over and take a look at all that our plugins can do. 🚴‍♀️