Integrating Restrict Content Pro with The Events Calendar
Restrict Content Pro is a premium plugin that allows you to limit access to any WordPress page, post or custom post type. It offers the same capabilities as the free version of the plugin, Restrict Content, but with additional features, such as the ability to create an unlimited number of membership plans — including paid ones — and restrict access to content based on a user's membership.
Events created with The Events Calendar and tickets created with Event Tickets Plus are custom post types, meaning both of these plugins work well with Restrict Content and Restrict Content Pro, as well as our premium calendar add-ons, like Events Calendar Pro.
Let's look at some ways that Restrict Content Pro can be used with the calendar and tickets. We're focusing on Restrict Content Pro instead of Restrict Content since the features offered in Restrict Content are also available in Restrict Content Pro.
Restrict access to the calendar and events
It's possible to limit access to the calendar based on a user's membership status. Restrict Content Pro can prevent non-members from access post archives, which is what the calendar is.
But maybe all we want is to restrict access to a specific event, or even a category of events. We can do both! For example, jump into the editing screen for an event category and select the restriction settings that Restrict Content adds to the category options.
The same thing goes for events. Open an event in the WordPress editor, and select who is able to access that event in the "Restrict this content" settings.
Restrict Content gives us even more fine-grain control by allowing us to restrict certain content on a page to members, including events.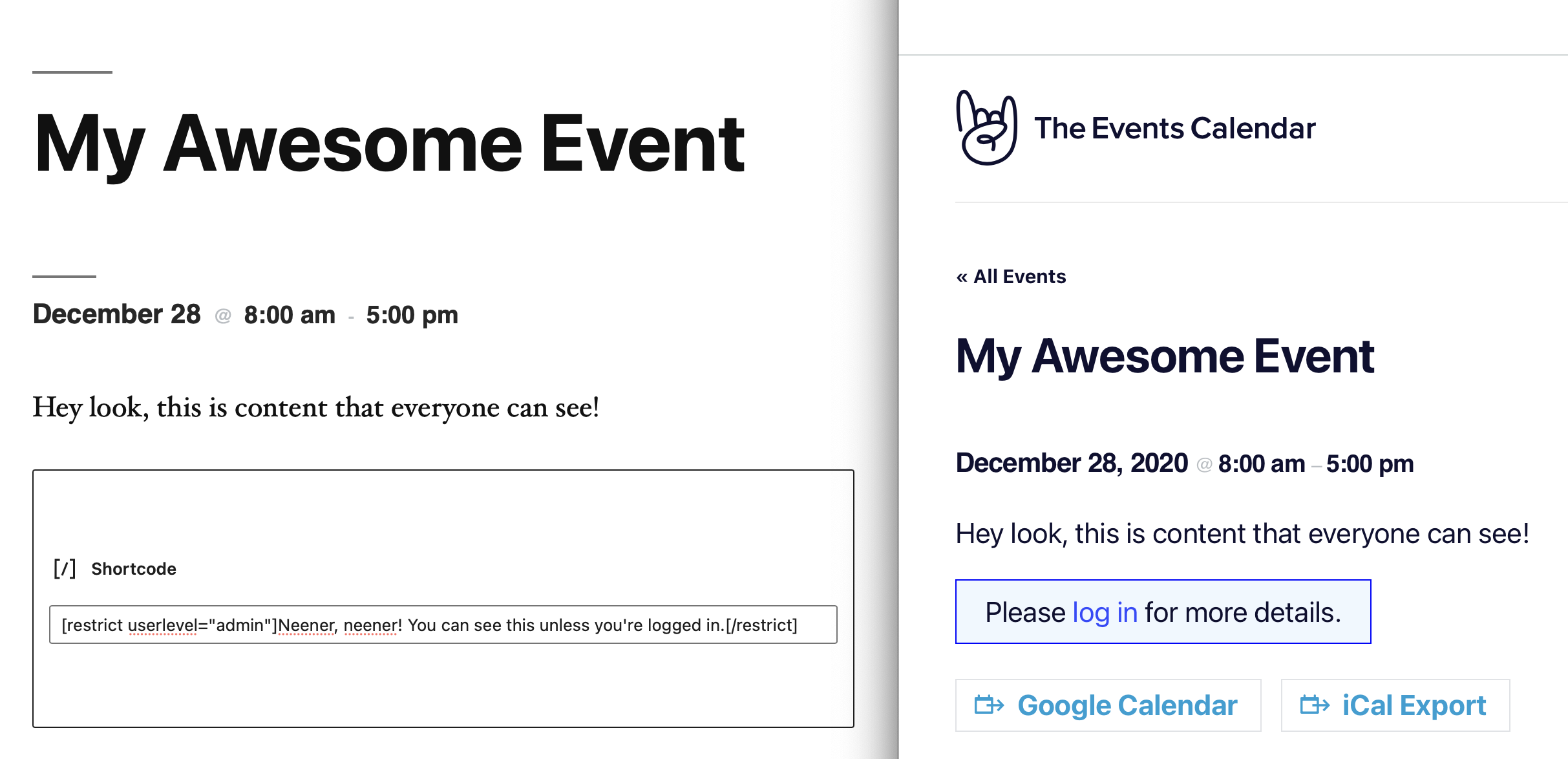 Restrict ticket purchases
Another thing we can do is allow specific memberships access to certain tickets, whether we're using Event Tickets by itself or with The Events Calendar. For example, we can use the [restrict] shortcode that comes with Restrict Content to display the tickets for an event just to members.
This is great if you're using Event Tickets to create and sell tickets, but what if we're using Event Tickets Plus to make tickets with an e-commerce plugin, like WooCommerce? A ticket is a product and products are a custom post type, which means Restrict Content Pro is able to restrict access to those tickets as well. We can even set those restrictions on the product editing screen.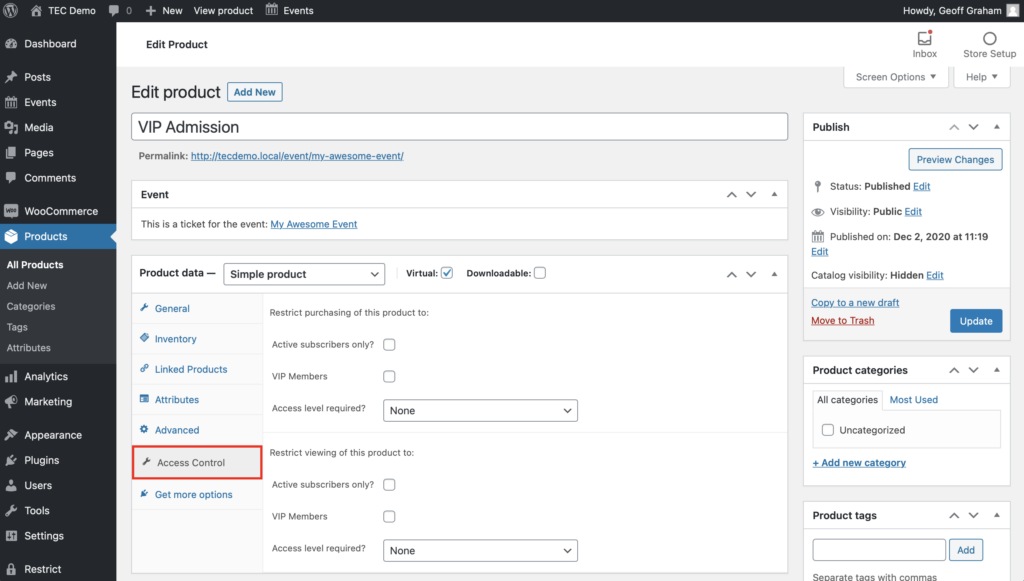 Restrict access to event submissions
Community Events is a paid add-on for The Events Calendar. It creates a page with a form on it that allows users to submit events to be published to the calendar without giving them access to the WordPress admin. While Community Events provides a way to limit access to users who are registered to your site and logged into their account, we can use Restrict Content Pro to add further restrictions.
Just like any other page or post, Restrict Content Pro provides additional settings to the page editor — including the event submissions page. And that's because you add the submission form to any page on your site using the [tribe_community_events] shortcode.
We can do the same thing with any other Community Events shortcode, including the one that displays a list of events a user has submitted to the calendar ([tribe_community_events_event_list]). We might even consider bumping up the restriction level on this page to higher membership level, allowing us to charge more for a membership that allows members both to submit events, and manage the events they have submitted.
Pros and cons
There's a lot to like about Restrict Content and Restrict Content Pro! But like all things, there are upsides and downsides to it, in this case, when it comes to events and tickets.
Pros
Easily restrict access to any page, post, event, etc. based on user role.
Use a shortcode to restrict access to content within a page or post, including events.
Create membership levels with tiered levels of access to content.
Integrates with WooCommerce to set access to tickets.
Display custom messaging for non-members.
Create tickets that only members can purchase, by upgrading to the premium plugin.
Cons
Requires a paid upgrade to Restrict Content Pro to set ticket restrictions, though that can be offset by charging a membership fee.
Product restrictions are limited to WooCommerce, which may not be ideal for some organizations.
Wrapping up
That's a complete look at different ways that Restrict Content Pro can be used with The Events Calendar and our other calendar products. We saw that there are many possibilities, not only to limit who can access the calendar, but who can view certain events, purchase certain tickets, and even submit events to the calendar.