How to Create a Museum Events WordPress Site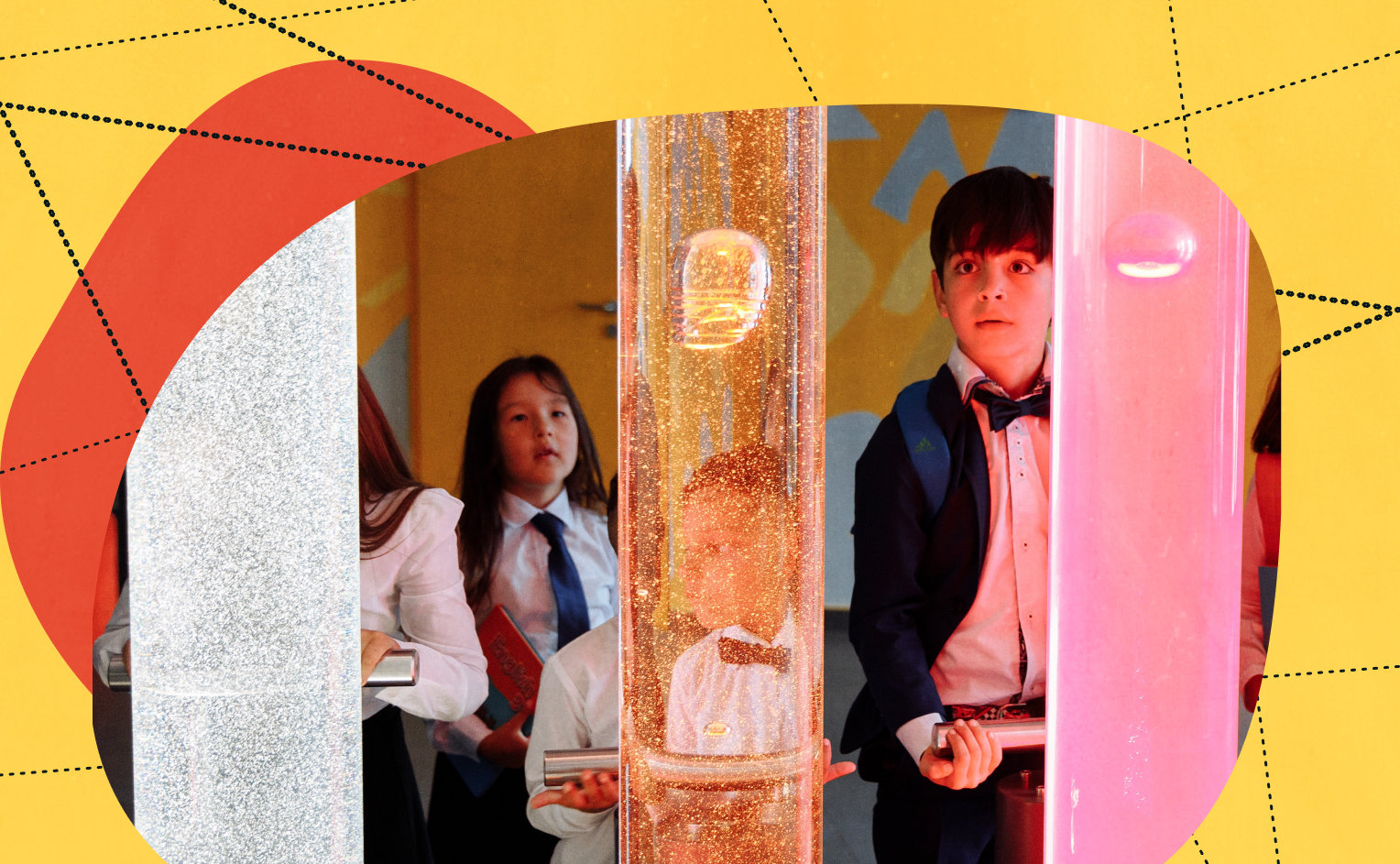 Using The Events Calendar to host your museum events is a surefire way to effortlessly display a WordPress calendar to your site's users. Sure, if you want museum-specific pages, you might be able to adapt your entire site to meet your needs by planning out your ideas, finding the right theme, and hiring a developer to make it happen. Or, instead of using separate plugins and custom code to add the functionality you need, you can have Kadence WP's new FREE Children's Museum starter template do the work for you.
Without writing a single line of code, you can create a kid's museum WordPress site in minutes with all of the bells and whistles to make the site both effective and beautiful at the same time.
Below, we'll discover all of the fantastic features this starter template has to offer.
Set it up
The first thing you'll want to do is install the Kadence theme. To do this, head over to Appearance > Themes in the WordPress Dashboard and Add New. Once there, you can search for the Kadence theme.

Next you'll be prompted to install Kadence starter templates, so go ahead and install those.

Choose either the Gutenberg or Elementor Builder and then select the Children's Museum starter template from the list.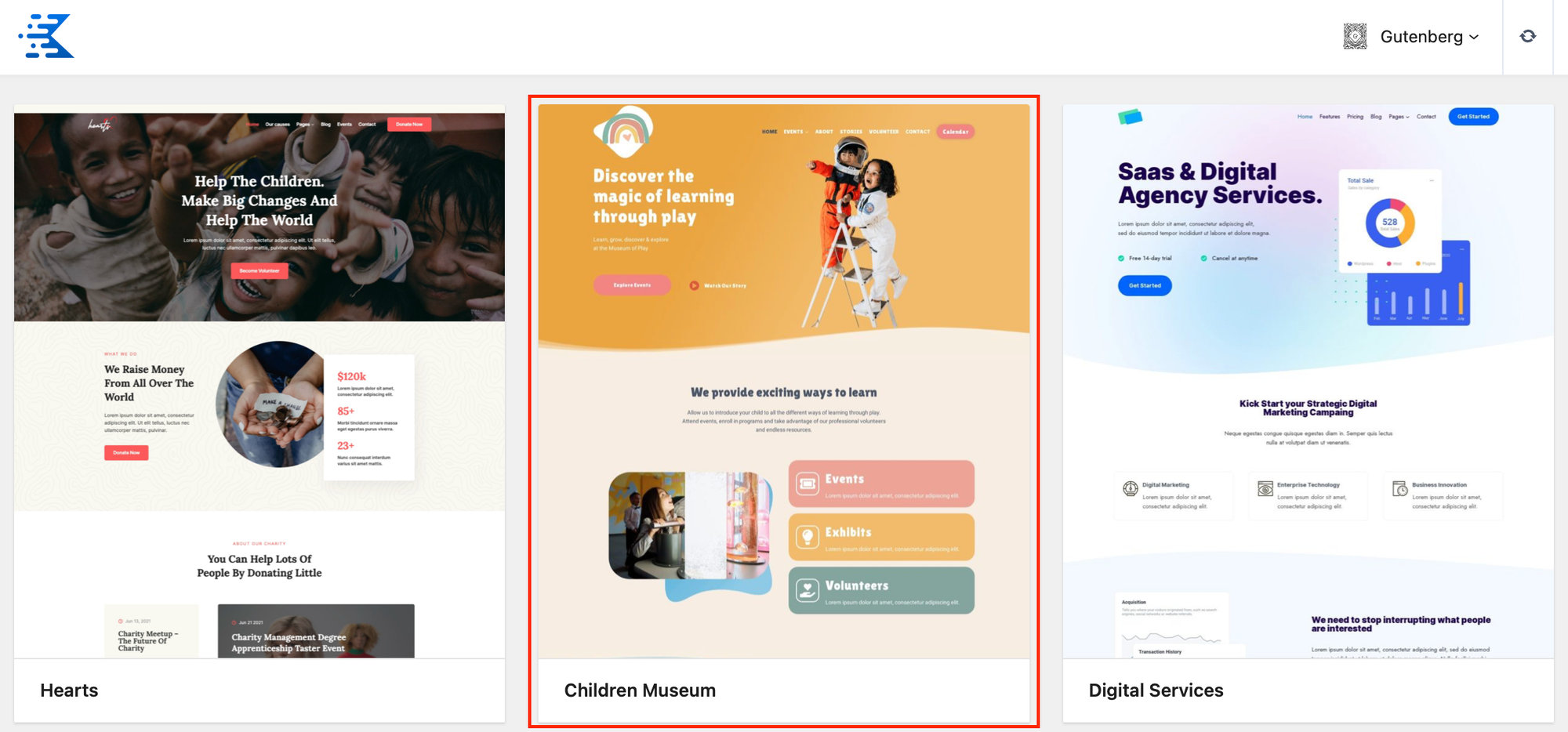 Now you can choose the color scheme, font family, and whether you'd like to import the template as a single page or a full site for your museum events WordPress site. These options will remain available if you change your mind later. You'll see any additional plugins that may be required as well. If you don't already have The Events Calendar and Kadence Blocks installed on your WordPress site, they will be automatically included when the starter template is imported.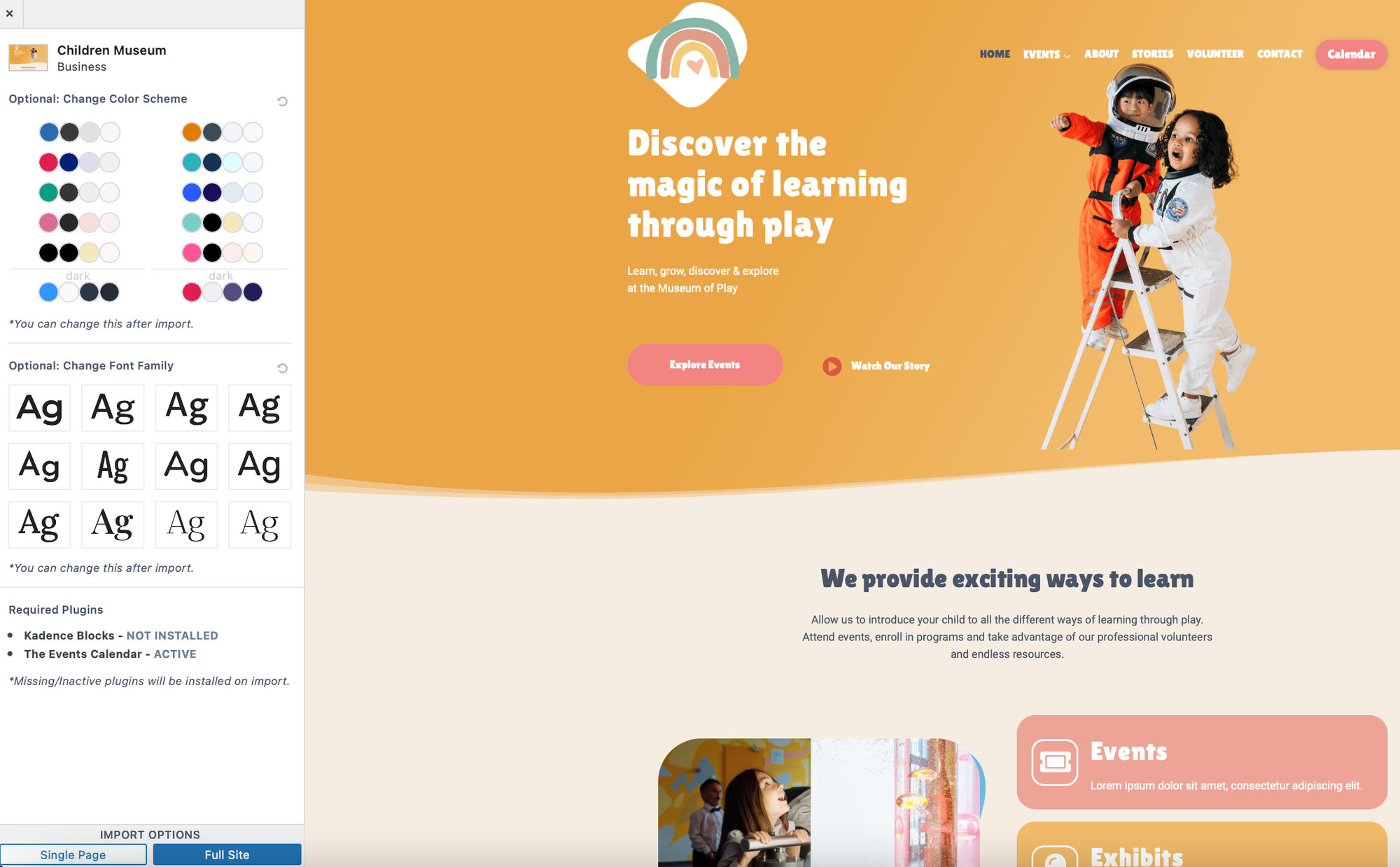 Explore the features
Right out of the box, you'll have a completely operational Children's Museum website. Now comes the fun part! Add your content, including your events calendar, and configure the various sections to your liking.
To make changes to the content and the elements, simply click Edit Page at the top of the toolbar when logged in as an administrator. The Design Library comes standard, so swap images in and out of your pages with abandon. You can also select Kadence Block Controls to adjust your block settings and change the color palette. Lastly, the page settings at the top control your global settings for the entire museum events WordPress page.

Scroll down on the homepage and you'll find an events widget already there. Feel free to add or remove some of the content to make the site your own. This way, your patrons will only see the information that's pertinent to your museum. You can edit the block right on the page and use the block settings in the right-hand sidebar.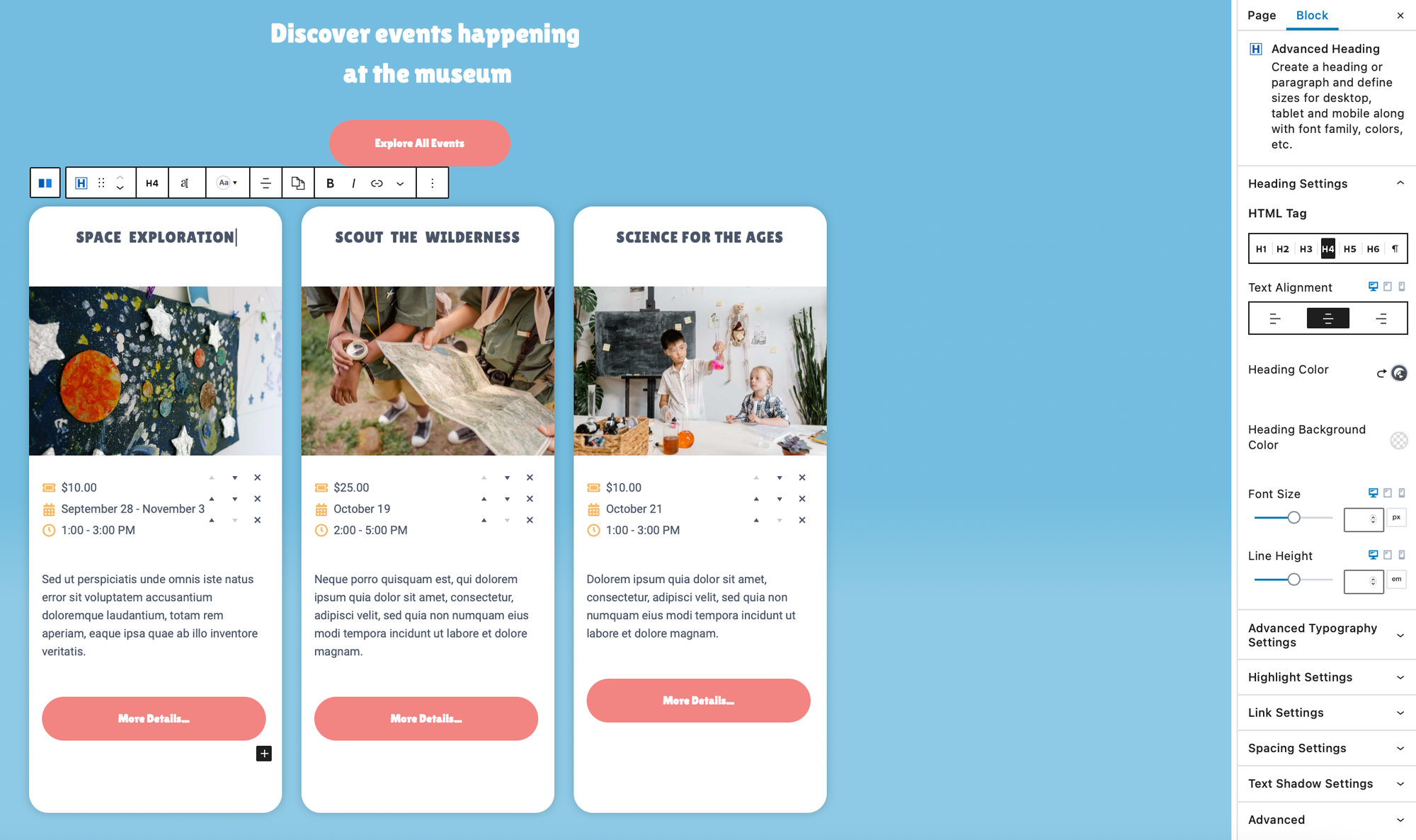 From there, you can continue to populate the calendar with your events and add additional information, like staff bios and parent reviews.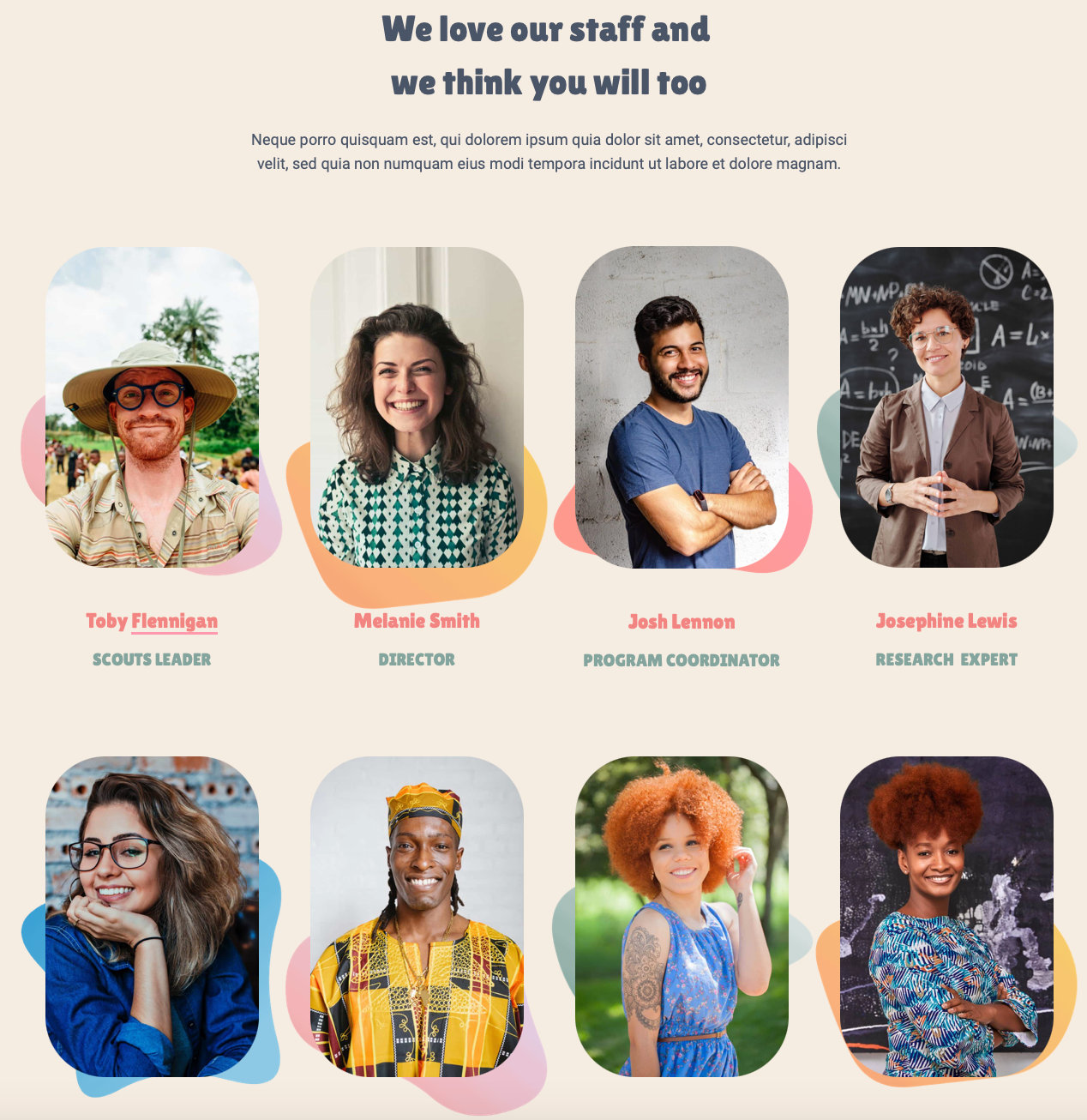 And that is just on the homepage! Other preset pages include About, Contact, and Volunteer, so go ahead and personalize those pages and add additional ones to suit your needs. Rest assured that you can add any content you want and the styles integrate seamlessly without any additional work on your part.
Kadence and TEC work together to create museum magic
As you can see, Kadence WP's Children's Museum starter template has everything you need to create an easily-customizable WordPress site in mere minutes. With The Events Calendar in tow, you'll also be able to showcase your museum events for all of your visitors to see.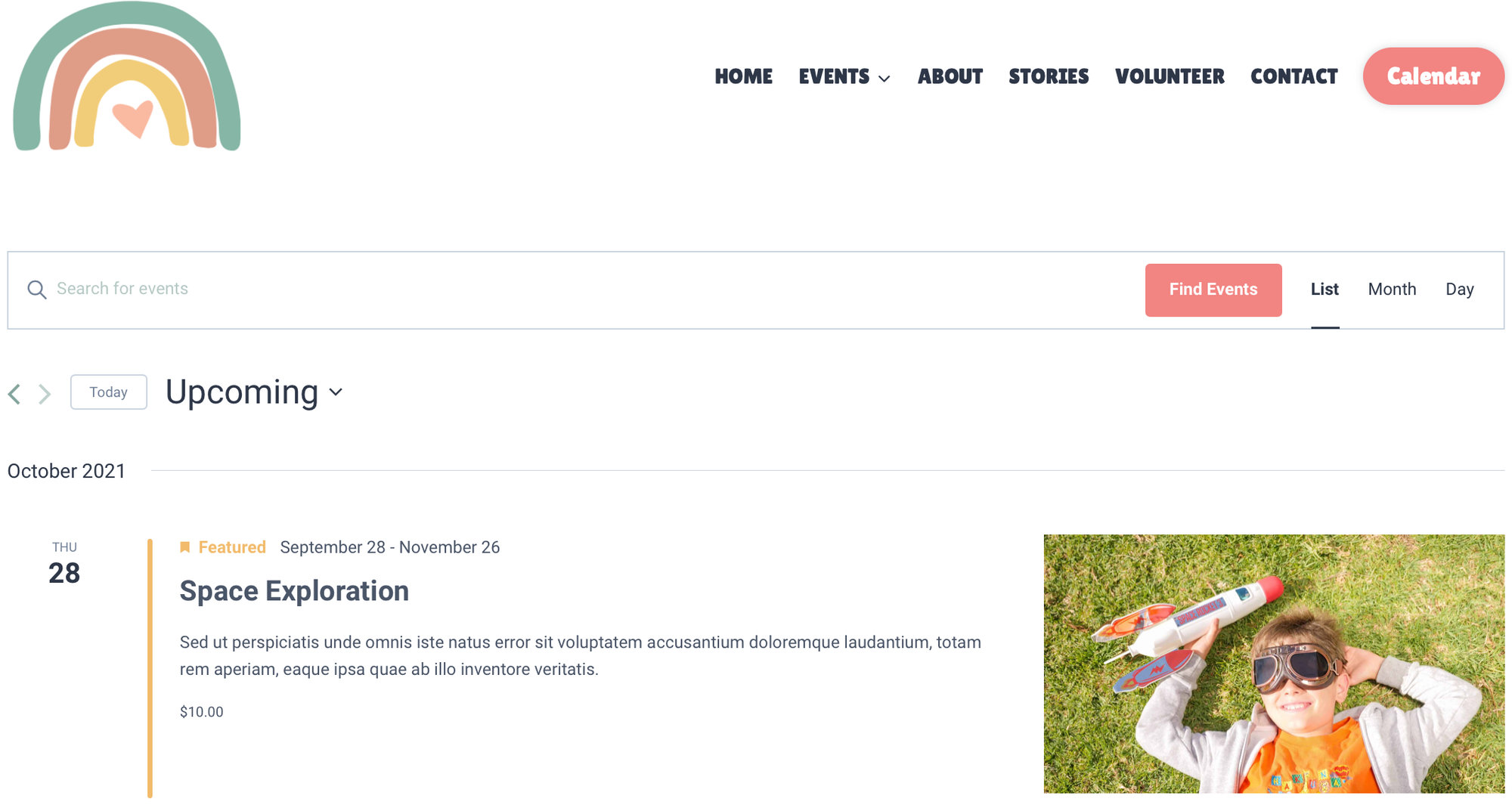 Take it to the next level by adding Event Tickets and Event Tickets Plus to the mix. Add RSVPs and tickets to each of your events to encourage museum-goers to purchase admission tickets online. You can even add different ticket types to distinguish between pricing tiers and add additional attendee information to your tickets.
If you love the idea of Kadence's starter templates but a museum isn't quite your thing, have no fear! Kadence WP has lots of starter templates to get your WordPress site up and running in minutes with no coding knowledge. Check out their full library of starter templates including starter templates for churches, digital agencies, and more!