Build an Engaging Event Website with Templates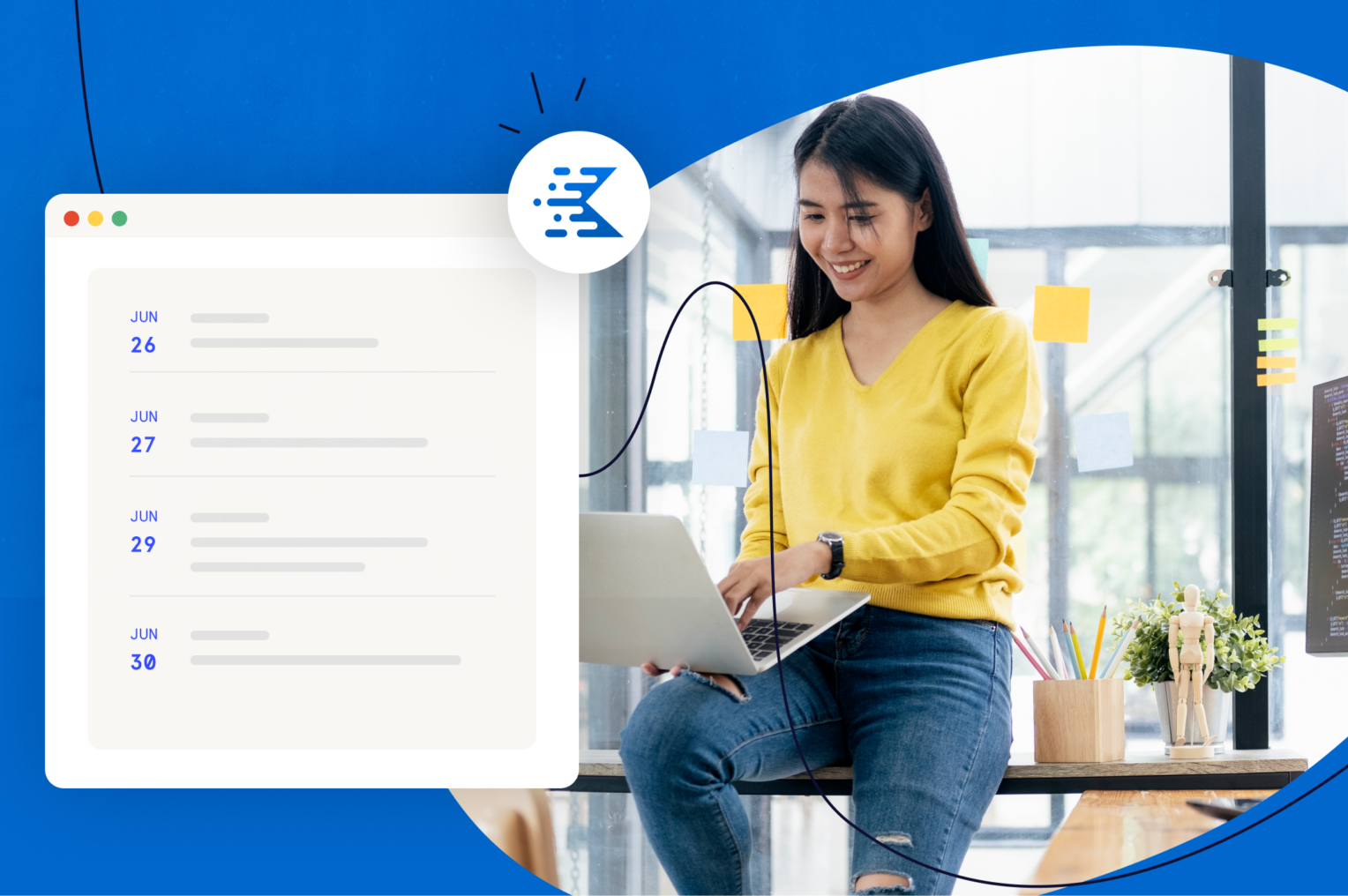 Design is a key part of keeping your website visitors engaged. Good design can convey value and keep attendees' attention on your event website for longer.
If design is not your strongest skill, or you're pressed for time, the good news is that you can rely on templates. There are dozens of beautifully designed WordPress templates made specifically for event websites.
Using a template can save time and increase engagement leading up to your next event. Here's how to get started.
First off: Why does design matter?
Trying to get folks excited about events comes with some challenges. One online survey shows that over 30 percent of event planners cite engagement as their biggest challenge when promoting events online.
The key to engagement might lie in emotional engagement. After all, emotions are powerful tools that guide our everyday decisions, so tapping into an emotional response can draw more attention to your site. According to one study out of Japan, attractive designs affect "perceived usability;" i.e., they "worked better."
What does that mean for you as an event planner? On a practical level, it means that your website needs to do more than provide key details—it also needs to look good.
Use design to drive enthusiasm and engagement ahead of your upcoming event.
Enhance Your Design with Templates
You don't have to struggle with code or the block editor to create a well-designed event website. There are plenty of WordPress templates created specifically for events. These templates help keep users engaged and motivated to learn about your event.
We recommend Kadence's event starter templates. We like how Kadence's intuitive interfaces and page layouts make website building a breeze.
Here's more on why Kadence templates work well for your event website:
Stunning visual designs: Promote positive associations by browsing sleek designs that combine function with aesthetic pleasure.
Royalty-free images: Royalty-free imagery is included in starter templates for you to use however you wish.
Accessibility: Create a stunning site with accessibility already in mind for all users of your site.
Google Maps blocks: Prospective attendees can interact with a live Google Map, both on the website and on mobile devices.
Testimonials: Share previous attendee experiences for immediate social proof and increased engagement.
Newsletter forms: Stay connected with your audience through ready-to-connect email subscription forms.
Starter blog posts: Begin blogging with 10 starter blog posts ready to display your custom content.
Responsive design: Your site will look amazing on any screen, no matter how large or small.
No code needed: All templates are built on WordPress and ready to use without any technical expertise.
Page speed: Starter templates are built to meet page speed standards, ensuring a fast experience.
Get Started With Templates
The best part of using Kadence with The Events Calendar is that the design process is just as smooth on the backend. This will translate into a seamless experience for your visitors.
You simply need your Events Calendar plugin, the Kadence theme installed, and the Kadence Blocks plugin for easy editing. We recommend the Pro version of Kadence and Kadence Blocks for full customization options, available in both the Essential and Full Bundle.
Our knowledgebase article walks you through everything you need to know in terms of installation and customization.
If you'd like to play around first, we've set up a demo of a sample event site for a live music venue. Fill in a few events in the sandbox backend to see how easy and beautiful the template looks for an event website. You'll be able to try out Kadence Theme, Kadence Blocks, Kadence Starter Templates, and The Events Calendar.
If you're ready to get started, we have two beautifully designed templates ready for you: Fall Festival and Pumpkin Patch.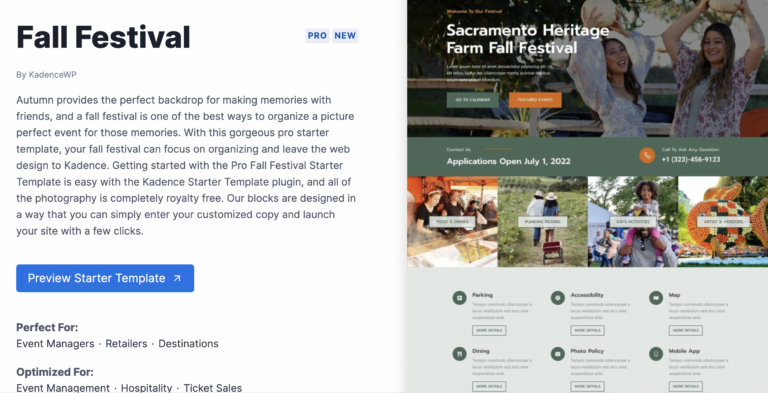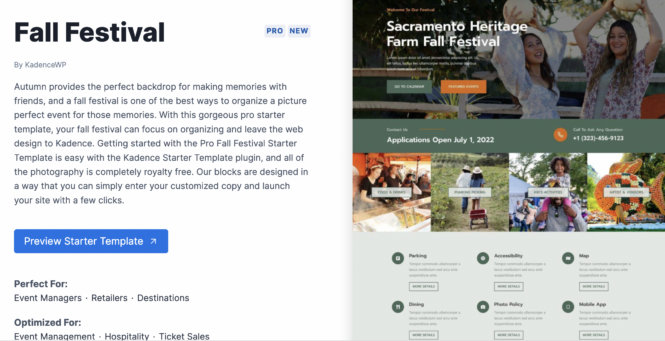 From there, you'll be designing captivating event websites in no time!