Events Calendar
The Original Calendar for WordPress
Power your events for free with The Events Calendar, or upgrade to Pro to unlock recurring events, views, premium support, and more.
Free
Get started with our flagship calendar plugin for free.
Download
Essential features
Month, list & day view
Fully responsive
Categories & tags
Pro
Go beyond the basics with extra features and premium support.
Everything in Free plus
Premium support
Additional calendar views
Recurring events
Elementor widget compatibility
Custom fields
Advanced widgets
Location search
Events Manager
One calendar. Countless ways to make it your own.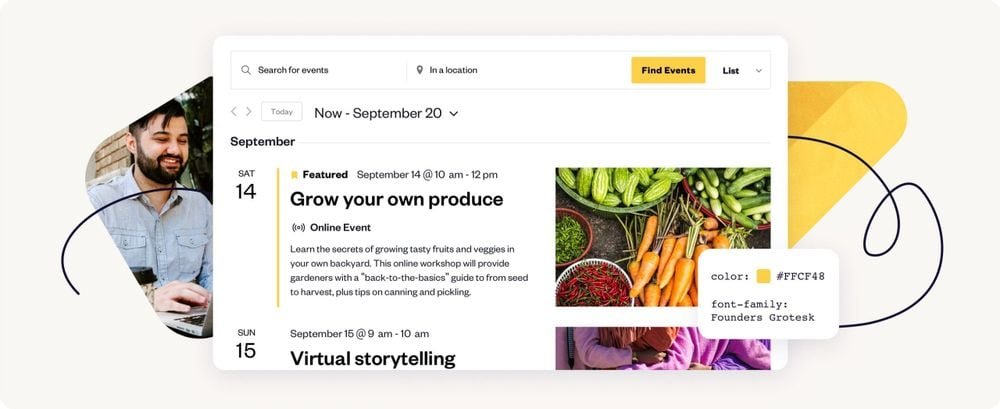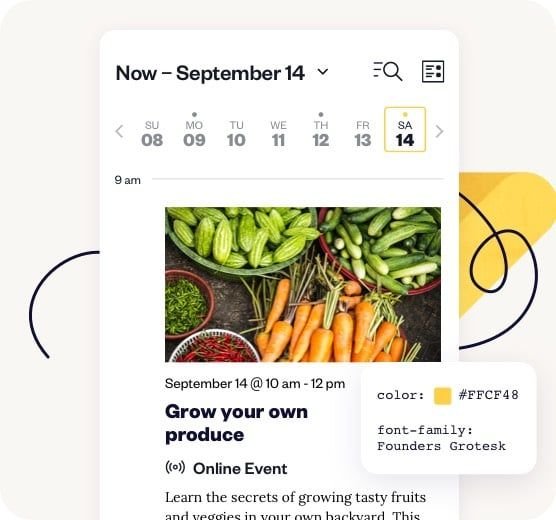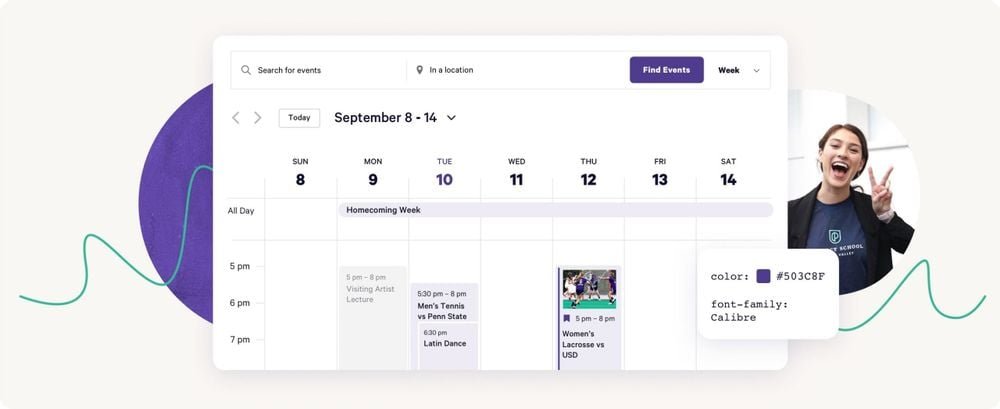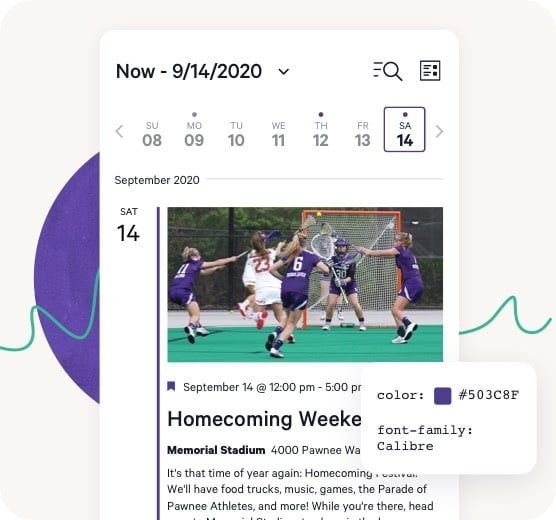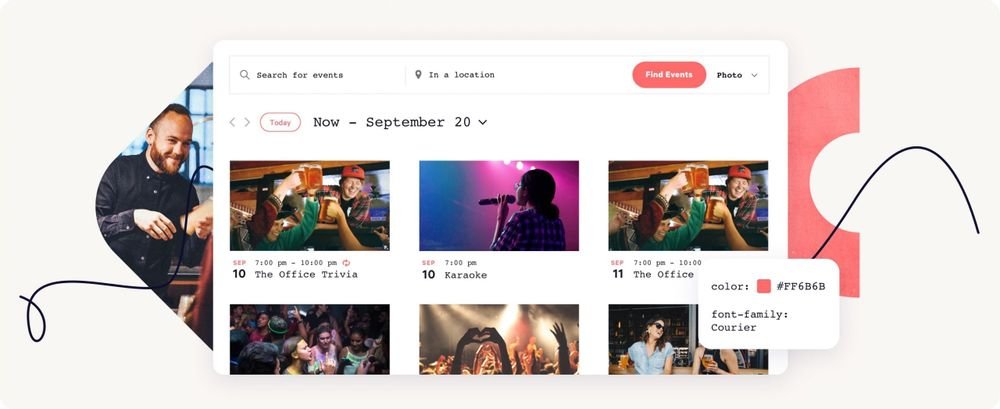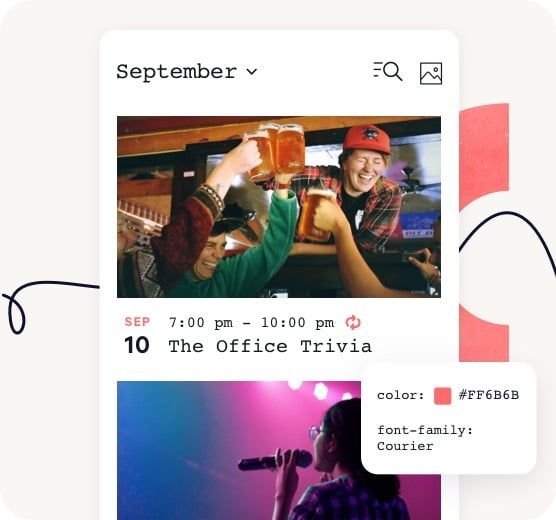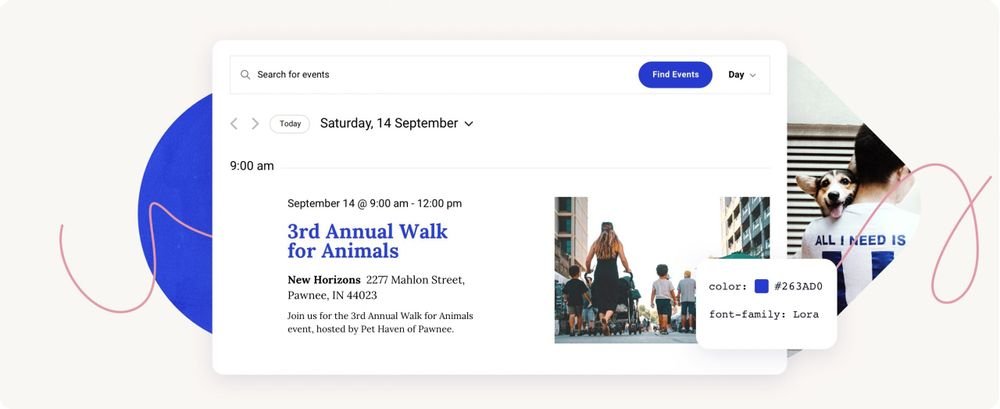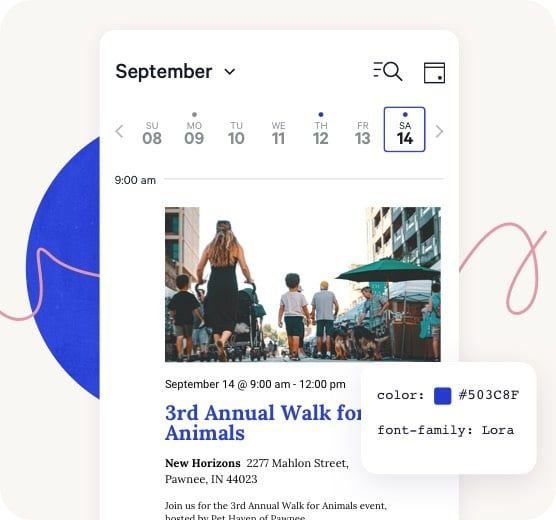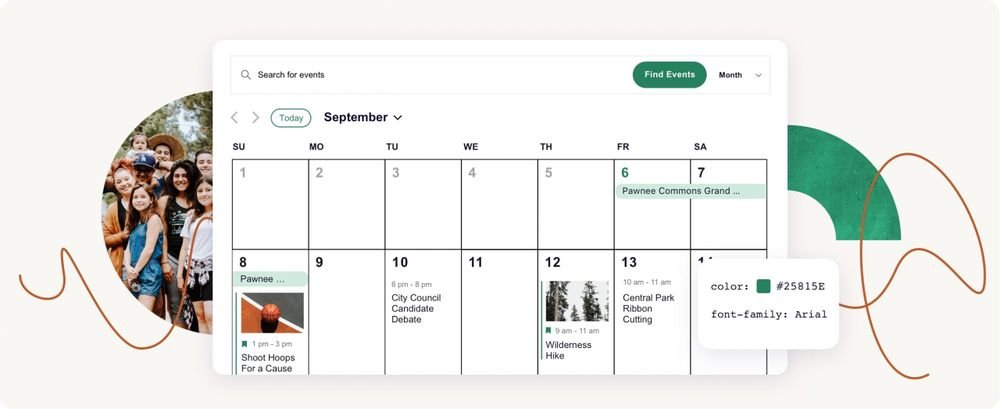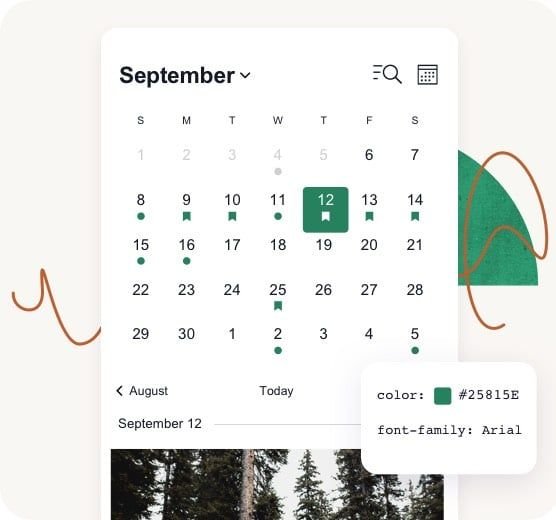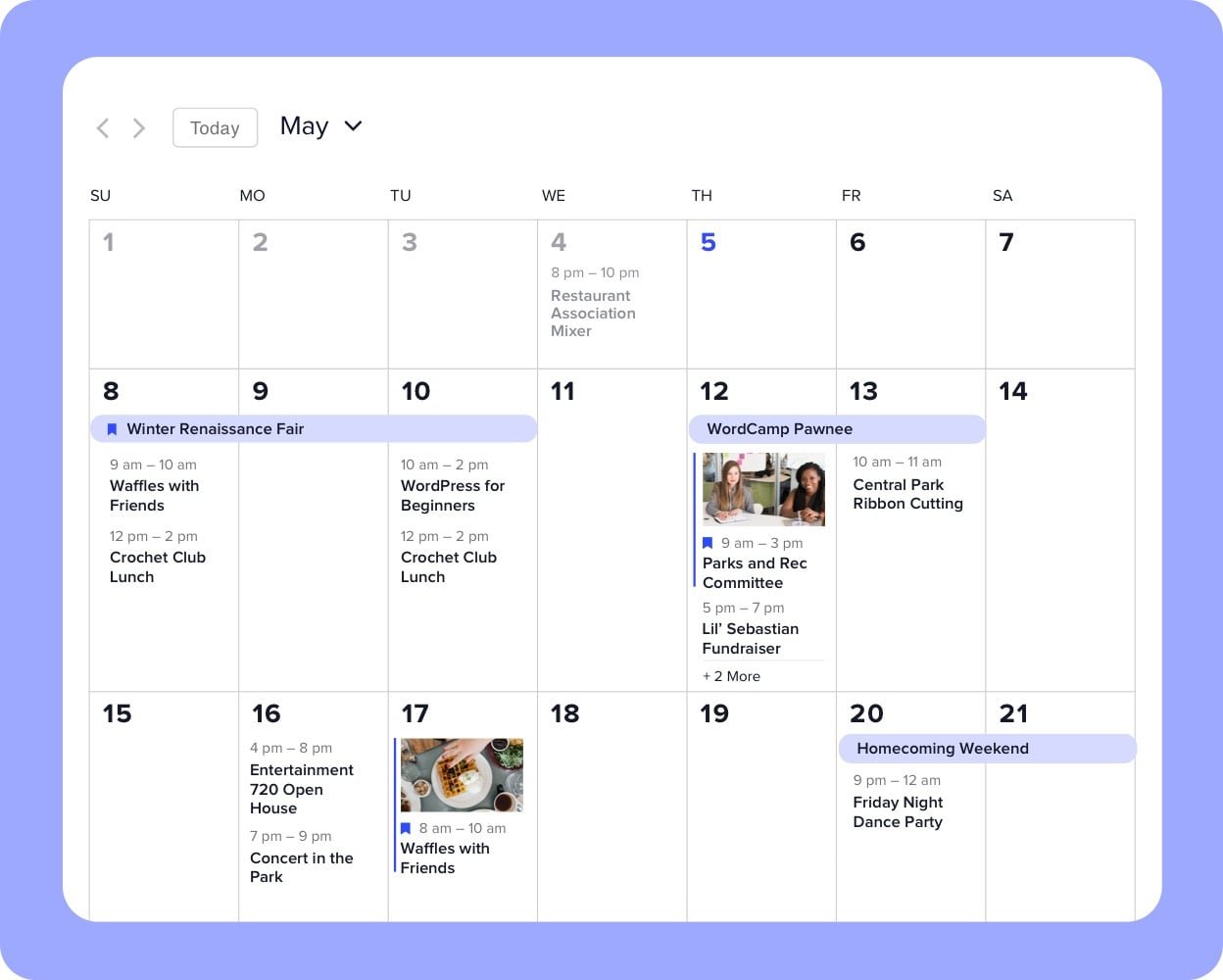 Highlight your events with multiple views.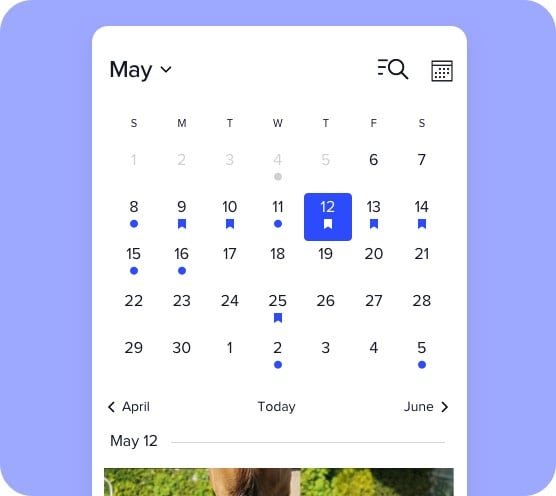 Month view
A classic calendar view to display a whole month of events.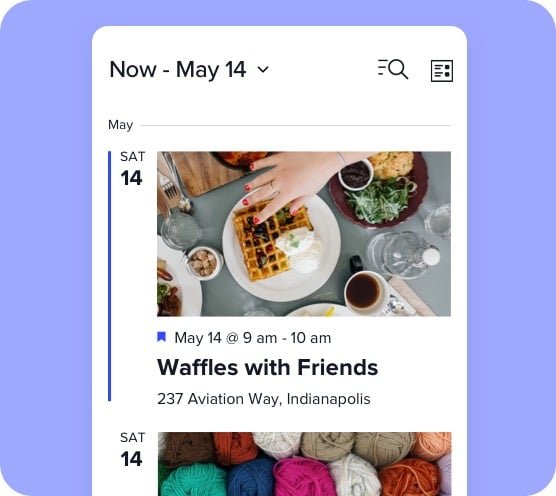 List view
The perfect at-a-glance view of all your upcoming events.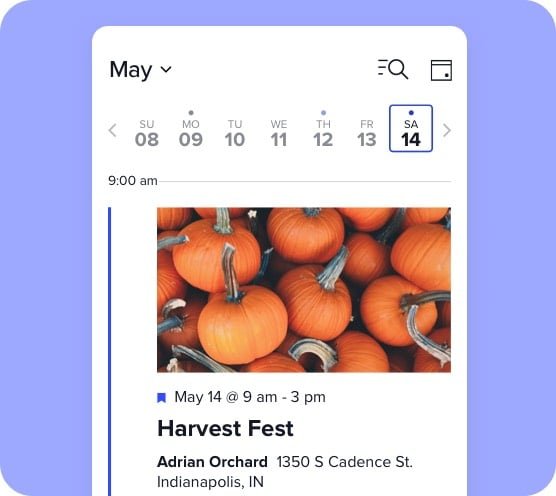 Day view
Give your audience the full rundown of all events occurring on the same day.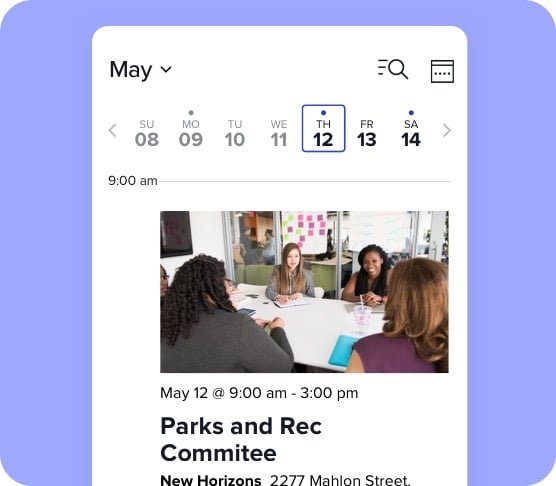 Week view
Take it one week at a time with this view that works great for recurring events.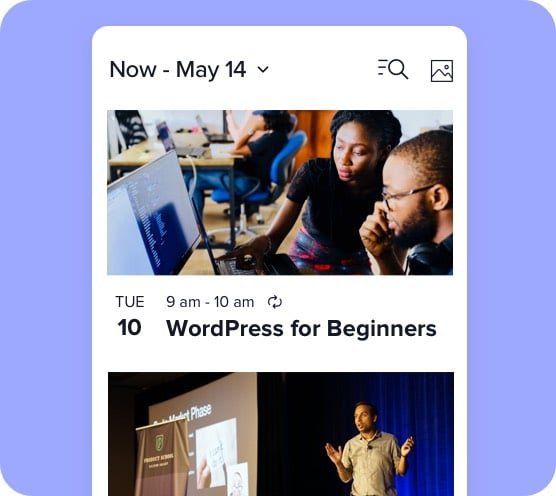 Photo view
Photo view puts eye-catching event images first—perfect for mobile.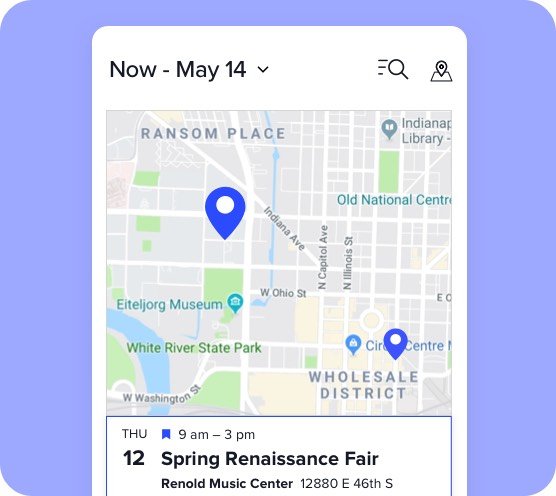 Map view
Create a stellar map view of your events using Google Maps.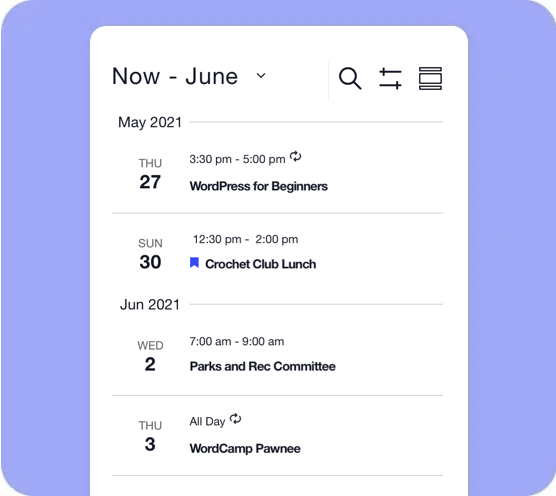 Summary View
Lets users easily scan through what you have coming up, without any unnecessary information in the way.
The Events Calendar features
Customizable

Our developer-friendly code is completely customizable so you can create the exact calendar you want.

Subscribe to your calendar

Easily import events from other calendars with our CSV importer. Users can subscribe to event updates with iCalendar or Google Calendar.

Time zone support

Set the time zone for your events and keep everyone on the same schedule.

Multiple views

Choose between flexible calendar views and display your events by day, month, or in a list. Each view integrates seamlessly with your WordPress theme.

Featured events

Shine a spotlight on specific events to drive engagement and increase attendance.

Recurring Events

Monthly, weekly, and custom recurring events and event series take the busywork out of calendar management.

Additional Views

Show off your events in a photo grid, on a map, by week, or in summary, in addition to all the standard views that come with The Events Calendar.

Shortcodes and Blocks

Use shortcodes and blocks to embed a calendar or event anywhere on your site, display event countdowns, or highlight featured venues.

Advanced Widgets

Share events from any spot on your website with widgets to display mini calendar grid view, upcoming events, featured venues, and event countdowns.
We're here for you with hands-on support, as part of Events Calendar Pro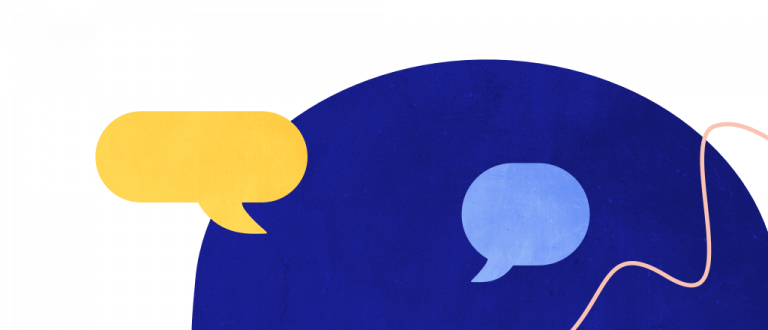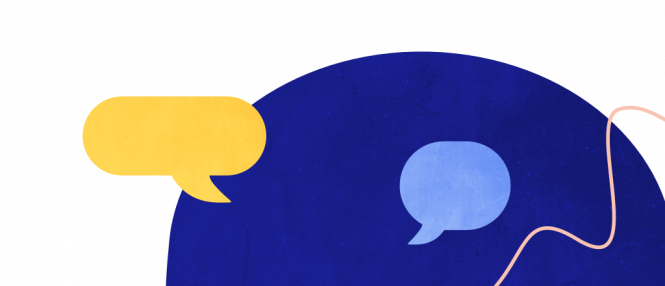 Why go Pro?
When events are your business, you need a calendar with more than the basics. Events Calendar Pro has all the features you need (and none of the junk you don't).
| Feature | Free | Pro |
| --- | --- | --- |
| Month View | Yes | Yes |
| List View | Yes | Yes |
| Day View | Yes | Yes |
| Events List Widget | Yes | Yes |
| Saved Content | Yes | Yes |
| Keyword Search | Yes | Yes |
| AJAX Loading | Yes | Yes |
| Subscribe with iCal / Google Calendar / Outlook | Yes | Yes |
| Event Status | Yes | Yes |
| Responsive Design | Yes | Yes |
| Premium Support Access | No | Yes |
| Recurring Events and Series | No | Yes |
| Week View | No | Yes |
| Photo View | No | Yes |
| Map View | No | Yes |
| Summary View | No | Yes |
| Calendar Shortcodes | No | Yes |
| Custom Event Fields | No | Yes |
| Elementor Widget Compatible | No | Yes |
| Additional Calendar Widgets and Blocks | No | Yes |
| Venue & Organizer Pages | No | Yes |
| Location Search | No | Yes |
| Events Manager | No | Yes |
| Filter Bar[1] support for shortcodes and Events Manager | No | Yes |
| Series Page | No | Yes |
| Duplicate events | No | Yes |
Frequent Updates

When you purchase one of our plugins, you're also getting access to new features, bug fixes, and support.

Tested Design

We don't just design plugins that look good. Our tools are also intuitive and delightful to use. We rely on user feedback to help us make improvements and updates.
Frequently Asked Questions
The Events Calendar is our cornerstone plugin, and it's required in order to run any of our premium calendar add-ons, including Events Calendar Pro, Community Events, Filter Bar, and others.
In other words, Events Calendar Pro runs alongside The Events Calendar and enhances it with extra features, including recurring events, additional calendar views, calendar shortcodes, advanced widgets, custom event fields and more.
To keep your plugin up-to-date and retain access to assistance from our support team, yes, you need to renew each year.
However, that doesn't mean you have to renew in order to keep using our products. Once you download and install our plugins, they're yours to use as long as you like. But if you don't renew your subscription, you won't receive important product updates or support.
In most simple cases a single license will suffice. In fact, if your domain name matches any of the following patterns our system will automatically assume that you are working on a staging site (and will not count it against the number of installations allowed by your license key)
Unfortunately, no. However, you can use event categories or tags to create calendar views that only display certain events. For example, you could create a direct link to a calendar view that only shows events categorized as "Fitness," like this example from our demo site.
With Events Calendar Pro, you can use shortcodes to embed your calendar on other WordPress pages and posts, then filter that calendar by category.
Absolutely! Our Community Events add-on is designed to facilitate submissions. Install Community Events alongside The Events Calendar and a page will be added to your WordPress site with a form that visitors can use to submit events. As the calendar owner, you have full control over whether event submissions are published immediately or require moderation first.
If you want to let users sell tickets for the events they submit, check out Community Tickets. It runs with The Events Calendar, Community Events, and Event Tickets and empowers visitors to create and sell tickets, splitting the profits with you.
You'll want to use our Event Tickets plugin for that. This free plugin works alongside The Events Calendar and lets you create RSVPs and tickets for events. Event Tickets integrates with PayPal so you can collect payments for tickets.
Nothing. Whether you disable the plugin or uninstall it, your events will remain intact if you re-enable or re-install the plugin later. The plugin will not delete your events unless you tell it to.
Yes! For direct access to support, you'll need an active paid license for any of our premium plugins.
If you don't have a license, you're always welcome to use any of our self-help resources, including our knowledgebase, extensions, release notes, and the WordPress.org forums where everyone can help one another.
You can import events via a CSV file or import events from your Google Calendar, iCalendar, Meetup, and other sources with our Event Aggregator service.
Yes, we've got an integration with LearnDash that allows you to add your LearnDash online courses to your event pages. Learn more in our Knowledgebase article.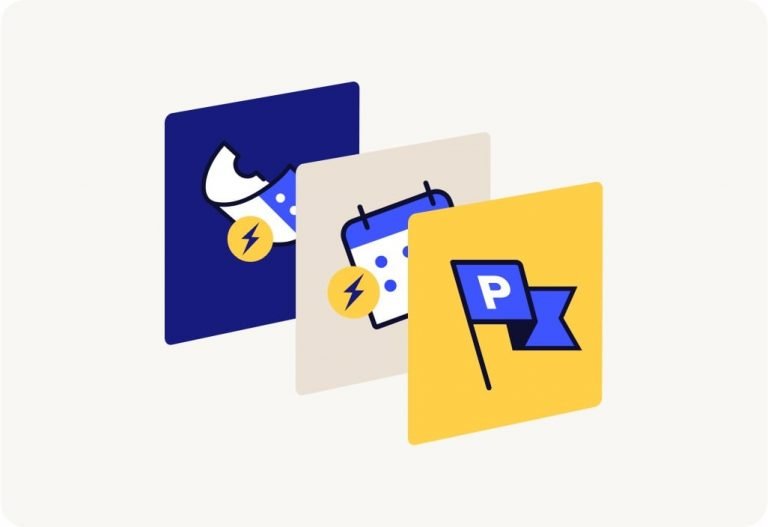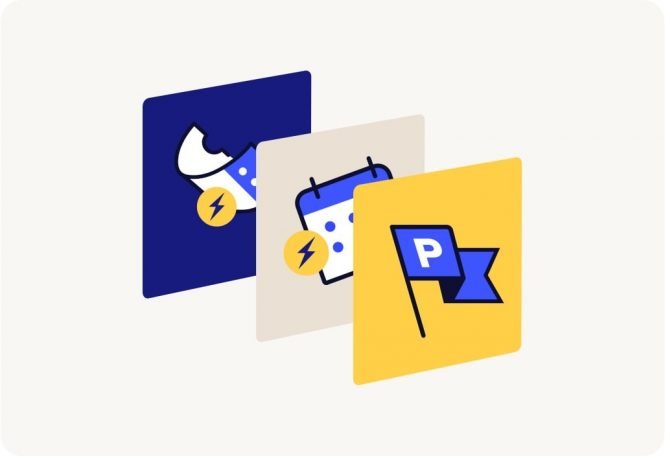 Event Marketing Bundle
Online events management
Ticket sales, attendee management, and email marketing for your events in one bundle.