The Events Calendar 3.0 Preview: List, Calendar & Day Views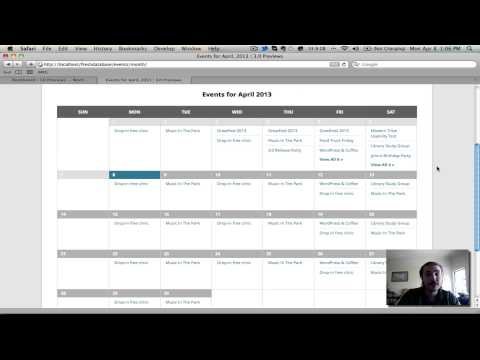 Another week, another round of preview posts centered on The Events Calendar / Events Calendar PRO 3.0. If you watched the series last week, you'll know that by this point we've covered all the new views: week, map and photo. Today's video shifts gears a bit to a handful of existing views you may already been familiar with, and which are being carried over to 3.0 from the 2.x builds. They're not new, per se, but definitely were the recipients of some mighty pretty facelifts.
After the jump, check out our preview video quickly running through all three of these updated views: list, month and day.
Call this a new twist on your favorite standards: functionality-wise, there isn't a lot changed here. Sure, there are aesthetic tweaks and a couple of new features. But when it comes to their overall purpose…you don't have to relearn how to ride the bike.
List view will display your upcoming events in a simple list format. In list view, each event shows the title, timeframe, recurrence criteria (if applicable), venue, featured image and description/excerpt. The next upcoming event appears first, under a header indicating the current month & year, and subsequent entries appear down the list from there. The number of events that appear per page in list view is controlled by an overall setting under Events -> Settings on the backend. Recurring events bear a badge indicating their recurrence which – when hovered over – shows the specific criteria of that recurrence. If users click it, they'll be taken to a mini-loop showing the entire recurrence pattern.
Calendar view shows all events taking place during the current month. Hover over an event title to bring up a tooltip showing the event pertinents and thumbnail of the featured image. If you've got more than three events on a given day, a "View all (X) events" link appears beneath the titles of the first three (don't worry…you can control what appears before and what appears after "View all" link when configuring your individual events). The "View All" link takes you right into the individual day view for that date. Today's date is always highlighted as a frame of reference, and clicking the date for any day will also take you to the respective individual day view.
Day view is quite simple: it shows all events taking place on a given day in a simple loop format. The loop includes headers for various start times — All Day events lead, followed by fixed hour range events starting with the earliest.
All views include the ability to toggle forward to future events or back to past ones. You can also import all the events from any view to iCal using the button beneath the calendar. And don't forget: we've added a new recurrence setting that hides all instances of a pattern beyond the first one. Which means if your users don't want to see your daily recurrence pattern dominating the view they're currently looking at, enabling this option will show them only the first event in that pattern. Do the math: if you've got 20 events displayed per page, and a recurrence pattern for one event going the next 10 days, half the main events page is probably going to be taken up by that same event. Using this setting gives user an option to see a wider range of events over a broader period of time. But if you don't want them to have that option, site admins can disable it on the backend at any point.
Hopefully this helps set expectations regarding what's to come. Don't forget to visit our 3.0 preview page if you haven't already. We're also still giving out beta copies…if you're into that sort of thing let us know.