The Difference Between Event Series and Recurring Events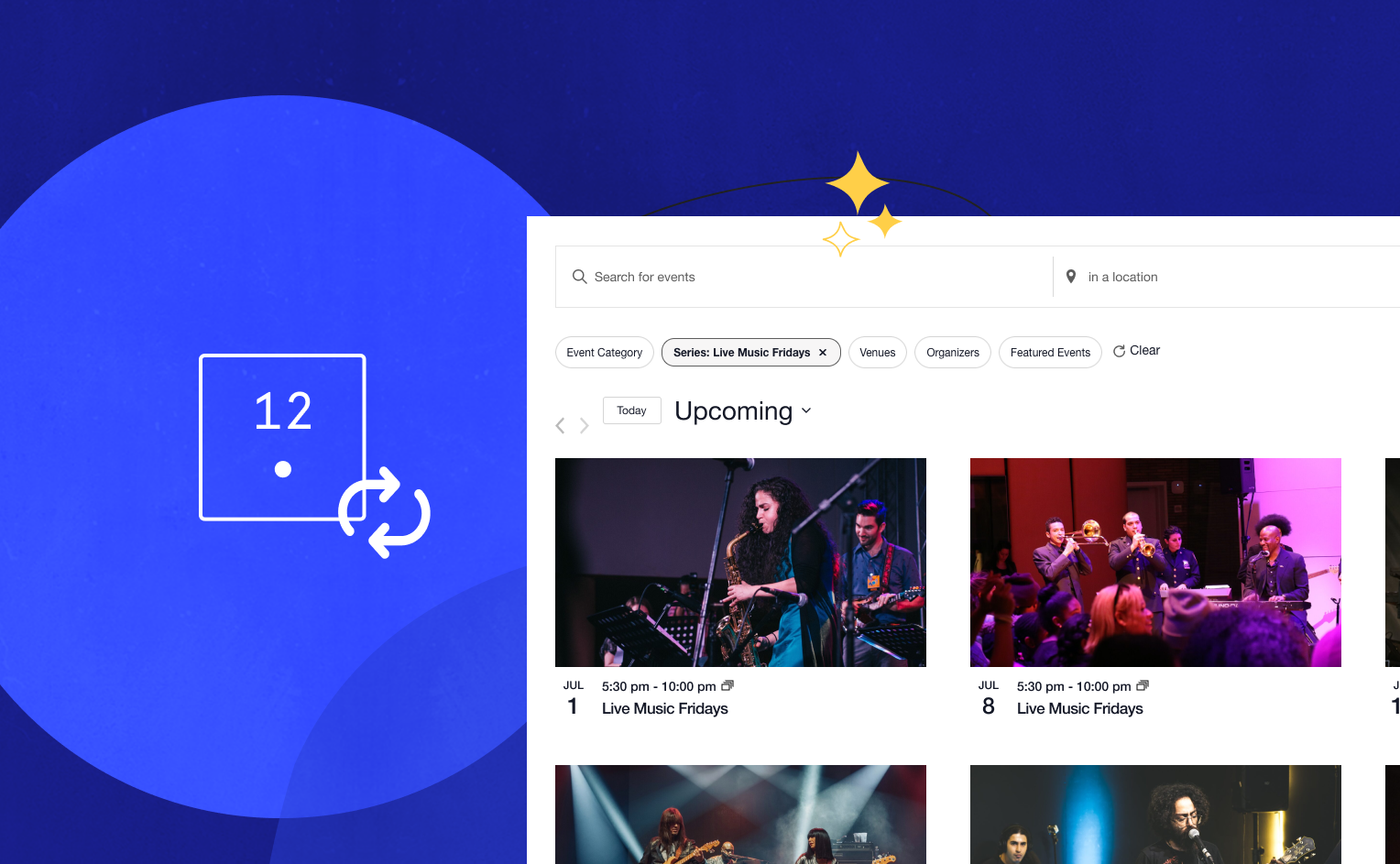 Recurring events have been a defining feature of Events Calendar Pro since its inception. This feature has served our customers well over the years, but there were some limitations with recurring events that we were having trouble working around. That's where Series comes in.
As of Events Calendar Pro 6.0, we've released a new way to group and manage events. With Series, you can choose which single and recurring events to assemble. This allows events with varying dates, times, organizers, venues, and any other metadata to be viewed on a single Series page.
There are many different ways that you can use recurring events versus Series. Let's break down these event types and look at how you can make the best use of each of them.
Recurring Events
Recurring events are the event feature that we already know and love. With recurring events, you can generate any number of events as long as they all contain the same event details. Each recurring event differs only in date and time and can occur in a pattern-based format or multiple one-time occurrences.
Recurring events work best for multiple events that are essentially the same, just occurring more than once. Here are some types of scenarios that we think work best with recurring events:
A library that hosts a weekly toddler playgroup at the same time and location each week.
A biweekly baseball practice that occurs at the same field each time.
A monthly check-in meeting, hosted online, using the same meeting link each month.
A cooking class that occurs a few times a month at a local cooking school.
A daily work huddle that happens for 15 minutes at the beginning of a project-focused week.
You can see one of our recurring events in action on our demo site here.
Series
Series are a new post type that will help you to tie events together in a different way. Using Series will allow you to group any events, regardless of event date/time, organizer, venue, description, etc.
Recurring events are always part of a Series. If you create a recurring event and don't assign it to a Series, then a Series will be automatically generated when you save the event. Generated Series will have the same name as the recurring event. This relationship between Series and recurring events means that if you make unique changes to a specific occurrence of a recurring event (say, a different venue), then that event will stay associated with the others as part of the Series.
There are no limitations to which events you can group together with Series. You can manually add events to a Series from the Series editor or event editor admin.
Here are some scenarios that work well with Series:
Check out our dedicated Series demo site.
Learn more about Events Calendar Pro
Events Calendar Pro 6.0 includes not only added Series but a whole host of exciting new features! The process for editing and creating events is now faster, and the calendar views load faster on the front end for your customers.
We've also added a duplicate event tool, one of our most asked-for features! Now you can duplicate any event and make your changes before publishing the event. This makes the event process quicker when creating many similar events. Check out Events Calendar Pro now to get started!