Ticket Registration Just Got a Whole Lot Better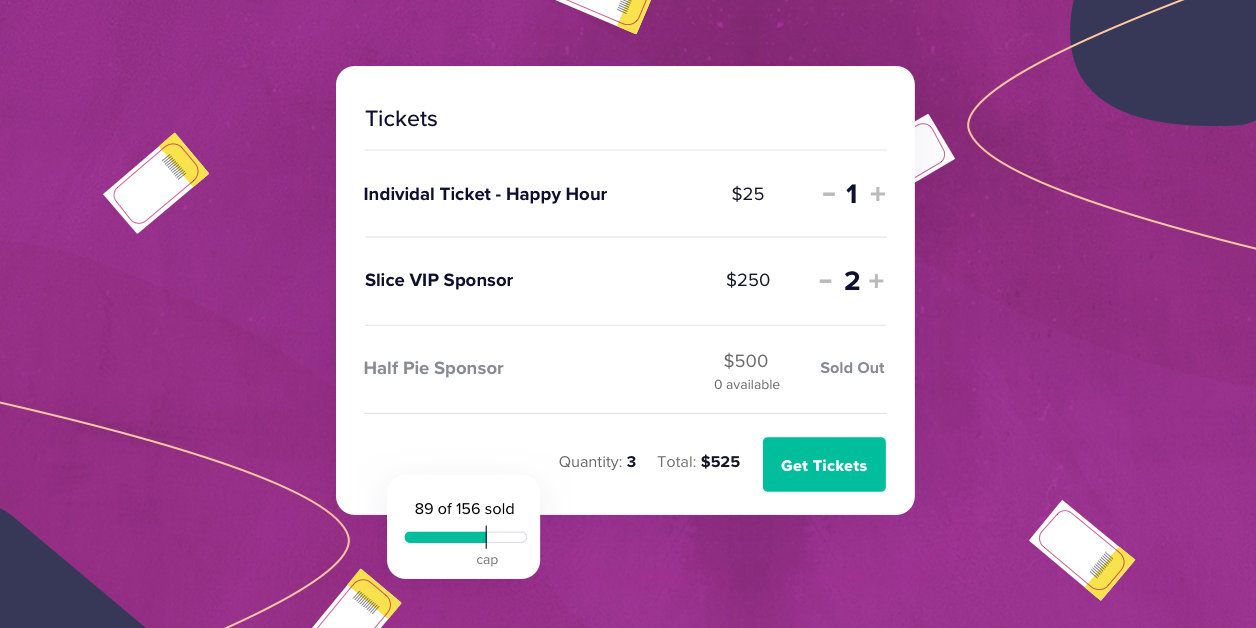 Late last year, we announced an update to Event Tickets Plus that changed the way attendees register for events when purchasing tickets. To replace the old in-page method of collecting attendees' registration information, we introduced a new page where attendees could add ticket details before adding them to their cart. We even hinted at more improvements to come in that release.
Now, we're back with another overhaul to the event registration process that makes it even easier (and more enjoyable) for your attendees to purchase tickets.
What changed? Let's get into the details.
A new registration modal
When we introduced the attendee registration page, it was a temporary feature on the way to building an even better experience. Now, we've taken that page, redesigned it, and turned it into a modal that pops up when a user selects tickets to purchase.
Why is this a big deal? For two reasons.
First, we've eliminated the need for a new page load for users to add attendee information to tickets while registering. That might not sound like a big deal, but keeping users in the current page cuts a step out of the process and speeds things up. No more lag between screens!
Second, users can now make updates to their purchase right there in the modal. They can add and remove tickets without having to close out of the modal and make changes in the page. Again, this cuts a step out of the flow and reduces the amount of clutter for users during registration. This puts the focus on tickets and ticket registration instead of the event content, which might distract some folks from completing a purchase.
Another nice touch we've added: There's a new link to save the attendee information and view the cart next to the checkout button. This provides a serious improvement to the user experience, allowing customers to review the purchase and then keep shopping without losing any of their registration details.
Intelligent checkout
What happens if a user decides to add or remove tickets after they're in the cart? That's a sticky scenario: Which ticket was removed? What are the attendee details for tickets that have been added? This could easily wind up causing headaches for both you and attendees.
Event Tickets Plus now recognizes when tickets have been edited in the cart and prompts the user to update attendee information before checking out.
That's right! No more missing attendee information or lost details. This means your reports and data are more complete and accurate than ever. Plus, checking in for an event will be even easier thanks to this change.
Another bonus: Ticket cost totals are displayed on this screen, and users can continue to make changes to tickets right there. This is a huge improvement to the user experience and makes the registration process even tighter.
A sparkling new design
It's been a while since we've updated the interface for tickets in Event Tickets and Event Tickets Plus. It was time for a makeover.
We've updated everything, from the ticket block on an event page:
…to the way forms are styled:
…and of course lots of little tweaks and improvements in between. We took great care to make a beautiful and consistent interface that will look great on your site.
Not one, but two ways to register!
We know that different sites provide different user experiences and that this new registration modal may not cut it for everyone. That's why we decided to make both  of the registration methods available. Yep! That means you get to decide whether you prefer users to register events via:
the new registration modal, or
the separate landing page between the event and checkout.
These options are available in the Tickets settings:
---
We hope you love the new changes as much as we do. Naturally, you'll want to use extra caution when installing the new plugin versions to your site. These new features required lots of changes to the code in our templates, so those of you who have added customizations in past releases will want to pay close attention to be sure your custom touches aren't lost in the mix. In other words: backup, backup, backup! It's also worth checking out the full changelog in the release notes.
We're here for you if you have any questions, and we can help you over at our Help Desk. In the meantime, enjoy the new updates!