Events: Menu Options & Hiding From "List" View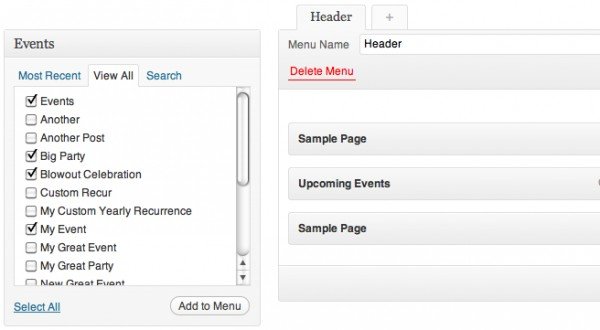 There are a number of smaller features in Events Calendar Pro 2.0 that, while not as glamorous or in-depth as recurring events or custom meta, are worth giving some air time to. After the jump check out a walkthrough covering a couple of these smaller — but no less worthwhile — features: using the new events menu option, and the "Hide from Upcoming Events List" checkbox.
Events Menu Option
The events menu option is a feature that came to light not as a result of user requests, but as we were brainstorming smaller functionality we'd neglected to include in previous builds. It struck us that "Events" were noticeably lacking from the menu options despite the fact that a number of sites we'd seen using ECP were linking to the events pages from their header menus.
The functionality is simple: it gives you the ability to now add events directly to your site's layout from Appearance –> Menus, without having to use the "Custom URL" field to link to them directly (as was the case previously). The feature already existed for pages and post categories — we've extended that to events as well. As a result you can now select from the list what event(s) you want to link to directly:
You can link to entire event categories as well.
You'll notice these menu options can be edited like any others once they've been plugged in: by expanding with the arrows, you can change the navigation label, click through to the event/event category itself or set a title attribute.
On the frontend, we've also added some filters so that the menu item will be highlighted if a user is on any of the various Event pages. This extends to categories, single day event view, recurrence lists & the standard grid/list views.
"Hide From Upcoming Events List" checkbox
One new option you'll notice when creating events in ECP 2.0 is the "Hide From Upcoming Events List" list checkbox that appears under the Event Options metabox on the right hand side of the page.
When checked, this does exactly what you'd expect: it hides the event you're creating from appearing at /events/upcoming. Where could this come in handy? Let's say you run a church website and you're putting together the events calendar. And while you want to have the regular Sunday service show up in grid view, you want your events list view to be specific to those that are special (a pancake breakfast, for example) and fall outside the standard weekly routine. That's where this checkbox would come in handy: hit it before publishing, and you can be more restrictive with what appears on your list view — so that it can serve as a more refined tool for only important events, which can be linked to from the header menu or elsewhere on the site.
Remember that those events you've hidden from list view will still be available on the frontend to anyone who looks at the grid. It's also important to note that the "Hide From Upcoming Events List" works for both stand-alone and recurring events. If you decide halfway through the lifecycle of a recurring event that you want to add it back into list view, just go to the backend, uncheck the box and save; then when prompted, make sure you pick to update this and all future events so that the change extends beyond this single entry.
We'll be highlighting more of these secondary features as we move towards launch — next up are individual venue pages and frontend single day view. Don't forget that the latest news is always delivered first to those on our email list, so sign up above to stay informed. As always we'll have a screencast walking through these items over at our Facebook page a little later this morning.