A Sneak Peek at Events Calendar 6.0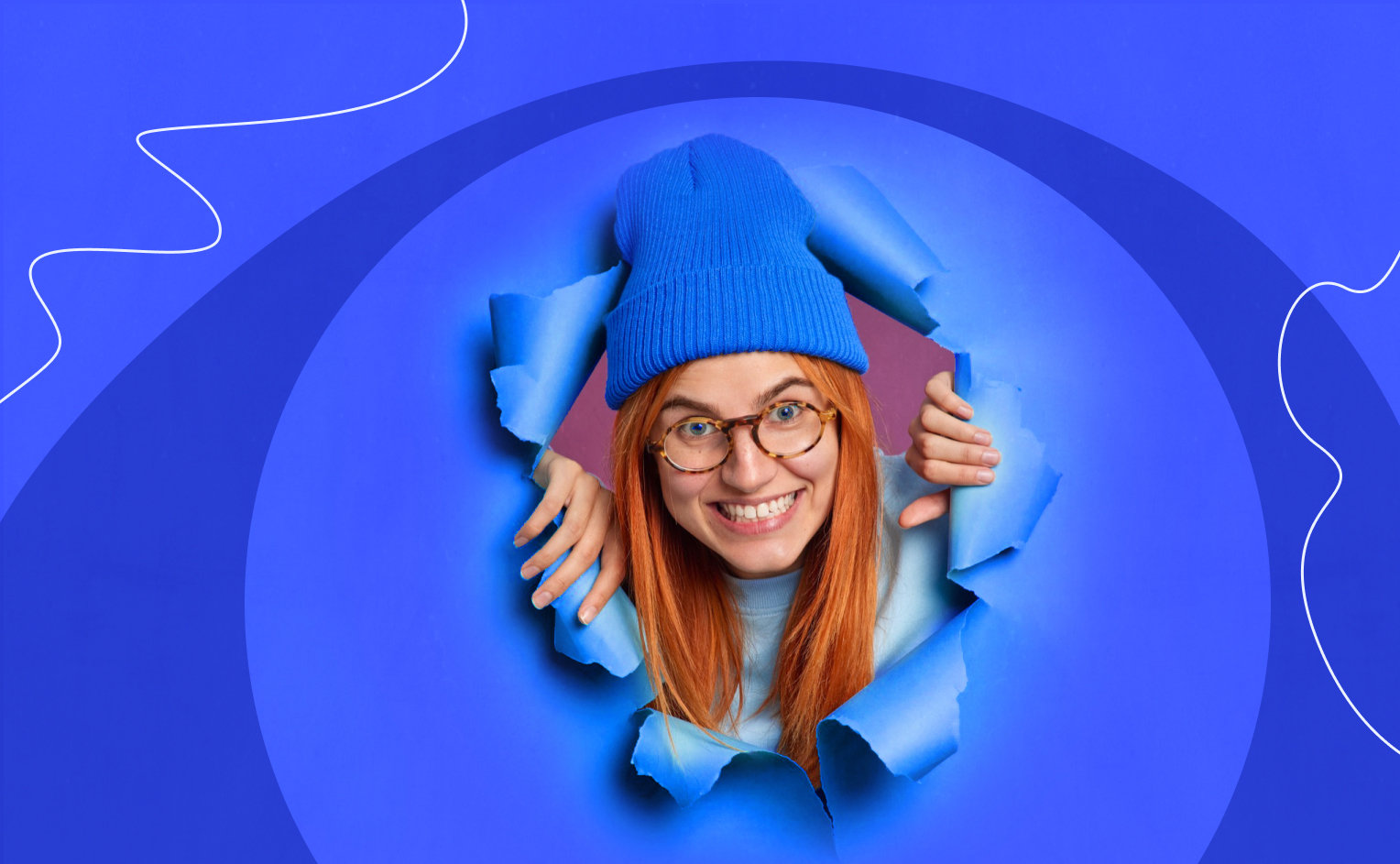 Around this time last year, we published an article describing the history of a complex project that our team had been facing for a long time. Since then, we've worked tirelessly to finish renovating the system that handles recurring events and other components in our plugins. We're now very close to rolling out the long-awaited Events Calendar 6.0, the biggest release in our plugin's 13-year history.
This update will bring major improvements to both The Events Calendar and Events Calendar Pro, including enhanced performance, better event data storage, and a brand new system to manage recurring events, including a new post-type called "Series." Here's a sneak peek at everything to come!
Improvements to recurring events in Events Calendar Pro ⚡
Recurring events are one of the most popular features in Events Calendar Pro, and after years of working to improve recurring event functionality, this release will bring a major overhaul to the creation and management of recurring events in our plugins.
Recurring events will adhere to the iCalendar Standard, and you can edit and update them in line with what you're used to in applications like Google Calendar or Outlook. This means you can now make changes to a single recurring event, all recurring events, or only upcoming events without divorcing those events from the group.
Recurring events will only be listed once in the wp-admin dashboard, making it easy to edit all occurrences in one place. And if you'd like to see each recurring event listed individually you can access them in the Events Manager.
It took a great deal of development work to get this functionality working seamlessly, and we're proud of our team of devs who worked tirelessly through the many obstacles that only geeks can fully understand.
This leads us to the next big improvement coming to Events Calendar Pro….
The new "Series" feature for grouping events in Events Calendar Pro ⚡
Sometimes, a recurring event is straightforward: Karaoke night every Tuesday. A meeting every other Thursday. A birthday once a year.
Other times, recurring events don't follow simple rules. Enter Series: A new post-type that provides a powerful way to group, organize and present events. A Series is completely customizable and can contain any single or recurring event. Each occurrence can include a different agenda, venue, or host. You can add different events to a series, even if they aren't part of a recurring event.
Each Series also has its own landing page where users can see all related events in one place. This can come in handy in a variety of ways. For example, admins can have different featured images for each event in the series, then use the Photo View or List View to display a beautiful visual landing page of related events!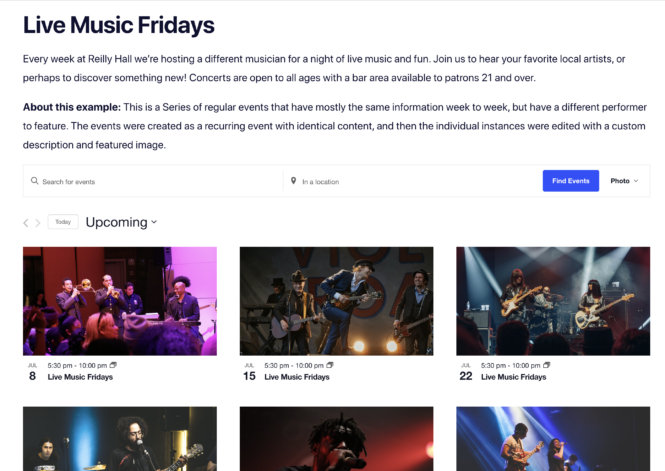 Series can have different attributes such as different locations for the same Blood Drive. Using the Map view, admins can create a nice visual display of where each occurrence of the event will take place!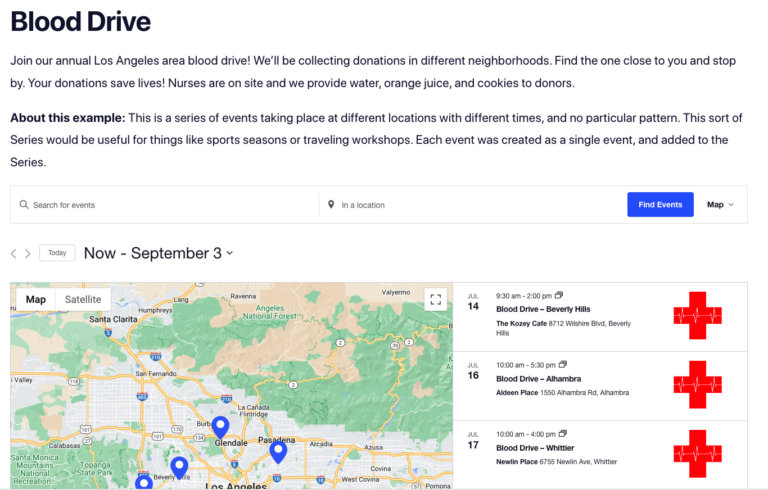 There are so many potential use cases for this neat new post-type. You can learn more about Series and the updates to recurring events here, plus check out a demo calendar with various examples of Series.
The highly-requested Duplicate Event tool (Events Calendar Pro ⚡)
Many of you have asked for an easy way to clone events, and we heard you. The latest Events Calendar Pro release will include a slick new Duplicate Event tool that takes the busywork out of copying existing events.
A better behind-the-scenes experience (The Events Calendar and Events Calendar Pro ⚡)
We've overhauled the event data storage system and made performance enhancements on the backend for The Events Calendar and Events Calendar Pro. This means a better experience for both event creators and attendees. Load times will be faster in the admin dashboard and in the calendar view for users on the frontend.
Take it for a Spin!
We've released several beta versions and invite you to test drive Events Calendar Pro 6.0 Beta today. The beta version is free and available to all users. Sign up and download the beta today, and help us with feedback as we wrap up development.
We're looking forward to getting this new and improved version into your hands. Keep an eye out for the official launch of Events Calendar 6.0 coming very soon.