3 Tips for Creating Pinterest-Worthy Events
When you think of Pinterest, busy boards full of food and fashion photography might pop into your mind. But for event marketers, Pinterest is more than just a place to organize recipes and file away design inspiration for your dream kitchen. In fact, Pinterest can be an effective tool to promote your events by optimizing your website and creating pin-worthy content.
How, you might ask? It all starts with amazing images, but there are a few extra steps to give your events an extra boost on Pinterest. Use them to make your events worthy of pinning to a Pinterest board.
Let's look at three specific tips for how to create event listings and website content that are totally pinnable:
Tip 1: Use High-Quality Event Images
Visual content reigns supreme on Pinterest. Use high-quality featured images as you create event content. Attractive photos and images are more likely to be pinned, plus, they look sharp on your site!
The Events Calendar makes adding a featured image to calendar events super simple in WordPress. Click the "Featured Image" option in the event editor, and either choose an existing image from the Media Library or upload a fresh one.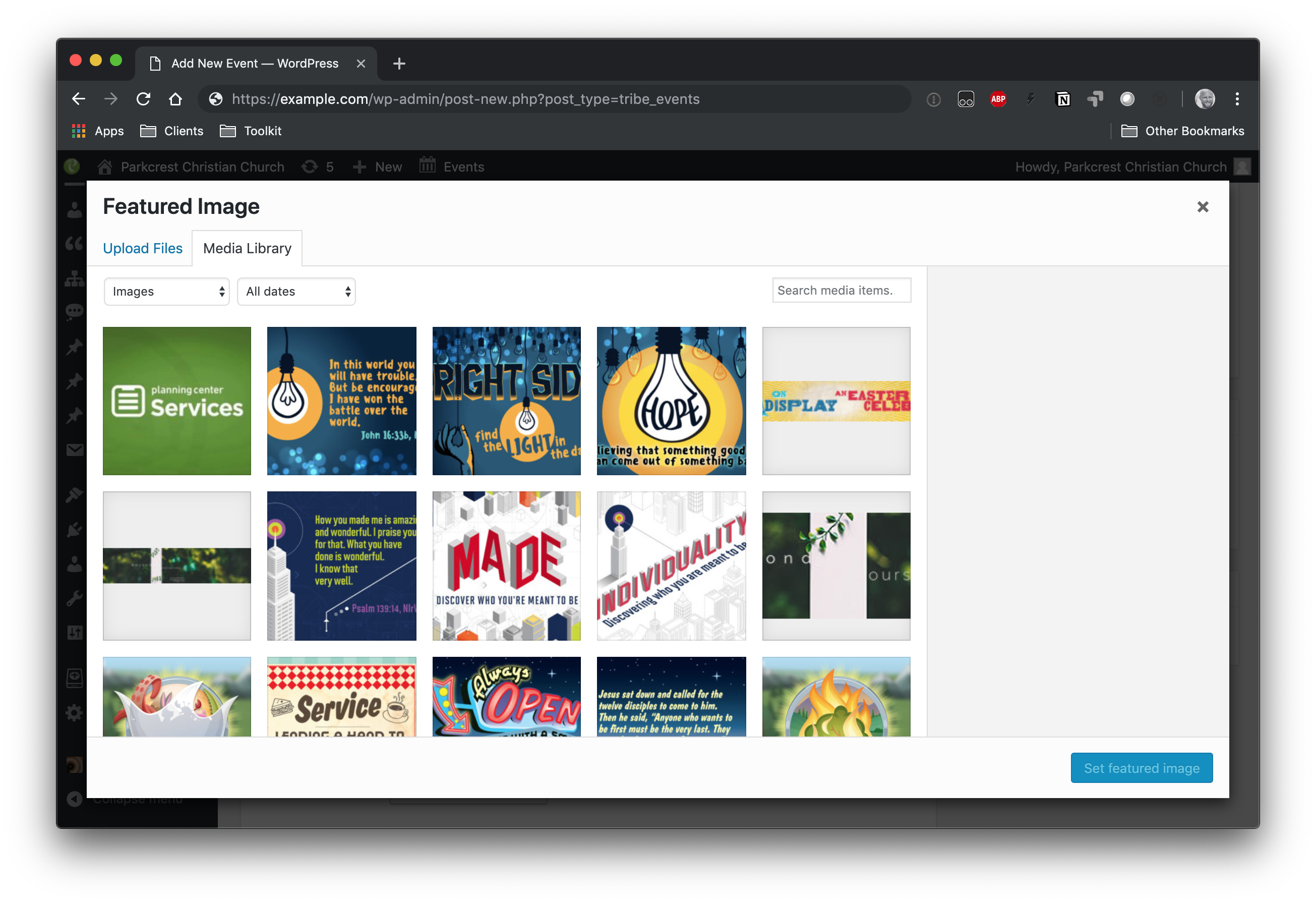 Bonus: Great images give attendees an idea of what they can expect at your event. Especially if you include photos from past events.
Tip 2: Incorporate Pinterest Buttons and Widgets on Your Site
Pinterest's "Save" button is one of the most valuable tools you've got for encouraging other people to share your events on Pinterest.
This handy button makes it easy for visitors to pin a website without ever leaving. No copying and pasting a clunky URL and then navigating over to Pinterest. Instead, they can use the "Save" button to pin it right on the spot. Incorporate the "Save" button on all your event pages. Hubspot has a thorough rundown of all the Pinterest buttons and widgets you can integrate on your site.
Aside from Pinterest's website buttons, take advantage of WordPress plugins that can help you step up your sharing capabilities on Pinterest. There are a few that even integrate nicely with The Events Calendar.
Tip 3: Keep up with Your Pinterest Business Account
People planning their own events—think weddings, baby showers, holiday meals, you name it—often think of Pinterest as the place to go. About 75 percent of pins are saved one to two months before an event, according to Pinterest. You need to create content directly on Pinterest from your business account to get in front of those DIY event planners
Kick things off by considering which boards you'll need. Think topically: For example, an event's venue could create boards for different types of events, like weddings, concerts, and conferences. Fill each board with high-quality photos. This allows you to showcase how the venue is transformed for each different event type (along with a link back to their website, of course).
If you're a craft store that hosts events, you can create boards to highlight each of your specialties. Is that knitting? Macramé? Underwater basket weaving? Fill each board with photos of projects that strategically link back to upcoming craft events on your website calendar. That gets the word out there and gives people pin-worthy ideas at the same time. Win-win!
By creating pins that pair awesome photos with a strategic Pinterest SEO strategy, you'll reach more pinners and bring more eyeballs to your content—and, ultimately, to your event listings!