Little Known Tricks for Event Tickets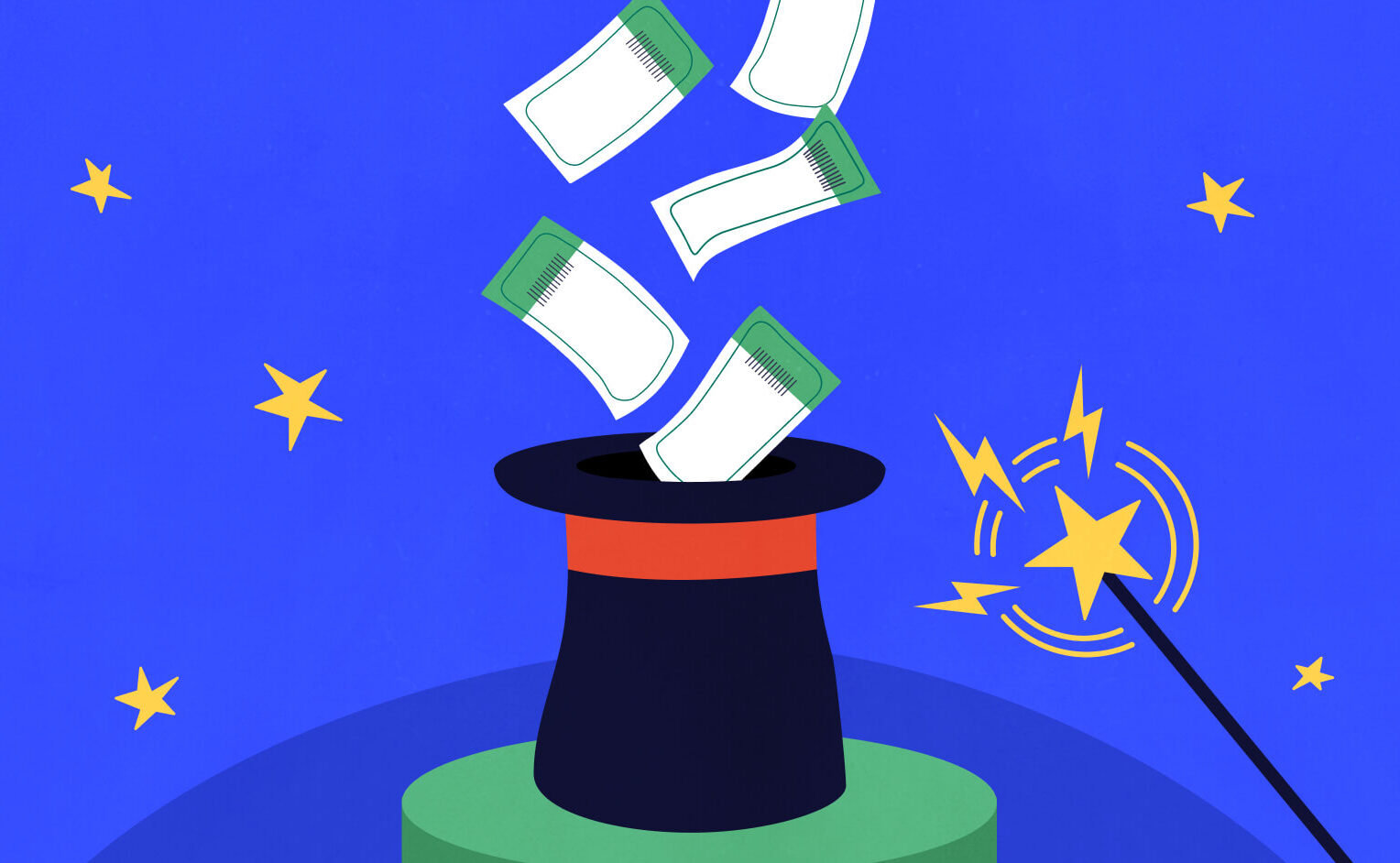 Event Tickets is our WordPress plugin for creating and selling tickets in WordPress. It's designed to make it as easy as possible to add tickets to any page, post, or custom post type while seamlessly integrating with The Events Calendar. Click to create a ticket, fill in some pricing details and— blammo 💥— you've got a ticket.
But there's much more Event Tickets is capable of doing. We're going to take a look at some lesser-known features of the plugin that aren't necessarily advertised on the label. Think of this like the Secret Menu at Starbucks or ordering a burger "animal style" at In-N-Out, but for tickets. Not as tasty but just as gratifying.
Seating Charts
Tickets, by default, do not have assigned seating in Event Tickets. The plugin caters more to events with general admission rather than assigned seating in that sense. However, we can still create some sort of arranged seating for events.
Let's say we're planning a fundraiser that serves dinner to attendees. Something like this:
We have five numbered tables with 10 seats per table. That's a seating capacity of 50 people, so let's go ahead and set that up in the ticket settings. What we're going to do is create five ticket types, one for each table.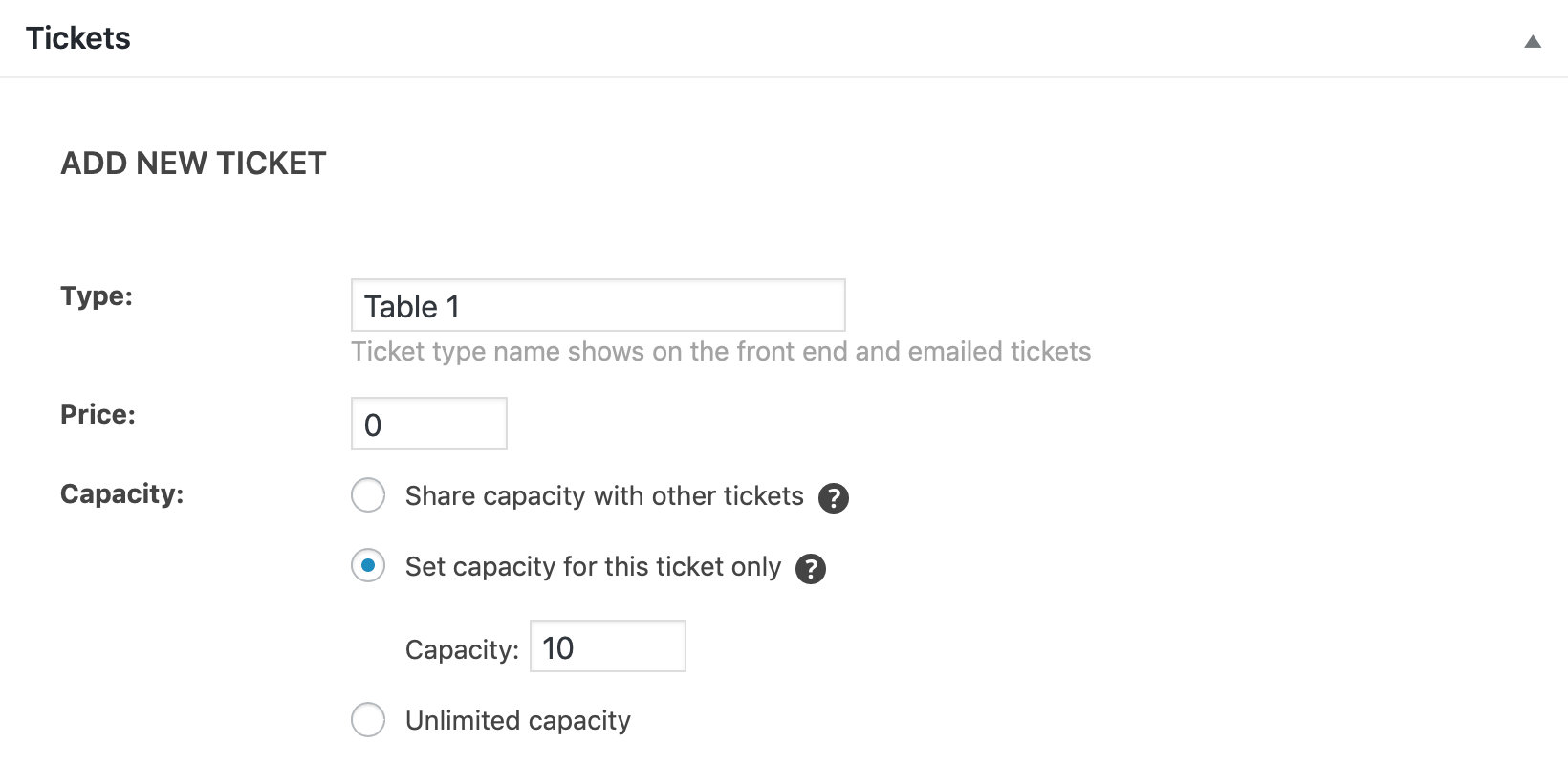 We'll do this 5 times: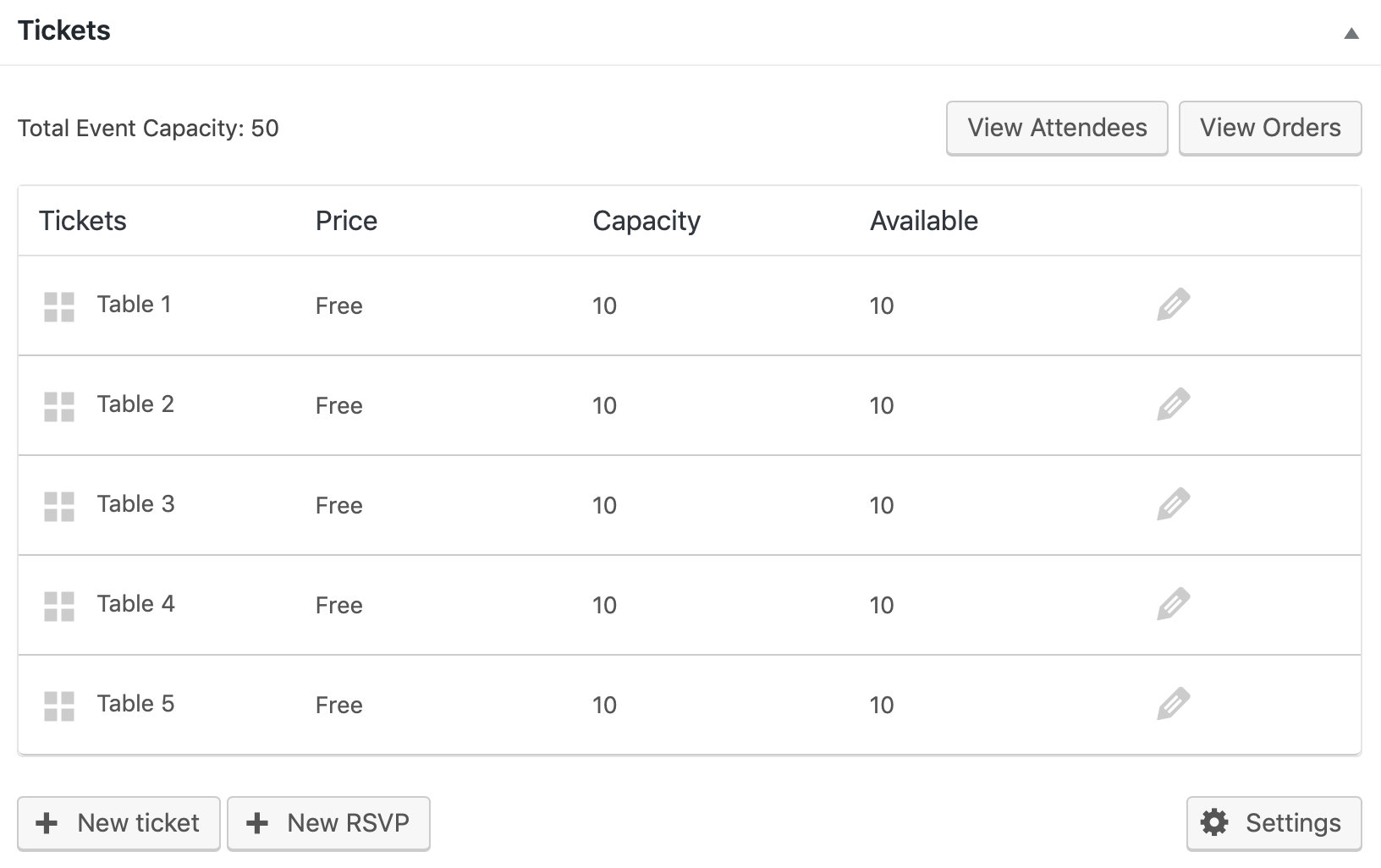 Next thing we can do is include an image of the seating chart on the page. Now, when people come to the website to register for the event, they have a choice of where to sit and will know where they will be when they walk in the door. Pretty handy, right?!
Early Bird Pricing
You know how some events give a discount to people who purchase tickets early? We call that "early bird" pricing because, well, I guess they catch the least expensive worms. Whatever the case, Event Tickets allows us to create time-based tickets.
What does that mean? We can create one ticket at a discount rate and set it to expire at a specific date and time. Then we can trigger the regular, more expensive ticket price to display in its place.
Here's how the early bird ticket looks in the settings: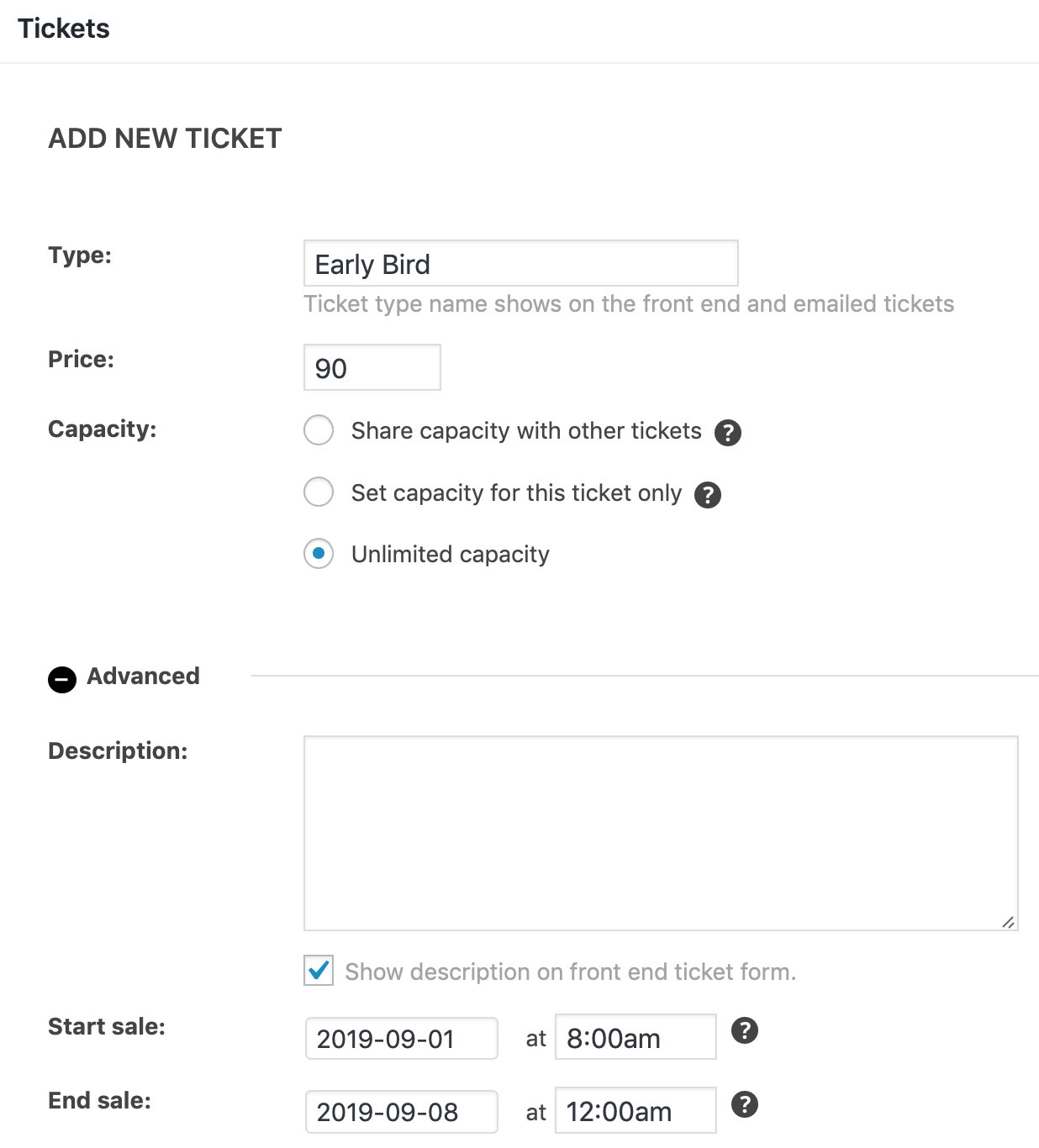 The early bird ticket is set to be available on September 1 at 8:00 a.m. and expire on September 8 at midnight. That gives folks a full week to hop on the bandwagon early and purchase tickets at a discounted price! Now, let's set up a more expensive, regularly-priced ticket available immediately after the early bird ticket expires.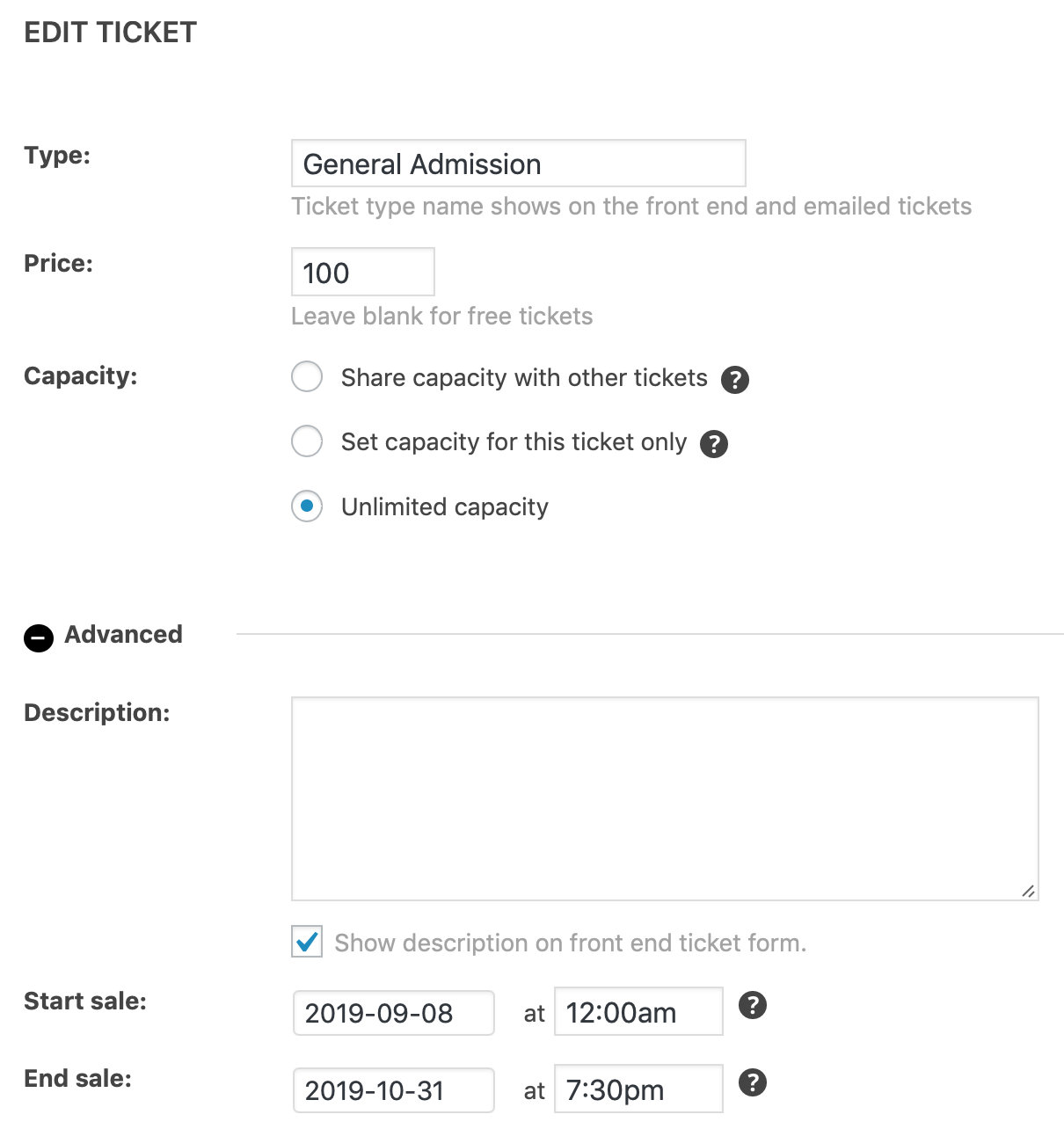 Woot! Now we have a ticket that is set to publish on September 8 at midnight, at the exact same time the early bird pricing is scheduled to end. That gives your guests an incentive to buy fast!
Member-Only Pricing
Let's say you're an organization that provides a membership. That could be a local publication that gives perks to subscribers. Maybe it's a wine club that offers benefits to members. In either case, we want to sell tickets for an event that's open to the public, but give members a discount on their tickets.
We could get tricky and set up a coupon code. Event Tickets Plus does indeed integrate with WooCommerce, which supports that.
Another idea is to create a member-only ticket directly in Event Tickets. Here's how I would set that up.
First, let's create a page for the event and add the general admission ticket to it. This will be where most folks go to register for the event and what we'd use to advertise the event to the general public.
Let's create another page but this time make it accessible only if someone is logged into your WordPress site as a registered user. That's something you'd want to do to make this technique work if you don't already require members to sign up for your site.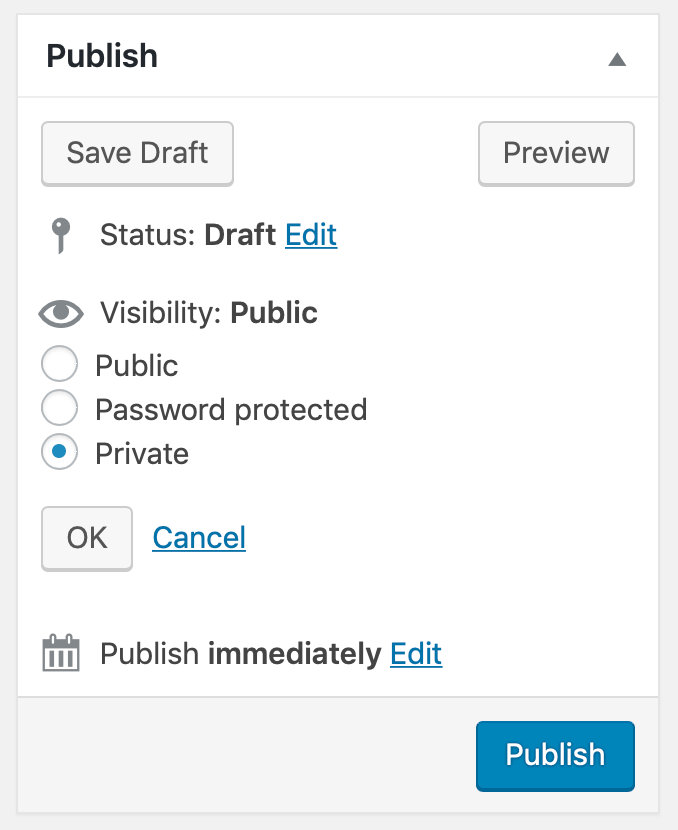 Selecting the "Private" option in the page (or post) visibility settings ensures that the page is only viewable by someone who is logged into the site. That means anyone without a password as a member of the site will be unable to access the page. But your members can!
We'll set up a ticket that's priced just for this group of attendees so they can attend the event at a discount. Or perhaps even free for being a loyal member!
The trick here is to remember that the number of tickets from both pages should add up to the full capacity of the event. So, if you have 100 members and a capacity of 1,000 attendees, the number of tickets in the general public pool should cap out at 900. The number of tickets in the member pool should cap out at 100. This will ensure you do not oversell your inventory. 😇
How Will You Use Event Tickets?
We've looked at three advanced use cases for Event Tickets that give you more control to manage tickets for your events. Event Tickets is up for the challenge and gives you all the flexibility and power you need to be a virtual box office, whether you need assigned seating, early bird pricing, or member's only perks.