Promoter takes all of the people who have registered for an event and segments them into email lists to send messages to them.
Those lists are available by clicking into an event and going to the Attendees tab.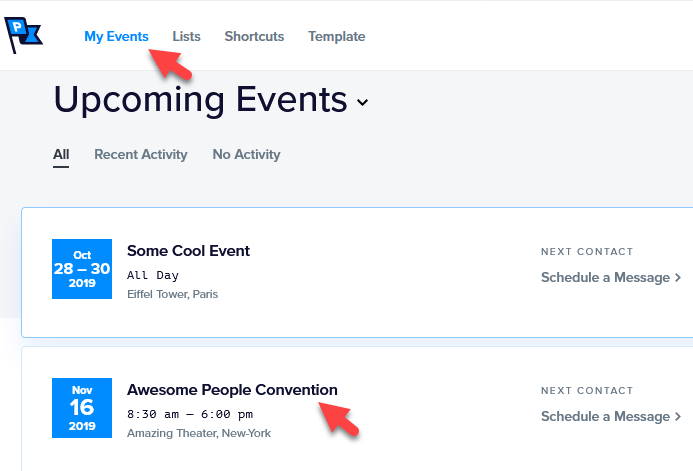 Each list for an event is created based on the ticket types that have been set up for the event in WordPress. For example, if there are two ticket types in the event, one called "General Admission" and the other called "VIP Pass" then those will be treated as separate lists in Promoter, with each list containing the attendees registered for the event.

Promoter also creates a list called "All Attendees" that contains all attendees who have registered for the event, regardless of the ticket type. This list provides a way to contact all attendees at once rather than having to apply each list to a message separately.
To view the attendees in a list, click into the list. That leads to a breakdown of all the attendees, including their names and email addresses. A search field is provided at the top of the list to filter attendees by name or email.

If you believe an attendee is missing from a list, first check to see that the attendee is showing up in WordPress as a registered attendee. Promoter fetches attendees from WordPress, so checking the source is a good place to start.
If the attendee is in WordPress but not in the Promoter list and that attendee recently registered for the event, give Promoter a few minutes to re-sync. Promoter fetches information from WordPress automatically and should import the attendee on the next sync.
It's worth noting that Promoter will only add the ticket/RSVP registrant (purchaser) to the list, not additional attendees. If someone purchases multiple tickets within one order, only one attendee (the purchaser) gets added. This is because we do not have permission to add them to a mailing list. The purchaser of a ticket gives us implied permission because they took action to purchase a ticket (or RSVP), which is why the purchaser appears but not the additional attendees.
However, if the attendee continues to be missing from the Promoter list, please contact support, and we'd be happy to look into it.