Just starting out with Event Schedule Manager? These steps will help you get set up and ready to rock an awesome calendar. Follow the links for detailed tutorials.
Install the plugin
If you have purchased a license for Event Schedule Manager, you'll find the download in your account on the Downloads & Licenses screen.
Your downloaded plugin will be packaged in a .zip file. Depending on your browser settings, the file may automatically unzip for you.
Register your site
While on the Downloads and Licenses screen, note the "Show Sites" button. Clicking that displays the sites that are set up to use Event Schedule Manager. If you're registering your plugin's license key for the first time, you won't see any sites listed, and you'll have to register one to enable automatic updates and support features.
The Downloads and Licenses screen you are on displays your license key. Click it to copy it to your computer's clipboard automatically, then head to your site's WordPress admin. You'll want to open up Event Schedule Manager settings by going to Event Schedule Manager → Settings and enter your copied license key in the Event Schedule Manager license key field.
Basic Configuration
If you know which page or post your event schedule will live on, enter the Schedule Page URL here. If not, you can come back and add it later.
Create your first Session
A Session is comprised of several fields. Here is what those fields are and how they work.
The title of the Session
The Session's description
(Optional) You can choose whether the Speaker or Speakers are displayed with a typed name, or via the Speakers Custom Post Type. The Speakers KB article explains the difference between the two.
(Optional) The names of the Speakers presenting the Session
(Optional) You can add one or multiple Sponsors to a session. You can also drag and drop them to change their order.
The date and time a session will take place.
There are three types of Sessions. Regular, mainstage, and break&lunch. Mainstage sessions will be highlighted differently than regular and break sessions. Break&Lunch sessions are plain text.
(Optional) You can select which Tracks a session will be a part of. You can also Add Tracks.
(Optional) You can choose which location a Session will take place. For example, rooms that have specific names. You can also Add Locations from this area.
(Optional) You can add a Featured Image to make the Session stand out.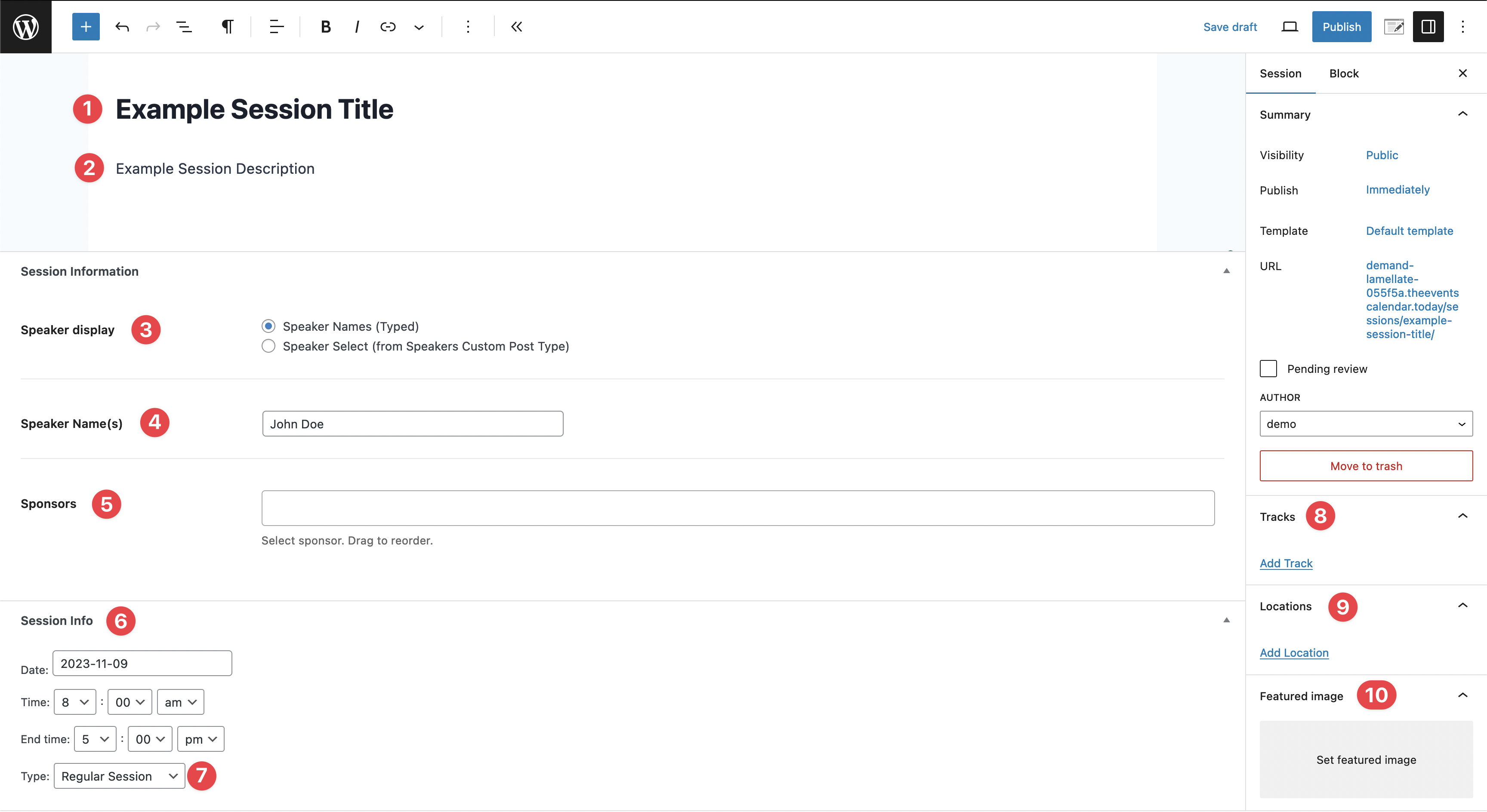 Once you've created your first session, you can create your Schedule.
Use the [tec_schedule] shortcode on a page or post (you can customize the shortcode). You can also display a schedule using the Schedule block.
Hurrah! Your first schedule is now up and running! You can stop there or further tailor things with the options below.