Search Extensions
Event Tickets Plus Extension: Show/Hide Duplicates in Attendees Table
Compared to Event Tickets' RSVP reservations, where each ticket gets a unique ID, ticket purchases via Event Tickets Plus issue order numbers in a more formal way due to the integration with WooCommerce and/or Easy Digital Downloads (EDD).
In an event's Attendees Report, multiple tickets can share the same order number if they were purchased at the same time in the same WooCommerce (or EDD) order. In this extension's terminology, such an order's tickets would be considered "duplicates".
This extension makes it easy to identify how many duplicates there are for the event and adds a button to implement showing and hiding the duplicates.
For example, if an event has one type of ticket called "General Admission" and a family of 4 purchases all 4 of their tickets in a single transaction, the Attendees Report will display all 4 tickets separately but share a single order number.
With this extension installed and activated, such an example might look like this: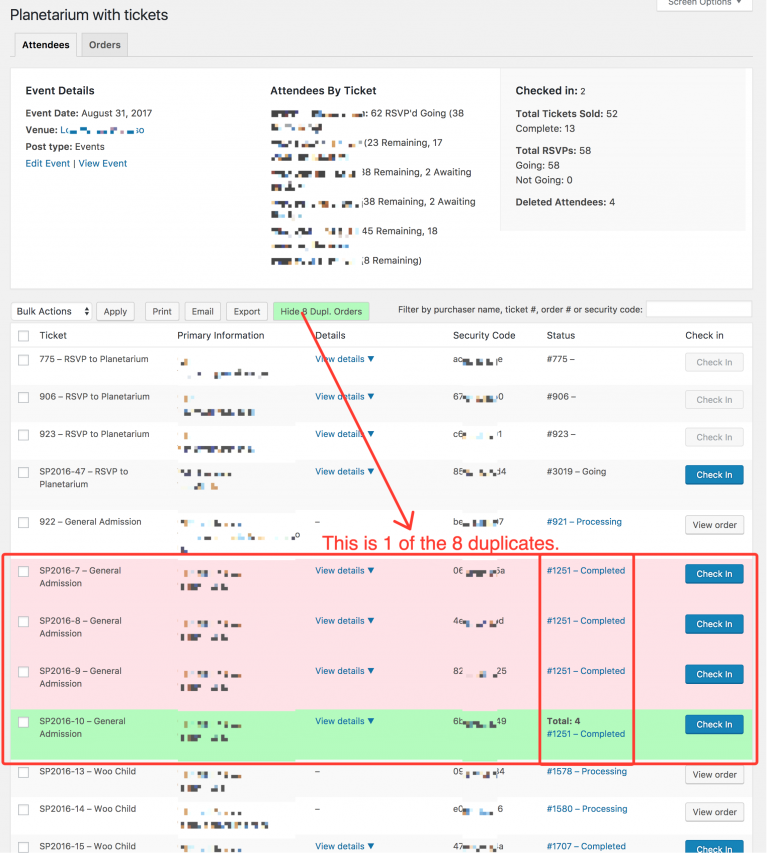 Clicking the "Hide X-number Dupl. Orders" button will hide the red-colored rows to declutter your Attendees Report.
Notes:
This extension only declutters your view of the attendees table, providing the option to show/hide the identified duplicates.
It works for both WooCommerce and EDD purchases, even for the same event.
However, it does not affect any print, email, or export logic. In other words, if you hide the duplicates (red-colored rows), then click Export, the exported file won't be different in any way compared to clicking Export while the duplicates are visible.
The last row in a set of duplicates is always the "green row," but it's for no specific reason. You can disregard any thoughts about Tickets 7, 8, 9, or 10 (from the screenshot above) being different from each other in terms of the order details. However, Attendee Information details may be different per-ticket.
Download Extension