New Plugin: Image Widget Plus
Images bring websites to life, so it's no surprise one of the common questions asked by new WordPress users is: How do I add an image to my sidebar?
You can manually add images using HTML code, but many people prefer the more convenient option of using a simple, lightweight plugin to do the work for them.
Introducing Image Widget Plus
While our classic Image Widget plugin focused on adding a single image to your widget area, Image Widget Plus provides additional options for you to control how your images display within the widget:
Lightbox to showcase images by filling the screen, dimming the rest of the page in the background and creating a true focal point for your photo.
Slideshow to display images in a series, allowing users to scroll through several photos or graphics without leaving the page.
Random Images to give your page a fresh feel by displaying a random image each time the page is loaded or refreshed.
Using the native WordPress media manager, Image Widget Plus gives you the power to create widgets to display logos, photos, custom ads, and more.
Best of all? We've kept Image Widget Plus just as simple and easy to use as possible.
Installing & Using Image Widget Plus
Installation and setup for Image Widget Plus is a breeze:
Purchase and download the Image Widget Plus plugin
Install and activate it on your WordPress site
Under Appearance > Widget, drag & drop the widget into your sidebar, footer, or other widget areas within your theme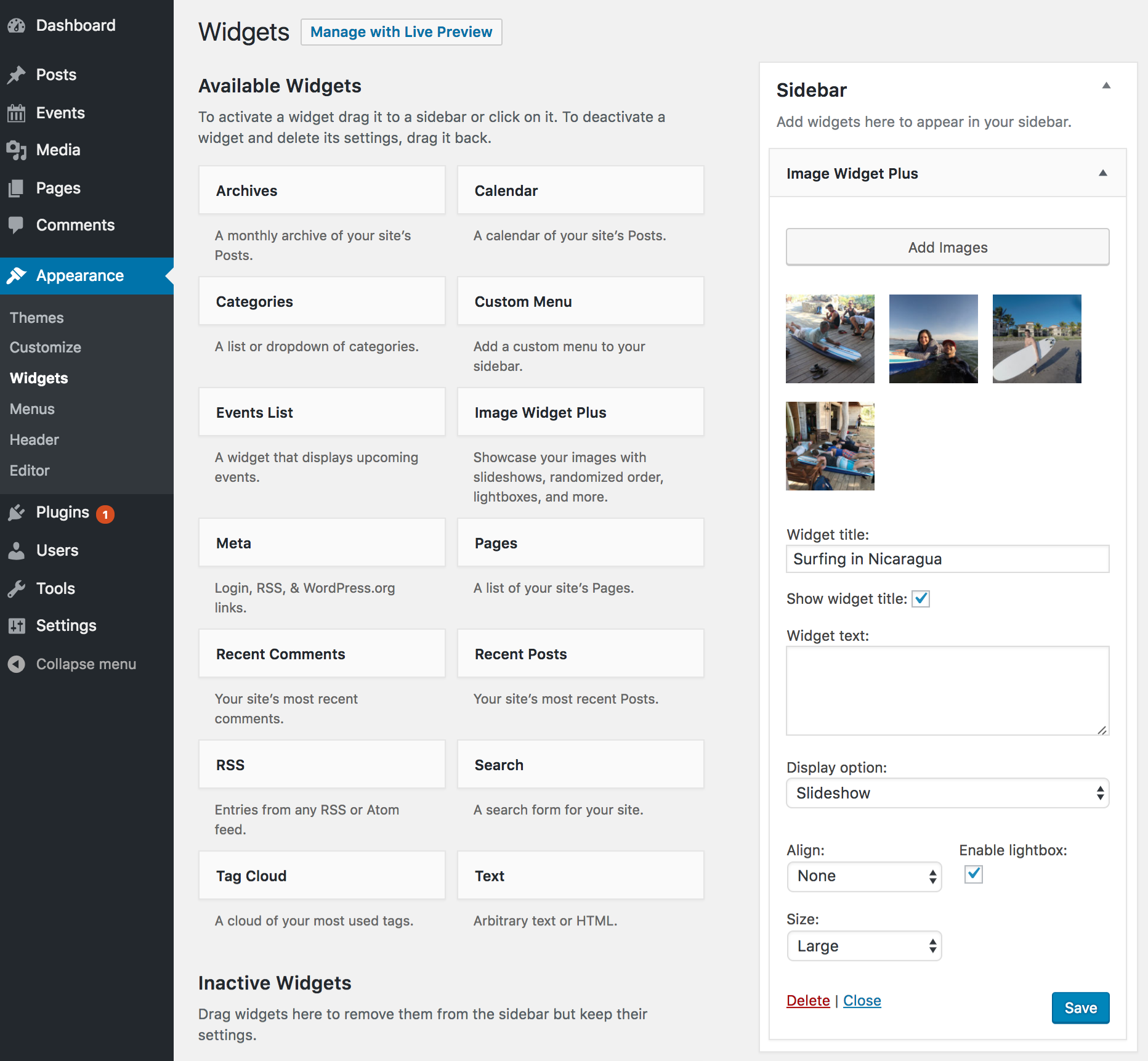 All options are displayed within the widget itself, so there are no extra settings or admin screens needed. We've intentionally kept the design simple and intuitive to make it easy for everyone to use.
For those that prefer to customize the look and feel of their widgets, we've got filter hooks and theme overrides ready for you to dive into.
Top Uses for Image Widget Plus
Need some ideas to get started? Here are a few ways people are using Image Widget Plus to add value to their website.
Lightbox Gallery of Epic Photos
Let visitors view your photos in full detail with the built-in lightbox feature in Image Widget Plus. Choose to feature a single image or allows users to scroll through a gallery using the slideshow feature.
Featured Product or Service
Highlight a specific offering with compelling images and a brief tagline. You can choose where to link the image, so you can direct visitors straight to the product page, your e-commerce shopping cart, or any other page you'd like.
Showcase a Content Series
Have several posts related to the same topic? Create a slideshow with Image Widget Plus to feature the topic in your sidebar and visually guide users through your content series. Each image can be linked to a separate post, helping users find the exact post they need.
Quote of the Day
Using free tools such as PicMonkey or Canva, you can add text overlays to images featuring inspirational quotes to motivate your audience. Using the Random Image functionality of Image Widget Plus, your visitors can see a new quote display on each page as they navigate through your site.
Guide Users to Landing Pages
Despite our best efforts, sometimes people land on a different page of our site than we intend. Help users navigate to the correct landing page by creating a visual call to action (CTA) and inserting it into your sidebar using Image Widget Plus.
Create Something Beautiful
Take your sidebar to the next level by putting Image Widget Plus to work on your site.
Get your premium license today!
Don't forget to check our other Premium Plugins for added calendar features!