Search Knowledgebase
Import events from Google Calendar
---
🔔 Please Note: iCal Importer is no longer actively maintained, and has been replaced with Event Aggregator.
Most folks with an iCal Importer license will have an Event Aggregator license in their account for free automatically.
To learn more about Event Aggregator, check out FAQs here. There's a general guide about moving to Event Aggregator here, and a collection of more specific guides here. You can also drop by our help desk any time with questions.
---
Let's say you use Google Calendar to manage events and would like to publish those events to your site's calendar. Thanks to the iCal Importer add-on, there's no need to manually re-publish those events- you can simply import them. You can choose to do a one-time import, or set up a recurring import to happen automatically.
To get started, log into your Google account and access your Google Calendar. You should see an outline of your available calendars in the left column of the screen.
Step 1: Locate your calendar
Hover over the calendar you want to import to your website. Click the arrow to the right of the calendar name and select the Calendar Settings option.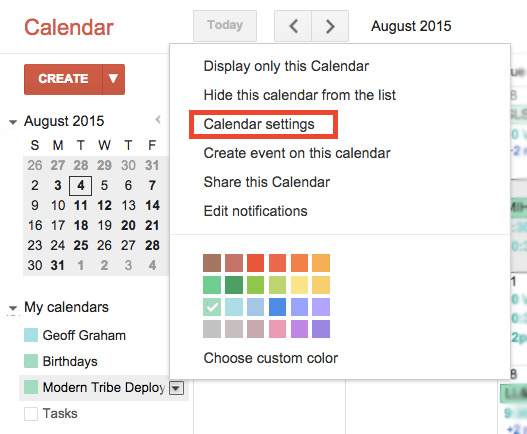 Step 2: Grab the private iCal address
Selecting the Calendar Settings option will take you to a new screen. Head down to the Private Address section and click the green iCal button. This will pop up a URL. Copy that address!
Step 3: Paste the private iCal address to your site
Log into your WordPress site. With iCal Importer installed and active, go to Events → Import, then click on the Import: iCal tab. Paste the Private iCal Address from your Google Calendar into the Source field.
Step 4: Import your calendar
Configure the import as needed. You can set this up to be a one-time import, or iCal Importer will import events for you automatically on a recurring basis. Click the search button and a list of available events will display below the configured settings.
If this is a one-time only import, you will be able to select the events you want to import and submit them by clicking the Import Selected button below the list of events. If this is a recurring import, you can simply click the Save Recurring Import button and the importer will automatically check for new events to publish at the interval you selected when configuring your settings.
Wrapping up
You're done! If you made it this far that means you were able to sync your Google Calendar with your website using the iCal Importer add-on for The Events Calendar. We hope you enjoy importing events at will. If you feel stuck for any reason, please hit us up via our support help desk and we'd be happy to help.