How to Import Events to WordPress from Meetup
Lots of people who host events through Meetup.com also maintain event calendars on their own websites.
No big deal, right? But updating your site's calendar and keeping your Meetup calendar current can be a real pain in the neck. Nothing screams "busy work" like entering the same event information in two different places.
But it doesn't have to be a headache! You can easily import your Meetup events right to your WordPress calendar, which will help you avoid busy work and get back to the work that matters most.
Just ask Seattle WordPress Community. Their site is a hub for WordPress designers, developers, and publishers around Seattle. One of the coolest services they provide is an events calendar that aggregates information for more than 1,500 different WordPress Meetups in the region.
Wowza, that's a lot of Meetup events! But rest assured because there's no need for them to manually type every single event on their WordPress calendar. Instead, Seattle WordPress Community takes advantage of import and automation tools offered by The Events Calendar to streamline the work.
What tools? A WordPress add-on for The Events Calendar called Event Aggregator. The nice thing about Event Aggregator is that there's nothing to install. Simply purchase a license, enter it into The Events Calendar settings in WordPress, and you're on your way to automated import magic!
Here's what to do from there.
1. Customize your settings to start importing your Meetup events to WordPress.
From your WordPress admin panel, go to your Events → Import screen and click the "Import Origin" dropdown to select Meetup. You'll be prompted to enter your Meetup credentials to connect your account to WordPress.
2. Choose your import schedule.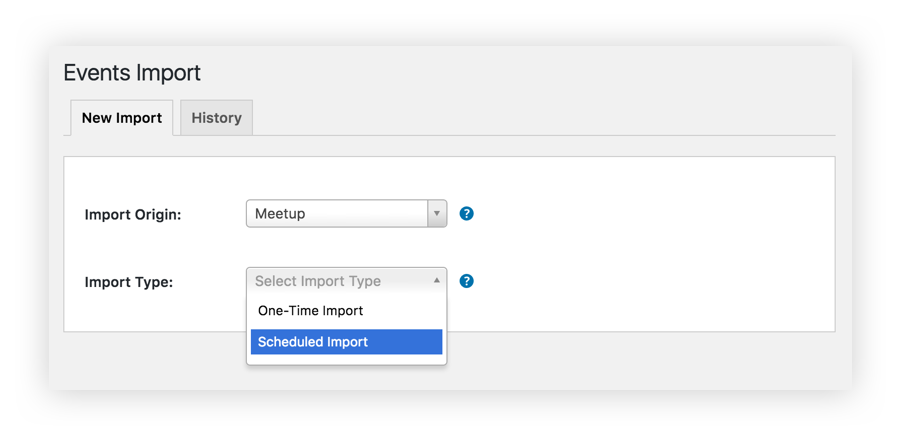 If you only need to perform a one-time import, you can select "One-Time Import" to pull over your event data from Meetup—one and done!
If you're regularly creating new events on Meetup, select "Scheduled Import" to automate the import process on a schedule of your choosing. You could schedule Meetup events to import to WordPress as frequently as once an hour, or you could set a daily or weekly import schedule. Meetup imports to WordPress happen automatically, which means you can sit back and watch the events roll in once you've configured your schedule.
3. Set it and forget it.
That's it! Your events will import to your WordPress calendar automatically from Meetup on the schedule you've set.
Once your Meetup events have been imported to WordPress, you may want to check out tips for how to manage your imported events. Also be sure to learn how to avoid importing duplicate events.
Bonus: Event Aggregator gives you the power to import events from more than just Meetup. Use the plugin to import events from Eventbrite, Google Calendar, iCalendar, and CSV uploads with ease.
With a little help from Events Aggregator, importing your events from Meetup to your WordPress calendar is a breeze. And the greatest gift of all? Reclaiming all the time you used to spend manually entering events on two calendars!
---
Sign up for our monthly newsletter for more event marketing tips and the latest news from The Events Calendar.